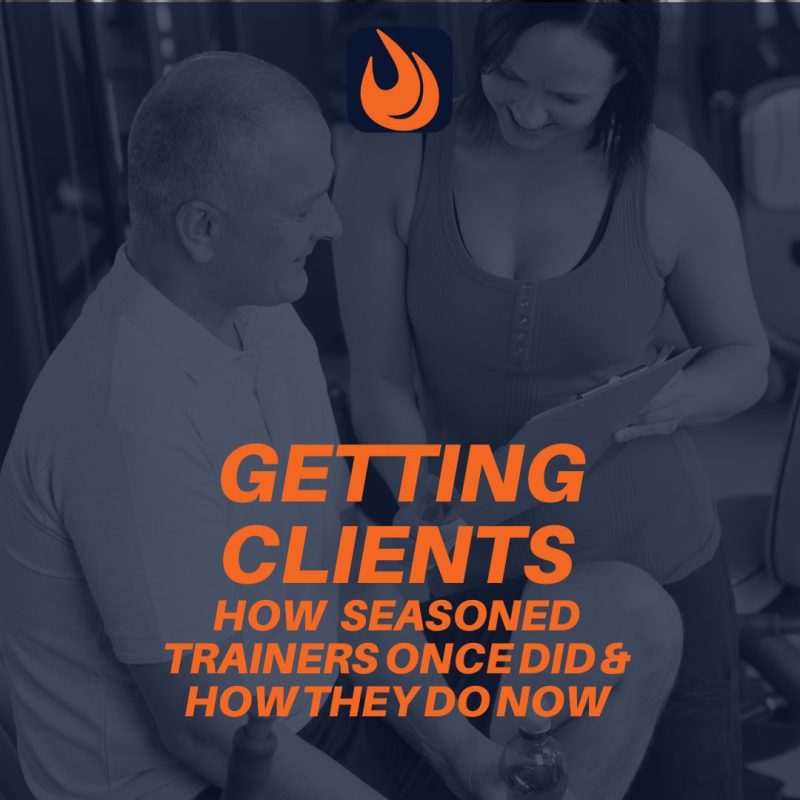 Perhaps the most daunting aspect of starting your career as a Personal Trainer is recruiting clients. Whether you are working in a big box health club, a personal training facility, or venturing out on your own, one of the important aspects of the job is getting clients. We reached out to a few seasoned trainers to ask what they thought recruiting was going to be like when they started, what it actually was like, and how they get clients now. Their advice will help to put your mind at ease about starting your career as a personal trainer, as well as give you some great pointers for finding clients of your own.
How Seasoned Trainers Got Clients in the Beginning and How they Get Clients Now
Michele G Rogers, M.A., NFPT-CPT is the Blog Publisher/Social Media Manager for NFPT and has 21 years in the fitness industry.
How did you get clients when you first started in the fitness industry?
Michele: I worked at a big box chain gym for 3 days a week initially, as I transferred into a full-time trainer. The gym gave me a few clients already and they would give us leads, like new members who get complimentary sessions. This was the best way to get clients. I hated selling initially (but eventually got over it). Never assume a client doesn't want to pay for the valuable service you offer. Assume that they do.
What else did you find success with when you started to get clients? 
Michele: I will say, that it matters who your market is; I lived in a very affluent area at the time and folks paying for personal trainers was pretty commonplace. That said, I attribute my success at the time (compared to other trainers starting out) to my authenticity as a person: I truly wanted to help people and I absolutely loved what I was doing. I closed probably 75% of the clients that came in for a free session.
I didn't use "sales tricks". I simply evaluated them to the best of my ability, offered novel information about the way they moved, or explained something about fitness that may have been misperceived. And then asked if they would like to buy a package. If they said no, I would just smile and say, "no problem!" I made a point to remember their name and greet them any time they came into the gym, offer advice when appropriate without pressuring them, and oftentimes, those people came back around to train with me later or recommended me to a friend.
I wish I could tell you that it doesn't matter how you look, but that's not the world we live in. People want to hire a trainer that looks fit and clearly knows what they are doing when they work out. I consciously set myself apart by working out. in clear view,  at the gym, but without appearing intimidating (that's where smiling and being friendly and genuine is paramount). I couldn't begin to count how many people approached me in the gym and asked me to train them. I literally never had to make an effort to close a client in the gym after that.
How has your recruitment efforts and outcome changed over the length of your career. How has your career itself changed?
Michele: After 3 years in the box gym setting I brought my clients to a smaller studio (where I was also often handed new, paying clients); thereafter, I built a small studio in my own home and also provided in-home training. At this point, I was training what I called "lifers" –the clients that would probably never work out on their own and considered me a permanent fixture in their routine. Since then I have moved a half dozen times, losing most of my base, but continue to train clients remotely over video call (pre-COVID!).
Today, I've shifted my professional focus quite a bit but still retain a handful of in-person and remote clients. I created a niche for myself (corrective exercise) and so social media has garnered several clients over the years, as has word of mouth in my neighborhood. I have made no other direct marketing pushes (other than boosting a few IG posts and one time announcing my return to accepting clients after having babies!).
Do you have one last piece of advice for new trainers trying to get new clients?
Michele: The way to be most successful as a personal trainer is to never stop learning and to be exceptional at what you do. Like every industry there is a range of professional expertise — the average person has no way of knowing how good you are without asking for references or learning for themselves how effective you are. This is where testimonials are important and being okay with self-promotion.
Be authentic, care about people more than profit, but know your value.  Do not undersell yourself! I believe clients and income will flow towards you when you believe in yourself and genuinely want to help others.
Eric Bergmann, LMT, CSCS has his own practice in New York City with his partner and has been in the industry for about 21 years.
How did you get clients when you first started in the fitness industry?
Eric: As a 21-year-old kid I frankly had no idea where clients came from. I was lucky to have some decent bosses/mentors, and to have found myself in a "big box" corporate gym where there was a fair amount of thought and structure that went into creating a lead funnel for the training team.
The day-to-day and the act of being a trainer was different than I had anticipated, as I was unaware of how much selling goes into it.
What else did you find success with when you started to get clients?
Eric: Initially I mostly handled "warm leads" — gym members who were aware that they were coming to a trial session with a personal trainer. This type of prospect procurement is probably best for those who are first starting. You get to flub more frequently when there's a large top side of your funnel.
If there's something that I would say I found success with, it was honing my skills — not just training/nutrition/injury prevention/etc., but effective listening, communication, sales (which are all kind of part and parcel), etc. I spent close to 20 years averaging 10-20 hrs/wk of studying.
A shorter-term strategy I can also recommend is to come up with a series of ideas that you can give away (yes, for free) that will be of benefit to your ideal client base. Then deploy those ideas. Some will be winners, some will not. Keep iterating and moving in the direction of what resonates. If what you're offering is valuable, clients will begin to materialize as if by magic.
How have your recruitment efforts and outcome changed over the length of your career? How has your career itself changed?
Eric: At this point, I'm lucky enough to operate entirely by referral. While I don't have a terribly specific niche, I predominantly service high-net-worth individuals and dance professionals. I no longer work in traditional gym settings (most appointments are in condo gyms, private gyms, training studios, etc). I also get clients in rehab settings (an avenue not traditionally available to someone without terminal licensure).  
Do you have one last piece of advice for new trainers trying to get new clients?
Eric: Develop your physical training knowledge base, but remember that it's *personal* training. No one cares how much you know unless they know how much you care. Interpersonal skills need to be cultivated. Read voraciously. You have the time. You're probably not seeing many clients on day one. Spend at least a few hours a day reading material spread across the training, nutrition, and personal development (AKA, self-help). 
Beth Bergmann LMT, CPT also works with private clients in New York City and has been a fitness professional for 16 years.
How did you get clients when you first started in the fitness industry?
Beth: My first gig in the industry was as a trainer at a big box gym in NYC. The manager at the location was partially responsible for qualifying leads and scheduling initial workouts. Trainers were (mostly) responsible for selling the potential client and closing the deal based on only ONE workout (insert sarcastic laughter). This is how I thought it worked at first. The majority of clients would see me working with a current client and ask about services from there.
What else did you find success with when you started to get clients?
Beth: Referrals from current clients are truly the bread and butter for any trainer at any stage in their career. But having good relationships with other trainers/practitioners in the health/wellness space (physical therapists, chiropractors, fitness educators, etc) is invaluable. 
Also, being a good citizen at every facility you work in pays dividends and develops a lot trust with others in the industry. You are the product, so conduct yourself like a professional – show up on time, clean up after yourself, and don't be an a**hole.
How has your recruitment efforts and outcome changed over the length of your career? How has your career itself changed?
Beth: We've experimented with several types of marketing along the way. We are unusually lucky as NYC is truly its own special place for personal training. Fitness is a relatively regular part of life in the city so having a personal trainer isn't a foreign concept and there's a rather large population of people in the market looking for services. It's truly an unfair advantage when discussing recruitment. 
However, a personal goal over time has been to try and work with clients who are ready, willing, and able to try something new, and/or possibly very different from what they might perceive "fitness" to be. I've also become very comfortable knowing that not every training relationship will be a good fit and that's more than ok. If it's not an enjoyable experience for both parties involved there's probably a wiser investment to be made in spending the time looking for, and working with, someone else. 
Do you have one last piece of advice for new trainers trying to recruit new clients?
Keep your eyes and ears open and you'll learn a ton from those around you. Pick up tips and tricks from others and try them on like a pair of shoes. Do these tactics suit you/your style? Be brutally honest with yourself about your integrity as a professional in the industry. Say yes a lot at first and watch the dividends grow exponentially. And again… don't be an a**hole.
Learn more in our Functional Training Specialist as a part of our Continuing Education Course Series.