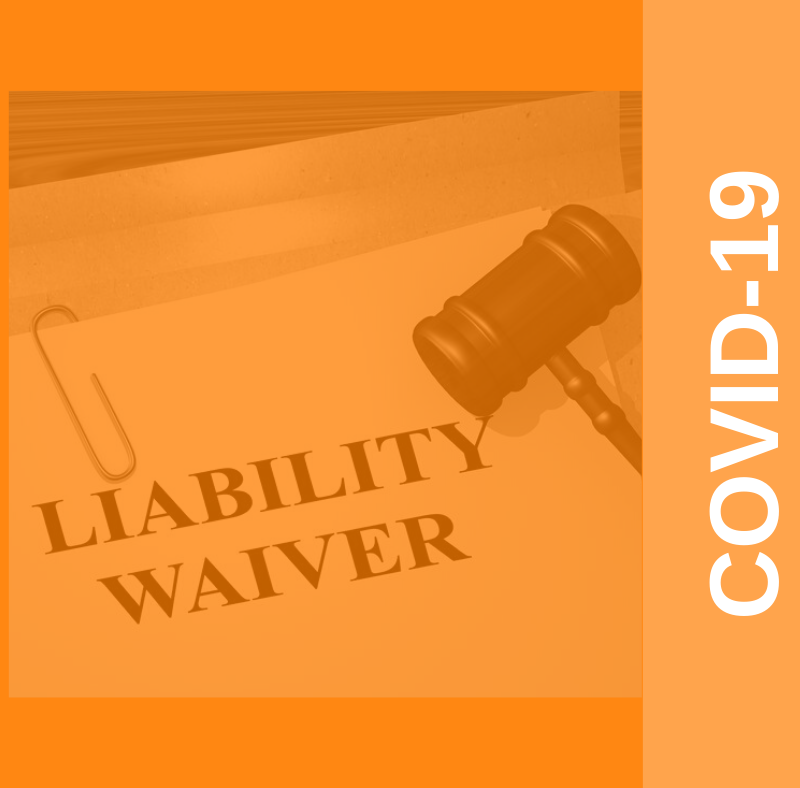 As fitness professionals, our training and predilections guide us to place a high value on clients' overall health. We strive to navigate the safest and healthiest road possible while helping them achieve their fitness goals. In the face of 2020's viral pandemic, we must proceed with extra caution, not only for health's sake, but for liability. Having a COVID-19 liability waiver in place has become a necessary addition to the legal protections fitness professionals must already take. Here's what you need to know.
Assessing the Risk
Many gyms and community centers now require members to complete a COVID-19 health form prior to entering the facility. This form covers the usual questions:
Does the member exhibit any symptoms of the virus?
Has s/he knowingly come into contact with an individual who exhibited symptoms or tested positive for the virus in the past 10 days?
Has s/he traveled outside the continental United States recently?
At my gym, even staff must complete a form each and every day we report to work; in addition, our foreheads are scanned daily to rule out fever.
Some facilities go a step further and present members with a liability waiver prior to beginning a workout session. Such a form releases the gym or private trainers of any legal responsibility in the event that the member or client contracts the virus concomitantly while participating in services offered by a gym or fitness professional.
COVID-19 Liability Waiver
Below is an example of a standard waiver which you can also find at jotform.com in the form of an editable template:
I acknowledge the contagious nature of the COVID-19 virus, and respect that the facility adheres to the CDC recommendations of practicing social distancing and wearing face coverings.
I further acknowledge that (fill in name of gym or personal trainer company name) has put in place preventative measures to reduce the spread of the COVID-19 virus, to the best of their abilities.
I further acknowledge that no guarantee exists regarding whether or not I may contract COVID-19. I understand that the risk of becoming exposed to and/or infected by the COVID-19 virus may result from the actions, omissions, or negligence of myself and others, including, but not limited to, staff and other clients.
I acknowledge that I increase my risk of exposure to COVID-19 by participating in services rendered. I acknowledge that I must comply with all set procedures to reduce the spread while in attendance.
I attest that:
* I am not experiencing any symptom of illness such as cough, shortness of breath, difficulty breathing, fever, chills, muscle pain, headache, sore throat, or new loss of taste or smell.
* I have not traveled internationally within the last 14 days.
* I have not traveled to a highly impacted area within the United States in the last 14 days.
* I do not believe I have been exposed to someone with a suspected and/or confirmed case of COVID-19.
* I have not been diagnosed with Coronavirus/Covid-19 by state or local public health authorities.
* I am following all CDC recommended guidelines as much as possible, including limiting any purposeful exposure to COVID-19.
I hereby release and agree to hold ( fill in name of gym or personal trainer company name) harmless from any causes of action, claims, demands, damages, costs, expenses and compensation for damage to myself that may be caused by any act, or failure to act, or that may otherwise arise in any way with any services received. I understand that this release discharges the aforementioned from any liability with respect to bodily injury, illness, death, medical treatment, or property damage that may arise from, or in connection to, any services received. This liability waiver and release extends to all owners, partners, and employees.
Signature X ________________________________     Date X ________________________
---
The question remains as to how strongly such a waiver might hold up in a court of law should a member choose to press charges upon the facility. While a shrewd attorney with an agenda may well argue the legality of these forms, most gyms consider this simple and straightforward approach sufficient protection. Proving that the virus was definitely contracted while in a specific facility or under a trainer's direction would certainly be difficult.

Protecting Professional Interests
Another key to providing safe services of this nature involves securing adequate personal liability coverage, especially for trainers who consider themselves "independent contractors". Despite having signed a waiver, we occasionally encounter those individuals who feel they have a right to sue their gym or private personal trainer should circumstances take an unfortunate turn. While these clients may not have the basis for a legitimate claim, the fact that they voluntarily and willingly agreed to the business transaction with their signature should eliminate your need to ever draw upon a personal liability policy. However, one should never make the grave error of proceeding down this path unprotected.
Rule-Following
Gyms and community centers do their best to protect their patrons. This includes proper and frequent sanitation of machines, restricting access to certain areas (microwaves in staff break rooms, drinking fountains, public waiting areas, saunas, steam rooms), providing disinfectant and cloths for members to clean machines before and after use, offering one-way traffic flow in/out of the building as well as up/down staircases, and limiting attendance for purposes of social distancing.
Staff must adhere strictly to all CDC guidelines, not only for their safety and the well-being of others, but also to set an example for the members. We cannot expect clients to comply with the mandates outlined on the form they just signed if they observe negligence on the part of the employees. Following the rules will certainly mitigate the likelihood that a COVID-19 liability waiver would ever be called into question.
Safely Embracing the Benefits of Exercise
Research studies have always demonstrated that regular exercise may boost one's immune system. Currently and disappointingly, however, the CDC has not issued any guidelines outlining the benefit of physical activity and proper nutrition to enhancing immune function and warding off susceptibility specifically to the COVID-19 virus.
After an extended period of quarantine, during which many individuals chose to binge-watch television reruns in the absence of an open gym, members anxiously await their return to former workout habits. Adhering to the recommended guidelines and basic hygiene (frequent hand-washing for 20 seconds using soap and warm water) seems the best course of action we can all take toward the spread of this and any other virus.
---
References:
www.jotform.com/form-templates/covid-19-liability-waiver
www.sccgov.org/sites/covid19/Pages/mandatory-directives-gyms.aspx
www.pennmedicine.org/coronavirus/frequently-asked-questions-about-covid-19/additional-covid-questions#