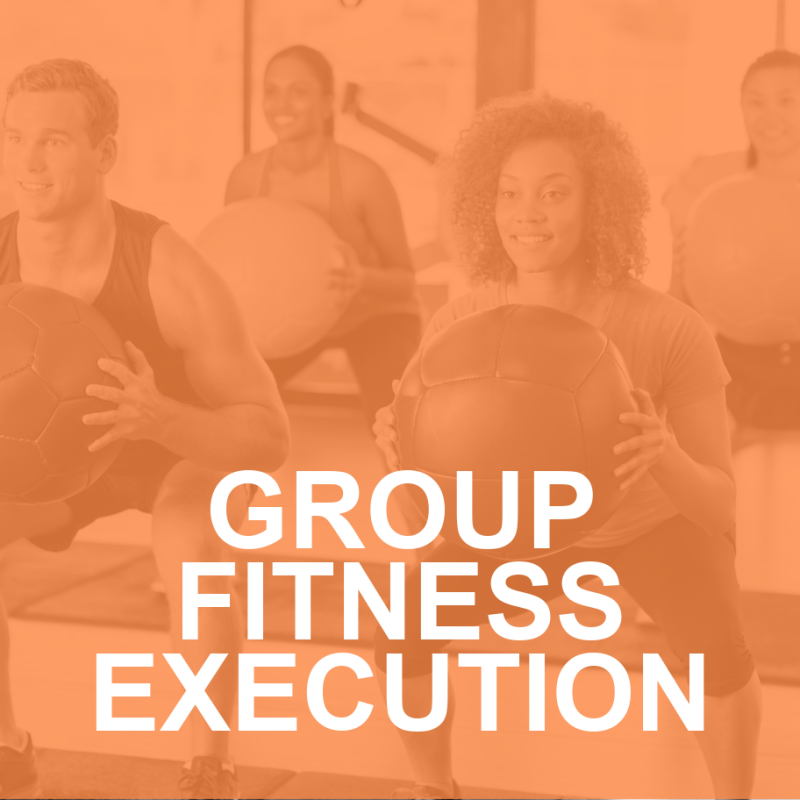 Group fitness is a fun and growing part of the health and exercise industry. Such settings offer a unique opportunity for socialization, group support, and encouragement. Although the scientific principles of exercise selection, form, and execution remain parallel between group fitness instruction and personal training one-on-one clients, there are components that apply specifically to group fitness. If you are interested in expanding your services and offering group fitness classes, keep these aspects in mind during your strategic planning.
Managing Group Fitness Participant Expectations
When teaching a group fitness class, participant experience is paramount. Class participants will want to know what the class is about, what they will gain by participating, and how they can expect to feel during the experience. A group fitness instructor has a responsibility to create and communicate the class theme, purpose, and outcomes to participants in advance. It may be helpful to provide participants with written descriptions of each class you offer on your website or as a handout.
Along with creating clear descriptions and outlining the class purpose and objectives, consider how you will "intro" (open) and "outro" (close) each class session. Imagine these statements as bookends to the participant experience. The introduction should include the following elements: greeting, expression of gratitude to those who are present, introduction of new class members (hint: Try to learn everyone's names!), overview of the class purpose and structure, equipment needs, and how to monitor intensity throughout the duration of class.
In contrast, your "outro" or closing should include a summary of the class experience/purpose, how the work accomplished during class has relevancy to participant lives, a thank you for attending, and an encouraging statement about why participants should return and experience another class with you.
A caveat: develop a sense of awareness about inclusive and positive language. For example, think about how you will greet the class. Instead of "hey ladies", consider saying "welcome everyone" (this is not gender-specific language).
Building a Sense of Community
Most who are drawn to group fitness classes are there to experience camaraderie and social support and encouragement. Creating a sense of cohesiveness and connection is vital to turn paying participants into staying participants. Consider how you can encourage and nurture connectedness among the members of your class. Also, think about how you can integrate a new member into an existing class setting.
Your Appearance
This consideration cannot be emphasized enough. First, is the clothing appropriate for the activity or type of class. For example, a cycling class will likely need specific shoes and moisture-wicking clothing. In contrast, a ballet barre class may need grip socks. It's important to wear (as the instructor) appropriate attire for the activity as well as communicate those needs to class participants. Second, although the fitness industry is visual, a group fitness instructor needs to exercise caution in how they dress. For example, inappropriately short shorts and a sports bra creates discomfort in the class and makes others feel ashamed if they don't happen to look the same or similar. As professionals, the last thing we want to do (or should do) is create negative body image messages. Choose apparel wisely and consciously; consider cultural or religious factors and differences as well.
Equipment
Equipment for group fitness classes varies by format, type, and instructor preference. The first key with equipment is to ensure that all participants understand how to properly use whatever equipment is available. Second, be sure that all equipment is calibrated and in proper working form. For example, resistance bands should be free of tears; treadmill belts should be properly tightened and waxed; stability balls should be properly inflated, etc.
During a group class, equipment should not pose a hazard to class participants (i.e. tripping hazards or other safety concerns).
Finally, consider the number of pieces of equipment you want to introduce in a single class. Too many pieces can create congestion in the exercise space and overcomplicate movements. Limit to one or two pieces of thoughtfully selected and versatile equipment.
Group Fitness Music
Music is, alone, a complicated subject. Group fitness professionals must understand licensing and use as well as the type (foreground or background) and style of music when organizing a class.
Music can serve as a motivator and set the pace and rhythm for choreographed group classes. Music is a valuable component but can be difficult to determine when and how to use it. Some key tips are:
Secure a performance license and ensure that the music selected is legal to play
Decide if the music is to be used in the background or foreground. If it's foreground music, typically the class will be based on the tempo of that music (choreographed).
Select the appropriate tempo based on the style of class (Yoga versus mid-to-high impact classes will use different tempos)
Be mindful of the volume – keep it to 85 decibels.
Consider participant preferences and genre of music (and appropriateness of lyrics)
If group fitness is something you're interested in, keep these considerations in mind as you move forward with your career path.