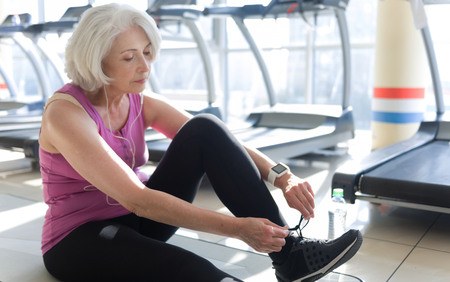 In the not-so-distant past, the average age of most gym members was probably somewhere between 20 and 60 years of age. Today, however, we see a very different picture at most health clubs and workout facilities.
Due to increased health care, resources, and awareness of the importance of wellness, our country's aging population is increasing; as such, many more senior adults are frequenting their local gyms. Group exercise classes and water fitness programs are often geared to accommodate the needs of older attendees, and even personal training has caught on among this particular demographic.
It is empowering to see so many individuals in the over-60 age group taking advantage of exercise facilities. Often these gym members are reasonably healthy and able-bodied, and are working hard in an effort to preserve their good health and stave off age-related problems. However, there is a growing population of senior adults who are less capable in terms of mental capacity, who still very much need to participate in some form of regular exercise. For those stricken with any form of dementia, and for their tireless caregivers, this can become quite a concern.
The most common form of dementia is Alzheimer's disease. Alzheimer's is a condition that is most prevalent among adults in their later years. It is estimated that one in every eight individuals over the age of 65, or approximately 5.4 million people, suffer from this devastating illness. Despite extensive research efforts, the cause or causes of Alzheimer's remain largely unknown. For the estimated 14.9 million unpaid caregivers, this is often a frustrating issue, especially for those family members wondering about the potential inherited factor.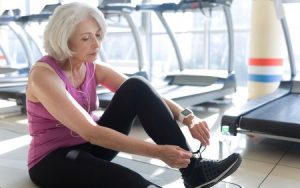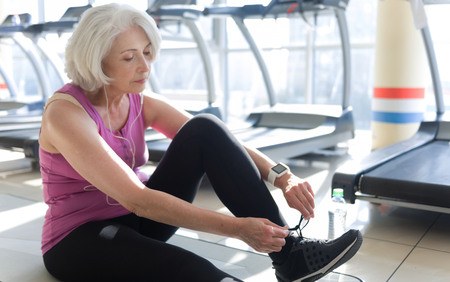 Upon receiving the diagnosis that a loved one is indeed suffering from some form of dementia, exercise is most likely toward the bottom of the list of immediate concerns. However, research has shown that regular exercise can in fact be quite helpful on many levels. The benefits of an exercise program for people with Alzheimer's disease are vast and multi-faceted. In addition to maintaining current motor skills, it has been observed that those patients who exercise demonstrate a reduction in the number of falls, and a lessening of diseases commonly associated with the decline of mental faculties. Often caregivers report improved behavior, memory, and even better communication skills with regular exercise. It has been demonstrated that, for the same level of brain deterioration, those individuals who remain as physically active as possible exhibit higher levels of cognitive functioning than their more sedentary counterparts. One school of thought is that physically active individuals may possess a "cognitive reserve" which can be drawn upon when other areas of the brain have been damaged.
A study at Saint Louis University School of Medicine in Missouri revealed that as little as 30 minutes of exercise (15 minutes of aerobic activity and 15 minutes of weight training) 3 times a week can bring about a reduction in the agitation often associated with Alzheimer's disease. Another recent project conducted by scientists at Washington University School of Medicine in St. Louis, Missouri indicated a unique relationship between physical activity and the biomarkers for Alzheimer's disease. According to Denise Head, PhD, Assistant Professor of Psychology in Arts & Sciences, "This novel association, in conjunction with the animal work, suggests that it may be useful for physicians to recommend exercise engagement not only for Alzheimer's symptoms but also potentially for preventative care." According to Kelvin Y. Liang, Head's MD/PhD student and lead author of the study, "Because the disease has a such a long timeline, we're looking at a lot of lifestyle and other factors, such as exercise, that could prevent the disease before it gets to the stage where you have clinical symptoms – where there may not be as much you can do about it."
There is little disagreement on the part of professionals regarding the types of exercises found to be the most beneficial for those living with dementia. Always targeting the quality of life and the ease of performing activities of daily living, experts seem to favor flexibility/balance work, resistance training, and cardiopulmonary exercises. As the illness advances, and general movement becomes more challenging, maintaining or even improving muscular endurance as well as balance can benefit not only the patient but the caregiver as well. Ease in getting out of bed or standing up from a sitting position, both of which will become easier as strength increases, lightens the burden of the caregiver, who may not be physically strong enough to actually lift the patient.
Once the decision has been made, either on the part of the patient dealing with dementia or the responsible caregiver, to begin an exercise program, another set of challenges can present itself. Even if an individual with Alzheimer's seems willing to participate in a more active lifestyle, once he arrives at the gym, the tables often turn. Personal trainers who work with this population report sudden outbursts of anger or agitation on the part of their client, seemingly unrelated to the tasks being performed. Energy can rapidly turn into utter fatigue. Sometimes the client eagerly arrives at the gym, but then may wander off and "forget" to meet his trainer for their appointment. While it may seem frustrating at first, a little patience and understanding on the part of the trainer can go a long way in facilitating engagement in the exercises necessary for improving the client's quality of life. While it often seems as if those suffering from dementia have "good days" and "bad days", having a set routine and schedule in place for exercise participation can help with cognitive structuring.
In 2010, the estimated national cost of care for patients with dementia was a predicted $172 billion. This figure could potentially reach more than $1 trillion by the mid-century mark. If fitness professionals can lead the way towards improving the quality of life for this highly specialized population, by including such individuals in exercise programs designed to meet their unique needs, perhaps we can help stave off the extreme financial burden being placed upon their caregivers and the medical community at large. By doing our part to keep our aging clients fit – on every level – we can ensure a healthier future for our ever-increasing older adult clientele.
References:
1.http://physicaltherapy.about.com/od/typesofphysicaltherapy/ss/Alzheimers.htm
2.http://alzheimers.about.com/od/behaviormanagement/qt/exerciseagitation.htm
3.http://www.alzheimersreadingroom.com/2010/10/exercise-may-reduce-alzheimers-disease.html
4.http://well.blogs.nytimes.com/2012/01/18/how-exercise-may-keep-alzheimers-at-bay/
5.http://www.alzinfo.org/08/treatment-care/diet-exercise-health
6.
7. www.alz.org/downloads/Facts_Figures_2011.pdf
8. Yves Rolland, MD, PhD; Fabien Pillard, MD; Adrian Klapouszczak, MD; Emma Reynish, MD; David Thomas, MD; Sandrine Andrieu, MD, PhD; Daniel Rivière, MD; Bruno Vellas, MD, PhD "Exercise Program for Nursing Home Residents with Alzheimer's Disease: A 1-Year Randomized, Controlled Trial" J Am Geriatr Soc. 2007;55(2):158-165.
9.http://www.dementiaguide.com/aboutdementia/treatments/exercise_program/
10. Head, Denise PhD et al. "Exercise and Alzheimer's Disease Biomarkers in Cognitively Normal Older Adults" Annals of Neurology Volume 68, Issue 3, pages 311-318, September 2010