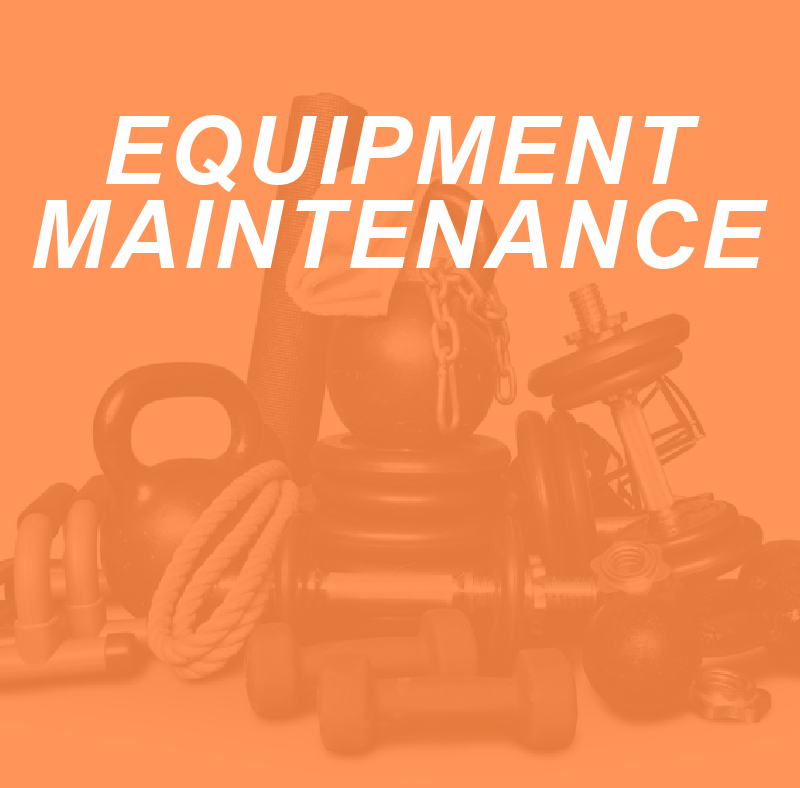 Investing in exercise equipment is an investment in our business as fit pros. It's also an investment in our own health and fitness, as well as our clients. If home equipment is cared for properly, it can last a decade or more. We have checklists for grocery shopping, house chores, and work assignments to keep us on task. Why not have an exercise equipment servicing checklist to ensure it lasts a long time?

Having an exercise equipment servicing checklist can be helpful in making sure equipment is in good shape and up to date. Those of us who use our equipment daily know the need for equipment maintenance. Repeated use and sweat can take their toll, creating wear and tear.

Of course, we all sanitize in between uses, but maintenance goes a step or two further. Some experts recommend a weekly check-in if the equipment is used a lot. A few items to consider servicing:

Inflate Balls
It doesn't take long before balls lose their air. They take a lot of pressure. Check for leaking holes or tears and refill with air. This includes:
• Stability balls
• Bender balls
• Discs
• BOSU or half-dome balls
• Medicine balls

How much air? If you have the original packaging, following the recommendations. If you don't have it, it's generally recommended to fill the ball or disc to the size it was intended to be. So, you will likely need to measure it. After a while, you might be able to gauge the right amount of air by knowing when it feels right.
Resistance Bands
Bands get a lot of stretching wear and tear. Signs of damage include nicks and tears in the bands, which can be hard to see. Inspect closely and replace the bands once these signs are indicated. There's a risk of the bands snapping, which could cause injury.

Some bands actually dry out over time or when used repeatedly in the heat. You can feel the weathered outside and see the faded color to know when it's dried up. Time for replacement.

Ropes
Jump ropes and battle ropes fray after a while. Handles can loosen. It's best to replace them rather than try to repair them.

Foam Rollers
Even foam rollers have a finite life span. Some literally get chunks taken out. Most rollers are rounded with varying lengths and densities. Some have a flat surface underneath. Smooth and textured styles are options, which can affect price. Prices vary from $5-$80.

Sliders
Since sliders are repeatedly rubbed across the floor, the cloth can fray. They are difficult to repair and inexpensive to replace ($10-$15). Once you notice the snags and frayed cloth, go ahead a get a new set or two.

Kettlebells, Barbells, and Dumbbells
Metal varieties of kettles, barbells, and dumbbells usually hold up for a long time. Just give them a quick clean. Those with plastic or cloth grips do not last as long and might need replacing eventually.

Straps
Straps tend to hold up well, but get dingy and dirty after lots of use and sweat. Most are made with a durable cloth and can be thrown in the washing machine or washed by hand. Check packaging for care recommendations.

Suspension Straps
It is usually recommended to hand wash suspension straps, pat dry and let them air out. Ensure the handles are secure and there are no frays in the straps.
---

References:
https://www.sportsrec.com/12682214/how-much-air-should-go-into-an-exercise-ball
https://www.joom.com/en/best/workout-sliders
https://reviews.chicagotribune.com/reviews/best-foam-rollers
https://www.lotuskitty.com/how-to-clean-trx-straps/
https://healthyliving.azcentral.com/long-should-exercise-equipment-last-19839.html
https://www.prevention.com/fitness/workout-clothes-gear/g28074559/best-foam-rollers/