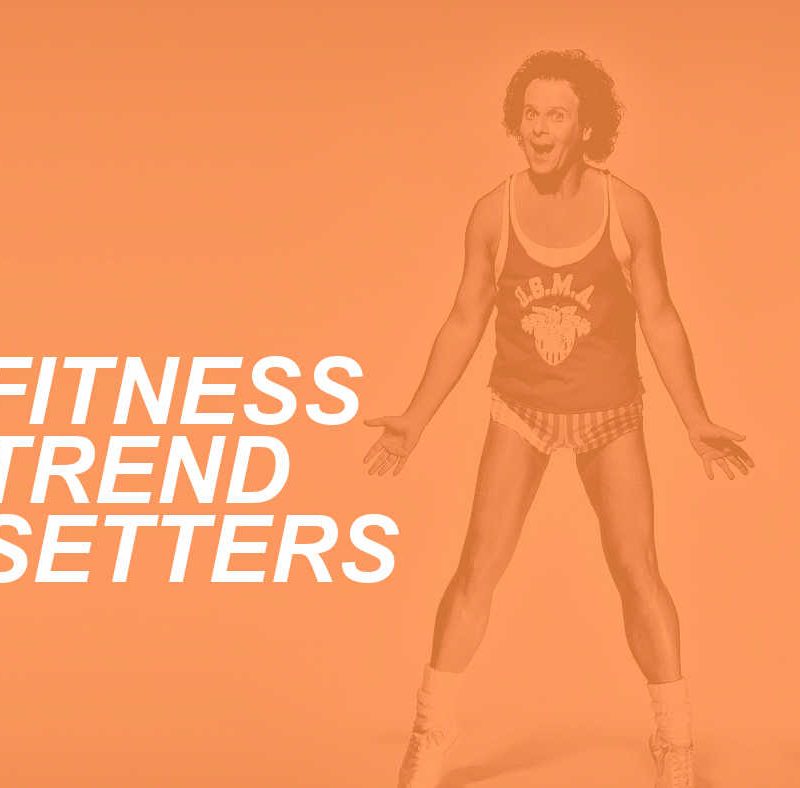 Exercise trends are always evolving. If you look back over the years to where we are now, it's been a wild ride of ups and downs. From men-only and women-only gyms to co-ed. From shaking fat away to working it off. As we look back at where fitness was and how fitness gurus influenced exercise, we pay homage to the trailblazers and fitness trendsetters who paved the path to today's fitness.
Evolving Fitness Trendsetters
There have been dozens of notable personalities since the 30's setting trends for years or even decades to come. There are too many to list but here are some notables.
Jack LaLanne is responsible for getting the exercise ball rolling in the mid-30s when he opened a gym that included a juice bar. Exercise and a healthy diet were put together under one roof. LaLanne had his own TV show in the 50s and was an icon for fitness and strength training throughout his life. He was known for conquering many exercise feats, including swimming the treacherous water from Alcatraz to Fisherman's Wharf in handcuffs while towing a boat. He was and is an inspiration to many showing how fitness reaches from the gym to huge accomplishments outside the gym walls.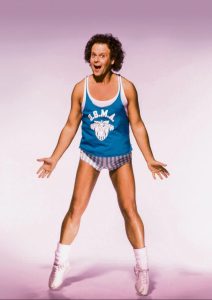 A couple of decades later, beginning in the early 70's, Richard Simmons gained notoriety after losing a lot of weight and creating an enthusiastic approach to exercise. This trendsetter had his own TV show, sold videos and DVDs, along with calorie tracking programs. He revolutionized how people viewed exercise with his bubbly, vivacious personality showing how working out can be fun. Wearing short-shorts and tank tops, viewers found encouragement in dressing comfortably for sweating. His workout style was a welcome diversion from the days of standing on a piece of equipment that had a jiggling band around the waist to shake the fat away.
No one can forget the impact Arnold Schwarzenegger had on the popularity of bodybuilding as a sport, while Eugen Sandow is considered the inventor of it. With his seven Mr. Olympia titles through the 70'sand his film Pumping Iron in 1977, Arnold put bodybuilding on the map, and still has an immense influence on weightlifters of today.

Jane Fonda is a notable trendsetter especially popular in the late 70's and 80's. People flocked to buy her aerobic workout videos. Geared towards women, high-hipped leggings with brightly colored leotards were trending for those sweating to her powerful routines that included full-body workouts mixed with cardio.

Denise Austin is a well-known fitness expert who has sold many books and exercise videos over the years. She was popular in the 80s for cardio workouts, healthy diets and toning exercises; she continues to be popular today.
Billy Blanks popularlized Tae Bo–a kickboxing-Taekwando-blend fitness fad–thanks to his martial arts background. Introduced in the late 80's Tae Bo raged on dominating the fitness industry via video and group ex classes through the 90's.
Around the same time, Beachbody produced a series of videos led by Tony Horton called P90X–an intense blend of muscle-building workouts, tabata, and even yoga that became insanely popularly across many populations at the turn of the century, and opening up the minds of the general public to becoming stronger and more muscular, without even going to the gym.

Bill Phillips is a current-day fit pro who wrote "Body for Life," which was published in 1999. It's somewhat of a Bible for fitness enthusiasts. He incorporates strength training, healthy eating habits and supplements into intense training programs. His twelve-week program is designed for participants to see a difference regardless of beginning ability.

Now we have so much variety; there's something for every body. Some you may already know about:
• Boot camps
• Exercise trampolines
• Goat yoga
• Zumba
• Hot yoga
• Barre
• Cycle
• Obstacle courses
• Mud runs
• Cardio funk

We have exercise DVDs that can be plugged in at any time, but videos have been around a long time. It's the same with TV shows, but now we have them on-demand, on YouTube, and even IGTV. Who would've thought ten years ago we'd have live-streaming exercise classes and online training sessions?

Exercise afficionados can track their steps, heart rate, sleep habits, calories consumed and so much with watches and apps on their phones. I'm sure LaLanne would be amazed at how far we have come and impressed by how trendsetters have ignited interest in getting in shape.

How can fit pros stay abreast of the trends? So many aspects change and evolve in the fitness industry, it can be challenging to stay on top of it all. Here are seven ways to stay ahead of the game.
1. Reading health and fitness articles/books/blogs from reliable sources
2. Studying CE courses and applying what we learn
3. Taking a variety of exercise classes
4. Staying active in the fitness community
5. Networking
6. Following fit pros on social media
7. Getting new specialty certifications

While we learn from the past, there's plenty to learn in the present. We will never know it all. And who knows what the future holds.
---
References:
https://www.vogue.com/article/jane-fonda-workout-videos-health-aerobics-yoga-class-pass
https://richardsimmons.com/richards-story/
https://www.nytimes.com/2011/01/24/sports/24lalanne.html
https://www.prevention.com/fitness/a30458198/denise-austin-abs-instagram/
https://www.aarp.org/health/experts/denise-austin/
https://www.history.com/this-day-in-history/jane-fondas-first-workout-video-released
https://www.bodybuilding.com/workout-plans/about/bill-phillips-back-to-fit-12-week-trainer
https://www.goodreads.com/en/book/show/1120.Body_For_Life
image source: https://images.nrc.nl/3I1A4K4eMoQINMHvOVdg_8bVprE=/1920x/filters:no_upscale():format(webp)/s3/static.nrc.nl/podcasts/files/2021/09/naamloos-2.jpg