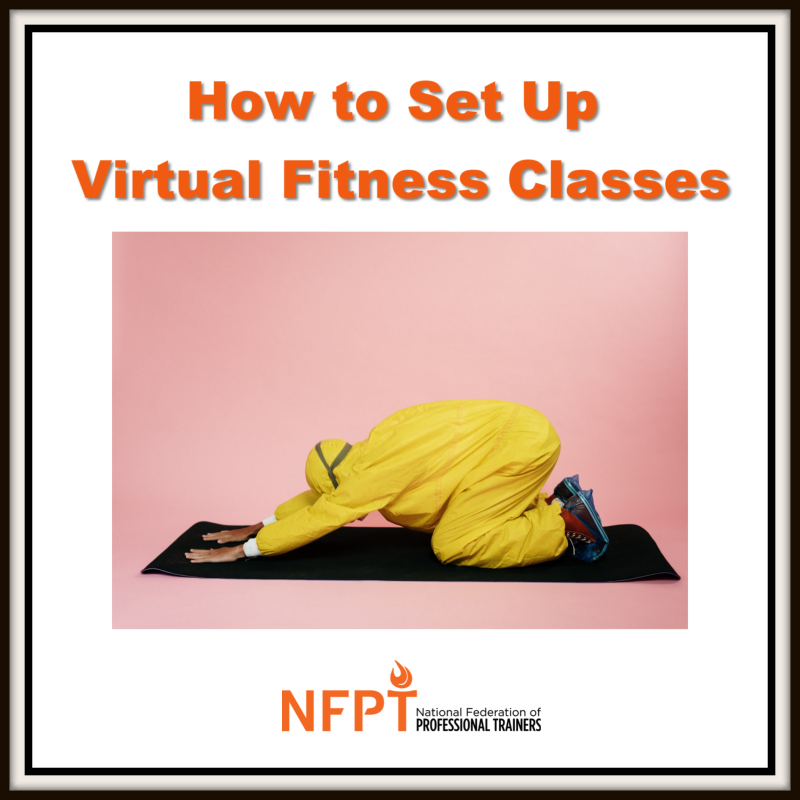 The novel coronavirus has spread rapidly around the world, claiming the lives of many, and leaving a feeling of danger for the majority of the rest of us. With social distancing and shelter from home orders coming from government officials, it can be difficult not to get caught up in the media, and even more difficult to stay positive. NFPT is committed to supporting our trainers during this difficult time.
For business owners like gym franchisees who have been forced to close their doors altogether, it has been tricky to see and stay in touch with clients – but as we have adjusted to this new normal, offering online courses and virtual conferences has become one of the most popular and successful tools to keep things as close to "business as usual" as possible.
Here's how to set up virtual fitness classes and keep up with your clientele in creative ways.
Virtual Workouts
Gyms were one of the first lines of business to be affected by the legal guidelines for coronavirus protection, but this also means that they were the first to get creative about offering solutions. In addition to uploading videos to their gym websites, several fitness instructors around the country have acted quickly in leading virtual workouts on the social media platforms, Facebook and Instagram. Both platforms have both video upload and live video tools that have eased the stress and fear of losing an in-person gym experience for their clients.
The great thing about streaming online? You can reach audiences far and wide, and connect with people who you may not have otherwise. Inviting class participants to like and share your social media pages, in exchange for a virtual workout, is a great way to spread the word even further.
If streaming feels like too much pressure and live performance, consider pre-recording a workout video and packaging it for sale online. You could create a series marketed to a specific clientele or adhere to your particular style of exercise and instruction.
Recording Guidelines
Production value is important for videos to be enjoyable. Here's what to be mindful of when you are recording your video:
Choose a well-lit room with lots of space for your demonstration.
Wear clothing that is easy to move in, that also reflects your brand image. Uniforms are great!
Speak loudly and clearly as you teach.
Encourage your students – though it may feel silly talking to a camera, it's important to keep them motivated by praising their hard work.
Check-in with the group. Assure all technology is working well and that class participants are enjoying themselves.
Facebook
Whether you choose to create a group and upload videos to it or broadcast a fitness class live, Facebook is one of the most popular platforms to set up virtual fitness classes on. In order to upload a video, you'll log in to your business page and either select "Live" to start a live video, or upload a file under the "upload option." Facebook also gives you the option to tag specific people to encourage them to join!
Instagram
Similar to Facebook's live capabilities, Instagram offers users the ability to broadcast live videos using the Story feature. Instagram allows you to be "live" for up to one hour, and the video will disappear after 24 hours. If you are hosting a shorter workout, Instagram's long video feature, IGTV, allows video uploads of up to 10 minutes. IGTV content can be uploaded directly onto a page, assuring that it lasts unless you decide to delete it.
Zoom Meetings for Group Fitness
Zoom meetings allow up to 100 participants, and all they need to do is follow a designated link to join an online meeting. Once users have joined the meeting, they can choose a setting that allows their screen to only show the speaker/leader of the class, rather than having to face a grid of faces in a conference view. There is also an option to turn off their camera so that they (or their backgrounds) don't have to be visible.
Virtual Personal Training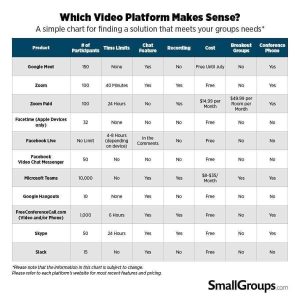 One-on-one personal training may be put on hold for a while, at least on an in-person basis.
Personal trainers, like those certified with Special Strong, are still able to work with their clients and guide their workouts virtually through apps like FaceTime, Skype, Facebook Messenger, Houseparty, and Hangouts.
Explore all the options and consider polling your current clients for which technology they're already familiar with. You don't have to use the same platform for every client.
On April 10th, NFPT hosted a webinar 'Personal Trainer Tips for Coming Out on Top". This presentation focused on how-to's for virtual training and demonstrated a software app that helps you design and deliver in-home training. See These Resources >>
Make Use of Your Free Time
Necessity is the mother of invention. While your one-on-one business may have slowed, use this time and opportunity to pursue another certification or a completely new avenue for your business or niche. NFPT has many specialty certs with online testing and my company,
Special Strong, offers a certification can be done entirely online and takes just eight hours to complete. Find out how you can add this asset to your team or even yourself to boost your game and set up your virtual classes here.