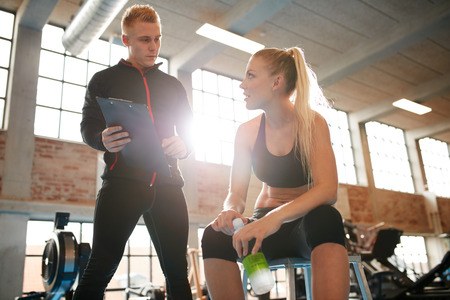 It's February 1st and one month of the year is officially gone. How was January? Did your clients make meaningful progress towards their health and fitness goals? Have they been sticking to their plans? If you haven't already been discussing the progress of their goals –it's time!
Consistency is key, and just like your clients need to eat healthy and exercise consistently, you also need to be consistent with your check-ins. After a workout spend a few minutes with your clients and ask them the following questions to better understand them, how they feel, and how you can best help them reach their goals. Don't let them get away with one word answers, ask them to elaborate or ask them "why" if they give you short answers.
How do you feel you're doing so far? Are you happy with your progress?
Are they pumped with their results or are they ho-hum about them? Do they feel like they are giving it their all or are they slipping up and sabotaging their success? Are they happy? Do they enjoy the exercises in their program? The answers to these questions will help you get inside your client's head and help you to motivate them.
Where do you think you could do better?
If your clients aren't following the program completely this is when you will learn where they are struggling. Once you know where they need help you can come up with alternatives and strategies to help them stick to the program.
Over the past month, in what areas have you most improved?
If your clients made resolutions in January and have been consistent with their nutritional, exercise, and lifestyle habits this is where you give them props. Spend a lot of time reinforcing the link between positive behaviors and how they feel mentally. Corresponding healthy behaviors with feeling good and happy cements their importance in the subconscious.
How can I help you achieve your goals?
This is one of the most important questions to ask. Do your clients need more accountability? Do they need workouts for their days without you? Do they need more motivation? As a trainer, it is our job to give our clients whatever support and guidance we can to enable them to achieve their goals. Ask them what they need and give it to them.
Do you have any questions or concerns regarding your program?
Sometimes clients are either afraid or embarrassed to ask questions about their nutrition or exercise programs. But when prompted, they feel more comfortable talking about it. If they aren't 100% clear on the program it will be difficult for them to follow it.
Communication with your clients is extremely important. Make sure they know you have an open door policy and are happy to answer all of their questions and concerns.
So remember to check in consistently and ask the right questions; you'll be amazed at what you'll learn! And don't forget to give them a pat on the back for a job well done. Experiencing the joy that my clients feel when they are on a path to success or have reached their goals is why I am happy to get up and go to work every single day.