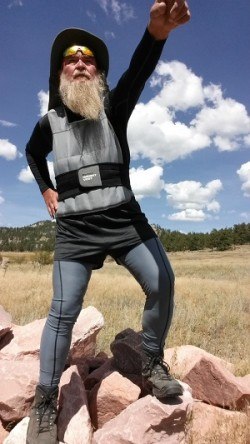 A common saying is "because it's there." My name is Jim Holt and I will embark on a Northbound thru hike of the Appalachian Trail (AT) beginning mid February 2016. As a survivor of physical, sexual and mental abuse I will undertake this thru hike not because the trail is there but because I AM here. I am a retired Masters Level Psychotherapist, Certified Personal Trainer and Expedition Hiker. You are invited to follow me on my journey leading to the start of the AT and beyond.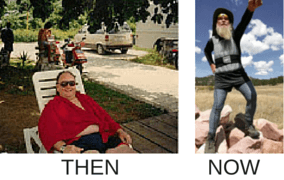 The summer between sixth and seventh grade I weighed 210 pounds and by 2009 found my weight nearing 400 pounds. Over the years I tried every diet known to man, yo-yoing my way through life, researching avenues and tools to assist in weight loss. Soul searching to find a "cure."  In late 2008 I discovered and thoroughly researched gastric lap band surgery. As a Psychotherapist I knew surgery was only a tool. To be successful I realized my inner-man needed "re-birth."  My eating habits needed changing but more importantly my view of food in general. My childhood dreams of one day running, walking, playing sports was possible and to have the life of my dreams would require moving my attention from the "head" to the body.
As soon as my surgeon released me for minimal activity I began a walking program and was very quickly fit enough to obtain my SCUBA certification (2009) (a goal set in the fourth grade.) In fact, my post surgery recovery and weight loss was such that I actually passed the commercial divers physical, a requirement to be admitted to the SCUBA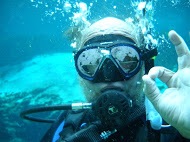 program. At this point in time my biggest challenge was simply developing a formal exercise routine.
I soon found I liked walking and found that as a result of simply walking I began to notice changes in my thinking. Specifically what I noticed was I began to think about "reaching further" by challenging myself. For example, I was extremely afraid of heights as a child but my change in thinking also led to developing a love for zip-lining and indoor skydiving.
The walking led to bike riding which led to running and after discovering a small gym nearby, with limited equipment, I incorporated the use of the machines into my program. Then I set for myself a BIG challenge – jog an eighth of a mile (2011). Oh my, that first time I thought I would die, yet I completed the challenge!  A year and a half later I entered the Colorado Marathon (a Boston Marathon Qualifier) and completed my first ever sanctioned 5K (2013) and since completed the 2015 10K portion of the Colorado Marathon.
During the time period between these two runs I started hiking as a means to train and reach much dreamed about goals of one day expedition hiking. During this time period I joined a full fitness gym. Would you believe that this man, who as a child, was mercilessly made fun of because of his weight and his inability to run, found his absolute favorite machine to be the stair climber? Go figure.  Later I incorporated upper body workouts while simultaneously climbing. Much to my surprise, on many occasions, I noticed very young athletes standing and watching me do my upper body routines while stair climbing. This is significant because I am in my early 60s. Wow! What a confidence booster and head swelling agent.  As I trained and learned I wanted to know more about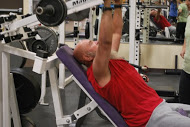 the training aspects and set my goal to become a Certified Personal Trainer (CPT) and achieved that goal through the National Federation of Professional Trainers (NFPT) (2013).
I learned through my CPT training that not everyone is suited for every type of physical activity. Not everyone is designed to be a ball player, a runner, a boxer or a weight lifter. The body types, muscle make up, fibers etc determine how a person performs certain tasks. I found hiking to be my niche.  As mentioned above, I hiked to train for my two runs in the Coloradoan and just kept on going and in 2014 completed a section hike of the Inca Trail in Peru (KM 82 to Machu Picchu). My very first long distance hike. Our guide said our group, with an average age of 58, completed the hike in the shortest amount of time of any group he had led during his 13 years as a hike coordinator.
My interest in hiking obviously continues  and not only are you invited to follow my progress through this NFPT trainer profile series, you will also if you choose, have the ability to log on to my satellite tracker and follow me in real time as I hike the trail.  I like the challenge of a long distance hike and now classify myself as an Expedition Hiker. My trail name is No Man Walking. The AT is just a bit over 2200 miles stretching from Maine to Georgia. It takes an average of six months to thru hike this trail.
Sometimes I fail to remember to embrace the fact that my weight loss and subsequent involvement in the physical activities described in this post all took place in less than six years time. Future posts will describe my training routine used to prepare for this hike.  It is my desire that my fellow NFPT Trainers receive inspiration, motivation and expanded knowledge as a result of following me on the trail.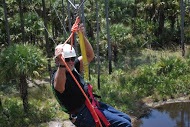 Until next time – be well and keep reaching for your goals!
Catch up with Jim's Journey with these posts:
– NFPT Trainer and Expedition Hiker: Follow His Journey on the AT (post #1)
– Preparing for the Appalachian Trail: Event vs. Training (post #3)