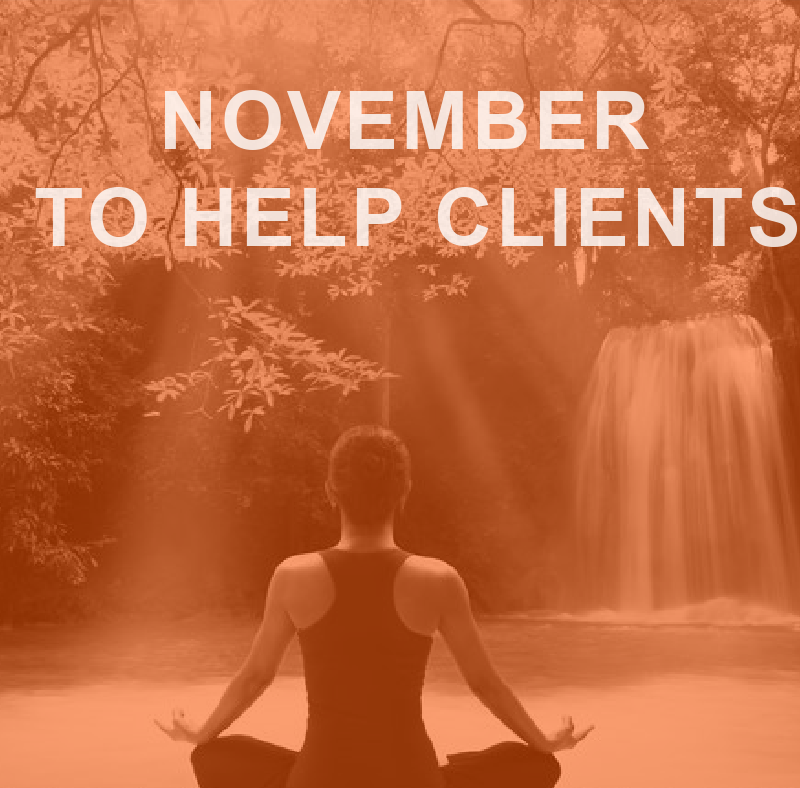 November is a month when the seasonal changes become obvious. Leaves change color and fall as the weather begins to cool. For those who celebrate the Thanksgiving holiday, it also brings a season to be grateful. Many indulge in huge feasts, so trainers can help clients prepare for it. Use this month to help clients in three distinct ways.

Trees discard the leaves they no longer need. Clients can get rid of what they do not need and what is not helping them progress.

Things to eliminate in November
• Negative self-talk – None of us should berate ourselves. Once we become aware of negative thoughts, we can learn to stop them and shift the focus to more positive thoughts.
"Once you replace negative thoughts with positive ones, you'll start having positive results." ~Willie Nelson
• Bad eating habits – Avoid junk food and fast-food restaurants during the month. Suggest clients try adding more plant-based foods to their diet. After a few weeks of healthier habits, it might become a normal routine.
• Skipping exercise – Once there is a chill in the air, it is easy to hunker down inside, take naps, and binge-watch shows. Remind clients of what the recommendations are for physical activity and to keep moving in between training sessions for overall health. 
How to Face November Feasts
Eating habits come into play with big Thanksgiving feasts in many homes. Clients can enjoy their favorite foods while practicing a few handy tips.

• Use portion control – Rather than heaping a pile of mashed potatoes on the plate, go for a few spoons full of potatoes. Take a sliver of pie instead of a chunk. A mindful eating approach can curb overeating, without feeling cheated out of favorite foods.
• Slow it down — Try eating slower to recognize satiation, instead of shoveling in mouthfuls only to feel overly full later. By eating more slowly, it's also easier to savor the tastes of the food.
• Bring healthy options — Suggest that clients prepare a few healthy dishes of their own, to ensure healthy options are available.
Grow in Gratitude
Learning to be thankful is one way to appreciate the work our bodies let us do through exercise. Many find that a grateful attitude not only adds a positive tone to daily life, but develops better sleep habits and the ability to handle stress.
Ways to show gratitude include:
• Have clients keep a journal throughout the month to document exercise successes – big and small. The act of writing it down provides intentional focus.
• Note progress at the end of training sessions. This can be a simple verbal cue asking clients what improvement they saw in themselves. Or tell them the progress you have seen. Did the client reach a goal?
• Remind clients (and ourselves) to be grateful for what our bodies let us do. One way to do this is through meditation to focus on things for which we are thankful (i.e., the ability to exercise, taking the time to exercise, increased strength, more energy).
Each month of the year offers ways to focus our energies and training. Follow along to see what December has to offer.
---

References:
https://www.medicalwesthospital.org/9-tips-for-a-healthy-thanksgiving.php
https://www.productiveandfree.com/blog/writing-things-down-benefits
https://positivepsychology.com/gratitude-exercises/