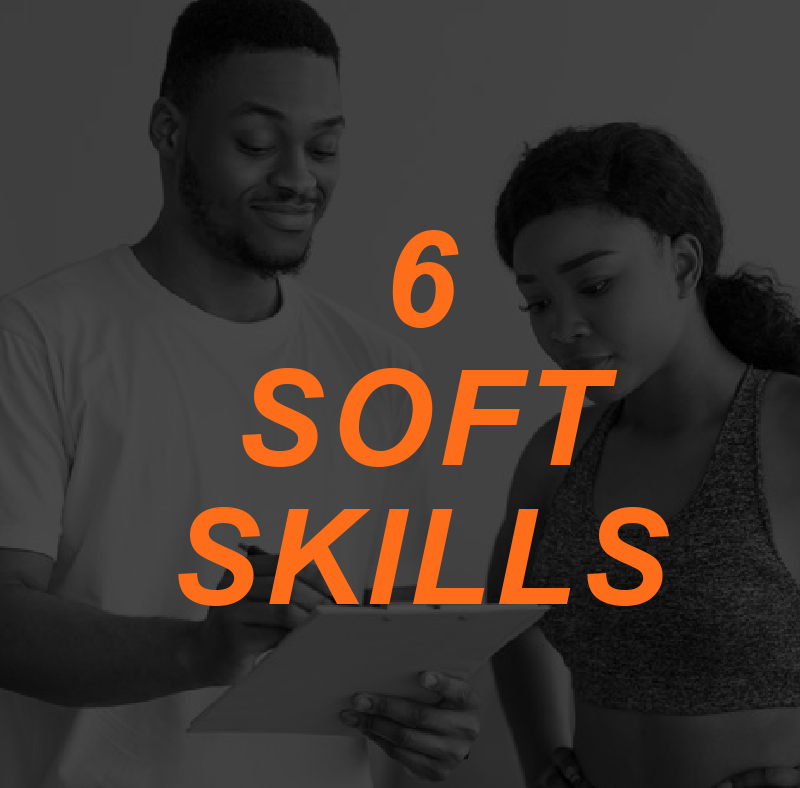 All personal trainers must possess a solid foundational knowledge of exercise science, biomechanics, exercise physiology, anatomy, safety, and program design. But what about those less tangible skills we refer to as "soft skills"? How might developing and utilizing them apply in a personal training setting?
The truth is – soft skills are equally as valuable as a personal trainer's science-based skills and abilities. In fact, the presence of soft skills can "make or break" the success of the professional. Soft skills are necessary for personal trainers because our work is just that – it's personal. We work directly with individuals and small groups on a near-daily basis. Clients need a professional who gets what it means to be client-centered.
The Necessary Six
There are more than six soft skills individuals can possess and cultivate; however, these six are of top priority for fitness professionals. They demonstrate a professional's ability to relate to their clients and to lead them effectively (and safely) toward their unique goals in a way that respects their clients' autonomy and distinct needs.
Flexibility/Adaptability. Given that this profession works directly with individuals, a personal trainer's ability to be flexible with their schedule and unique approach to client training is a must. Our clients, like us, experience ups and downs in their lives which – no doubt – influence their adherence to a program and the work they do with you as their trainer. Sessions will be cancelled and rescheduled. Clients will be unexpectedly late. How you adapt to those unforeseen events is critical to your relationships (current and continued) with your clients.
Certainly, you need to have established policies and practices that outline what you expect from your clients and what they can expect from you. The point, here, is to respect that "life happens" and do your part to be as flexible as possible so that your clients feel supported and understood.
Interpersonal Communication. It's not necessary to be a top-tier public or motivational speaker to be successful in this field. However, learning to communicate openly, clearly, and transparently with your clients (and colleagues) is crucial. This is even more important in today's digitally driven world. With so much asynchronous and written communication, we must remember that nonverbal expressions aren't a "given" all the time. The message's content as well as how the message is interpreted requires finesse and thoughtfulness on the part of the professional. This ensures that miscommunications are infrequent and that the message is received in a way that meets the client where they are and offers encouragement and grace.
Problem-Solving. Clients will experience events in their lives that can threaten progress or disrupt an otherwise steady routine. As a professional, keep in mind that you can offer your clients simple workouts or stretch routines that they can use while traveling or feeling less motivated. You can also provide modifications to clients who might be recovering from an injury or who are just returning to exercise after a lengthy illness.
Further, it's likely you will have clients show up to a session who just aren't as focused as they need to be. That's ok. Perhaps that is the day to abandon the session's outlined plan and do something the client feels more connected to. For example, if a client came to a session following a troubling day, instead of a routine resistance training workout, offer to lead them through a Yoga session. Sometimes we must shift our focus to best serve our clients and meet them where they are.
Networking. Although personal trainers work one-on-one with individuals (or in small group settings) regularly, their success is connected to the strength of their professional and referral networks. Personal trainers should dedicate time to connecting with other health and exercise professionals to build a team approach to serving their clients. Additionally, those in your network provide rich learning opportunities for the professional who prioritizes a growth mindset.
Conflict Resolution. This is not to say that conflict is frequent or a regular occurrence in the daily life of a personal trainer, but there will be times when a client expresses a dissatisfaction with a workout or training session. Personal trainers need to have crucial conversations that lead to effective resolutions to maintain their client relationships.
Creativity. As we know, personal training is personal, which means it's about the client and their individual needs, goals, dislikes, and preferences. Developing a sustainable exercise plan is as much science and order as it is creativity and ingenuity. No two clients are exactly like, so program development and training sessions should be as unique as the client. When working with clients to set goals, consider showing clients different layouts and styles of workout plans and sessions to get a feel for what might be the best approach. Most of all, don't be afraid to try something new or infuse a little fun (gamify) a session. It will keep you and your clients from getting bored.
While you continue to sharpen your scientific skills and develop greater confidence in personal training, remember to evaluate the softer side of your skill set (here's where a SWOT analysis is useful) and identify areas of potential growth.