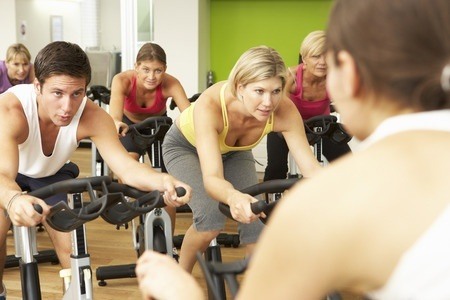 Congrats! You've got your certification, a time slot at the gym, and a start date! When I got those things, I got turned loose with the combination to the lock on the music console, a smile, and a "Good Luck." And I needed it. But we don't all have to find things out the hard way. Here is some the most helpful advice I can share with you about your new adventure.
The first class can be scary, but you will have to relax! It's endearing to come across someone who seems shy and uncertain, however it is not endearing when that person is instructing a fitness class. Participants want to know they are in good, capable hands. Remember, if you've gone through your training, you have the necessary education. Speak with confidence.
Show up prepared! No fumbling around with your iPod and/or disjointed ride profiles. Have your music pre-selected and in order. I wrote out my playlist in a small notebook and the corresponding ride profile for each track so I'd always know what was coming up. That bit of back up comes in handy especially in the early days of instructing.
Practice! You will be constantly speaking to your class which can be hard to do if you have no idea what to say. Before my first class, I went to my gym mid-day, put on my music and headset, got on the instructor's bike, and spoke aloud to an empty room. I looked half mad, gesturing, smiling, and encouraging a roomful of shiny, unmanned bikes, but before I was done 3 or 4 people actually drifted in and started riding with me. The confidence I got from that was worth the effort.
Realize that it will take time to find your style and build a following. A lot of gyms have their star instructors, and it is very tempting to mimic their style. Try hard not to do that. You already bring something unique to the mix: yourself. It may take a few classes to get into your groove, but your dedicated followers will come. Give yourself time to build up that loyalty and understand that it's part of the process we all go through as new instructors. Have fun with it!
*Smile emoji* and good luck!