Ever heard the expression "happy as a pig in mud?" Mud adds delirium to everyone's life – from this little piggy to that healthy human. Plus, it's the perfect addition to any fitness regimen.
Mix It Up
Adventure race training that incorporates both mud and obstacles is a challenge like no other. These types of races aren't just about speed. They're about endurance, comradery and fun. For those who want to kick up their workout, it's a sport that just can't be beat. For those with a competitive streak, there is a method to mud's madness. It's all about an intoxicating adrenaline rush that gets your heart pumping and your body working harder than ever.
Mud runs differ in length (anywhere from a 5K to double digit miles) and obstacles (in terms of numbers and difficulty). Marathon runners who deem themselves fit will be quickly surprised since running is only part of the process. This type of workout includes a healthy dose of all things muscle-related, so be prepared to be sore. For those not accustomed to this mixture, a multitude of hurdles (literally!) awaits for you to conquer.
Helpful Newbie Tip: It's all about that pace when it comes to mud runs. Wait for the crowds to thin out after the first five minutes (it takes a bit to get your mud on and become used to the sensation).
Muddy Training Advice: Focus on what you don't do best. You may be a fast runner, but that upper body strength of yours will take a bite out of your race time on certain obstacles. Train accordingly.
Think It Up
An average human brain weighs approximately three pounds. That's it. But, in a mud run, those three pounds will enable you to think on your feet faster than your quickest opponent. Use your brain power to process and work through each and every obstacle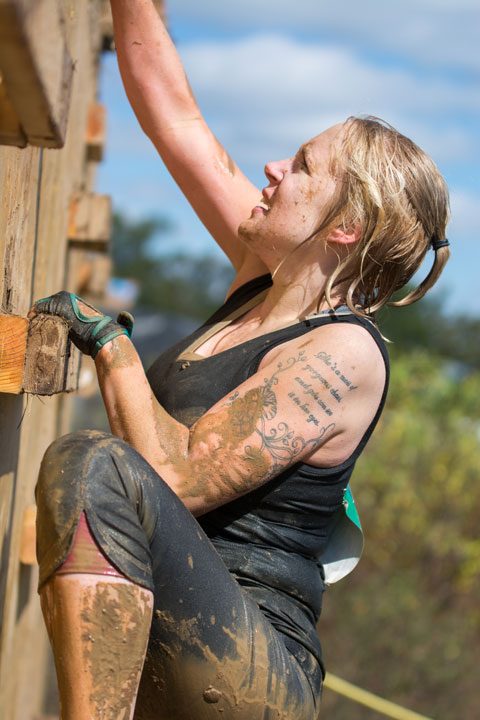 you face.
Mud runs also benefit your brain because it's not the ordinary claustrophobic gym setting. Enjoy the natural outdoors filled with forests and creeks. Feel the cool air guide you through a multitude of challenges. And don't forget to breathe in as you accomplish more than you thought possible.
Helpful Newbie Tip: Think before you try an obstacle out of your comfort zone. If you're afraid of heights, maybe you don't want to take that 12-foot plunge off of a man-made cliff.
Muddy Training Advice: Get outside and embrace the elements. Keep your eyes open and remain alert to nature's own obstacles. Try climbing a tree (promotes upper body strength) or running up a steep hill (watch for tree roots and rocky terrain.)
Team It Up
People of all ages and all fitness levels love a good mud run. They are designed to be a fun workout that instills a sense of community. Mud is meant to be shared with your friends, so creating a team of buddies to get you through the experience is a must. Many obstacles are based on teamwork, so work together and make sure no one is left behind. The more you work as a team, the more enjoyable the workout.
Since mud may not be a part of your team's fitness routine, we guarantee it will shed a whole new light on unique cross-training. Think about it: mud mixed with water and sometimes cold is a totally different setting than a gym or paved path. Plan accordingly in terms of clothing (nothing loose), shoes (with good traction) and accessories (leave jewelry and glasses at home).
Helpful Newbie Tip: Remember that race times are averaged together for the team. That means you need to rely on your group to get you through the most difficult obstacles…together.
Muddy Training Advice: Arrange weekly workouts for group training. Get to know all of your team members, especially their strengths and weakness, so your group can benefit during your race.
If you're ready to amp up your workout, try the sty and see if you're up to the challenge. Just make sure to roll up your sleeves and be prepared to get down and dirty.
Carl Bolm is the owner of The Battlegrounds at Cedar Lake's mud run, the Midwest's only permanent mud run and obstacle course. The five mile mud run features more than 30 military-themed obstacles for those who are physically and mentally fit.