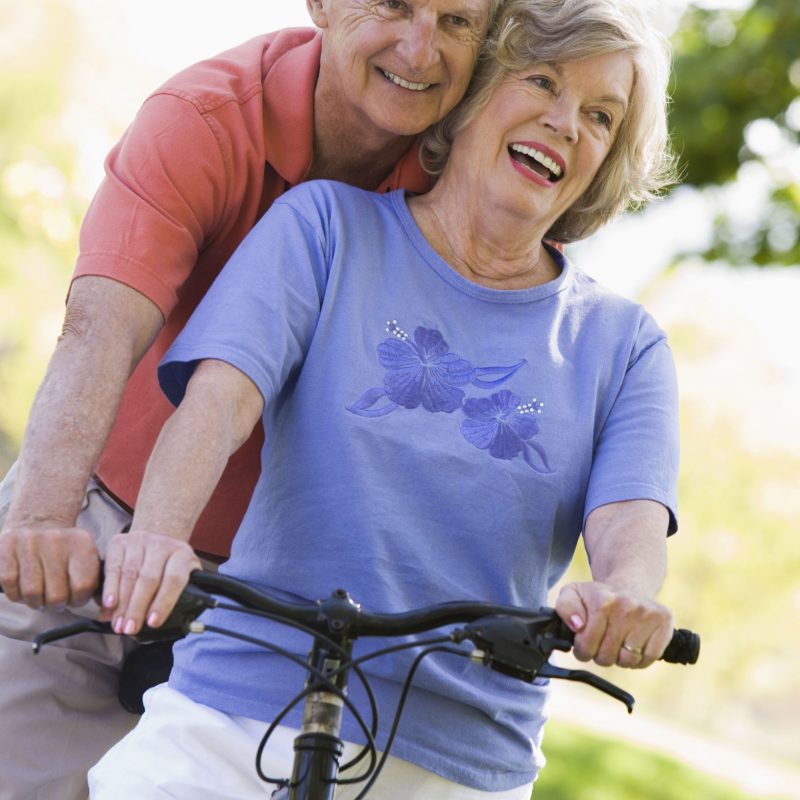 Updated May 2018
Specific guidelines exist for fitness pros to rely on when guiding senior clients toward a healthier and more active lifestyle. The list of senior appropriate exercises is expansive, but there are also aspects of older adult health to be aware of when programming.
The American College of Sports Medicine (ACSM) notes "it is never too late to reap the health and functional benefits from regular participation in physical activity" (Bushman, 2017). In other words, exercise is beneficial at any age.
Fitness professionals can use these guidelines to help their older clients improve activities of daily living, reduce the risk of disease, and lessen the impact of the aging process. All personal trainers should be working with senior adults!
The guidelines, sharing some similarities with those for active adults ages 18-65 years, focus on aerobic fitness, muscular fitness, flexibility, and neuromotor training. The overarching theme for these guidelines is to simply avoid inactivity. Something – is always better than – nothing!
Aerobic Fitness
Ideally, activities related to improving endurance should be performed three to five days a week depending on intensity. To elicit substantial health benefits, the recommendation for aerobic fitness activities is:
150 minutes (2 and a half hours) of moderate-intensity exercise each week (brisk walking, gardening, etc.); or
75 minutes (1 hour and 15 minutes) of vigorous-intensity exercise each week (jogging, swimming, cycling, etc.); or
A combination of moderate and vigorous intensity aerobic activities each week
It is possible to use bouts of exercise (1o-minute segments, for example) to meet this threshold. The greater the intensity, the shorter the duration. According to ACSM (2017), using a scale of 0-10 with 0 being resting and 10 representing maximal exertion, a moderate-intensity exercise would be a 5 or 6.
In contrast, a vigorous-intensity activity would be a 7 or 8. Use this scale to communicate the level of intensity for your clients and adjust as needed.
If your client is interested in and capable of being challenged beyond the substantial health benefits, the recommendations encourage individuals to do the following:
Increase moderate-intensity activity to 300 minutes (5 hours) each week; or
Increase vigorous-intensity activity to 150 minutes (2 and a half hours) each week.
Muscular Fitness
Training the muscular system has benefits beyond improving strength. Engaging in muscular fitness activities improves activities of daily living, balance, and reduces the risk of falls and broken bones (Bushman, 2017).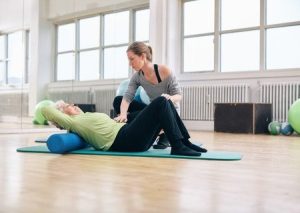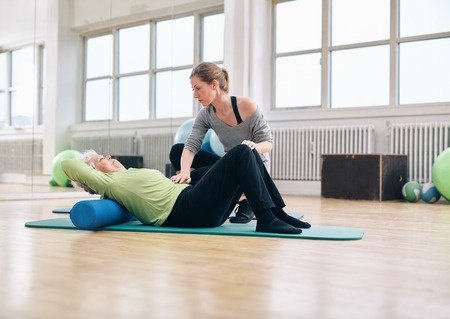 Encourage clients to perform muscular strengthening activities (weight training, resistance bands, free-weights or machines) involving all major muscle groups (legs, arms, shoulder, chest, abs, and back) on two or more days of the week (non-consecutive days).
To maximize strength development, a resistance (weight) should be used for 8-12 repetitions (or 10-15 repetitions for beginners) of each exercise resulting in willful fatigue.
A resistance training program can be constructed in a variety of ways just as it can for other populations. Some clients may prefer a total body program three days a week (MWF) while others may want to work a combination of muscle groups on different days. Designing the program according to client need and preference.
Flexibility
To maintain a healthy range of motion and joint integrity, it is recommended that clients engage in stretching exercises on at least two days of the week (more is better). For best results, encourage stretching at the end of a workout (or when the muscles are warm) for a minimum of 10 minutes.
Key areas that experience a functional decline with age are the neck, shoulders, back, and legs. Static stretches should be held for a period of 30 to 60 seconds.
Neuromotor Training
The aging process often results in a decline in balance. To mitigate this natural decline it is important to integrate activities into a program that encourage the maintenance and/or improvement of balance.
Better balance results in a reduced risk of falling and injury. For best results incorporate balance exercises on two to three days of the week. Each exercise should last between 10 and 30 seconds.
Fundamentally, many of the activity guidelines are the same for active adults, but there are four key points for those beyond the age of 65.
If a client in this age category is unable to perform a minimum of 150 minutes of moderate-intensity aerobic activity each week (due to chronic conditions or other concerns), encourage him or her to engage in as much activity as his or her abilities will allow.
If a client is at risk of falling, prioritize balance training exercises.
Older adults should determine their level of effort relative to their fitness level.
Older adults should understand how their individual conditions may limit or impact their level of physical activity. Be sure to encourage a consult with a primary care provider.
For more detailed information, read the full guidelines related to this population.
[info type="facebook"]Join the Facebook Community Group to meet other trainers.[/info]