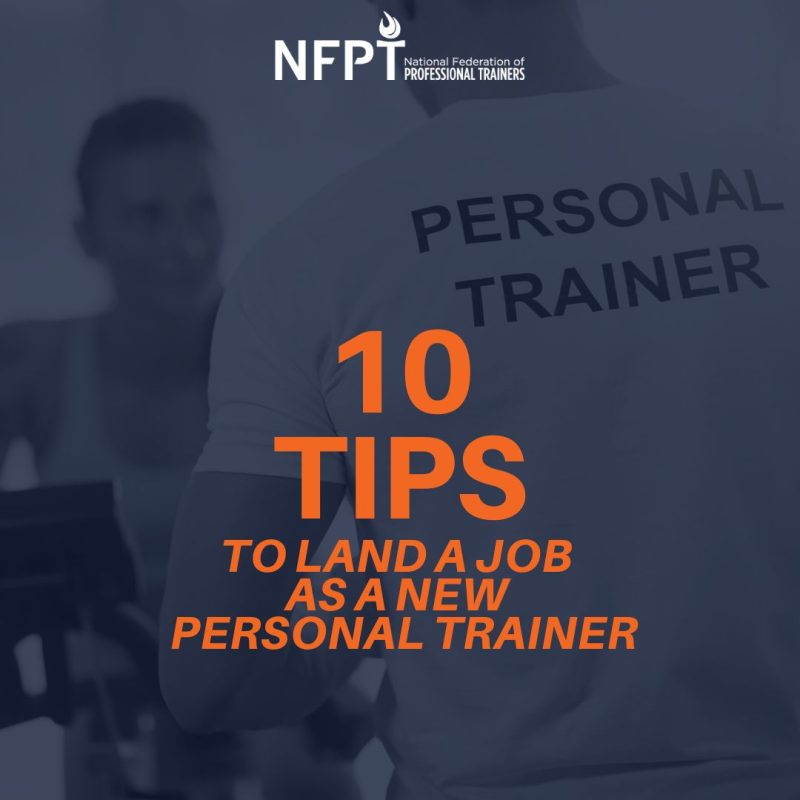 As a new personal trainer, landing your first job can be a daunting task. However, with the right approach and mindset, you can increase your chances of success. Here are 10 tips to help you land your first job as a new personal trainer.
10 Tips to Get Hired as a New Personal Trainer
Get certified. One of the most important things you can do to increase your chances of getting hired is to get certified through a reputable and accredited organization like the NFPT. Personal training certifications demonstrate to potential employers that you have the knowledge and skills necessary to be a successful personal trainer.
Build a portfolio. Your portfolio should include your resume, certifications, and any other relevant experience or education you have. Additionally, it should showcase your skills and abilities as a personal trainer. Consider including before-and-after photos of clients, testimonials from clients, and videos of you training clients.
Network. Personal training is a small industry, and networking can be a powerful tool to help you find a job. Attend industry events, join professional organizations, and connect with other personal trainers. Marketing your business to other healthcare providers like physicians and physical therapists can also be a novel source of referrals. You never know when a connection may lead to a job opportunity.
Be flexible. Many personal trainers are self-employed and work as independent contractors. This means that they may not have a set schedule or a guaranteed income. Be open to different types of work, such as working with clients online or at a gym on a part-time basis or running outdoor fitness classes in your community.
Be proactive. Don't just wait for clients to come to you, go out and actively seek work. Reach out to gyms, health clubs, and other fitness facilities in your area to inquire about job openings, even if they don't have any currently listed. You can also try contacting personal training studios, sports teams, and even corporations to see if they are in need of a personal trainer.
Be prepared for the interview. When you land an interview, be prepared to discuss your experience, qualifications, and why you want to be a personal trainer. Also, be prepared to answer questions about your training philosophy and approach. Don't profess to know it all, however. A little humility goes a long way.
Be persistent. Landing a job as a new personal trainer can take time, and you may face rejection along the way. However, don't let that discourage you. Keep applying, networking, and building your portfolio. You will land a job that is the right fit for you.
Specialize. Consider specializing in a specific area of personal training, such as working with athletes, older adults, or people with specific medical conditions. Specializing will make you stand out from other personal trainers and increase your chances of getting hired by a gym or facility that specializes in that area.
Utilize social media: Social media platforms can be a powerful tool for personal trainers to market themselves and connect with potential clients. Create a professional and consistently-branded profile on platforms like Instagram, Facebook, and LinkedIn, and post regularly about your training philosophy, client success stories, and other relevant content that showcases who you are and how you help people. Make sure to include your contact information and a link to your portfolio on your social media profiles.
In conclusion, landing a job as a new personal trainer can certainly be challenging, but by following these tips, you can increase your chances of success. Remember to get certified, build a portfolio, network, be flexible, be proactive, be prepared for the interview, and be persistent. With the right approach and mindset, you can land your first job as a personal trainer and begin your journey in this rewarding field.