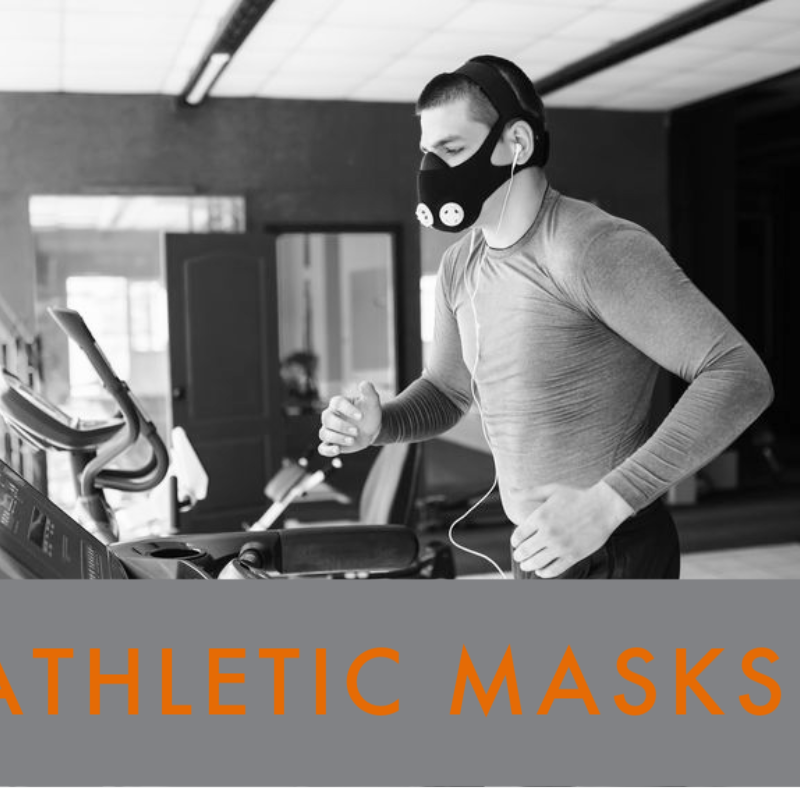 With face covering mandates or recommendations pretty much standard across the board, how can we guide our clients into the healthiest approach to balance exercise and viral spread? If you haven't seen them yet, fitness masks have hit the market alongside the various incarnations of face coverings to appeal to wide audiences. But are they worth it?
Why Masks?
Here's the deal with masks. I'm sure by now, we've all seen that COVID 19 is transmitted when an infected person sneezes or coughs, and the viral droplets land on frequently touched surfaces such as tabletops, countertops, and door handles. These viral droplets can be picked up by an uninfected person from these frequently touched surfaces. If the person ends up accidentally touching his/her mouth or nose, the virus can be transmitted to the uninfected person. Hence, the mask mandates; the thought is that should an infected person wear a mask, their droplets will fall into the inside of the mask rather than frequently touched surfaces thereby slowing transmission.
Without getting into the politics of the matter (which unfortunately, is a thing), the issue is, we don't always know who's infected and who isn't. Not everyone has been tested and so not everyone knows. Given that many people are asymptomatic and the experts are unsure if asymptomatic or presymptomatic people can spread the virus, the precaution is to recommend everyone wear a face covering, just in case.
But what about those who can't wear masks due to underlying medical conditions? What a catch 22 they're in! What about when we fit pro's train clients? The World Health Organization (WHO) has stated:
"People should NOT wear masks when exercising as masks may reduce the ability to breathe comfortably."
"Sweat can make the mask become wet more quickly which makes it difficult to breathe and promotes the growth of microorganisms. The important preventive measure during exercise is to maintain physical distance of at least one meter from others."
These are very important points made by The WHO. Our public needs to be reminded that physical distancing is THE primary recommendation to prevent the spread, not face coverings. The latter should be seen as a back up when physical distancing is not feasible or possible.

Why Fitness Masks?
When the mask mandates were first released in Phoenix, Arizona, I immediately wanted to do research to find out if they were safe to wear while training. It's summer here, and Phoenicians are a very active group! I've seen people wear cloth masks and medical masks around their mouths and noses while running and riding mountain bikes. I wondered what the sweat accumulation was doing to the skin around the masks and the fact that, while the droplets coming from a mask wearer's mouth aren't landing onto frequently touched surfaces, they are being caught and landing inside the wearer's face mask.
WHILE I DO NOT WANT TO MINIMIZE THE IMPORTANCE OF FACE MASKS IN THE BATTLE OF FLATTENING THE CURVE AND EFFICACY IN PREVENTION OF COVID-19 TRANSMISSION,  I WANT ATHLETES, CLIENTS, AND FIT PRO'S TO TAKE HEED WHEN WEARING CLOTH MASKS AND MEDICAL MASKS DURING TRAINING.
I was relieved to see The WHO'S statement on this. Yet, some locales require masks–period–and some people feel comfortable wearing them. PERIOD. So, what then?
I thought, there has to be a fitness mask with proper ventilation that's made out of a mesh or breathable material. I was right!
There are masks that are referred to as "dust masks" and "running masks." These masks have been around pre-COVID and are designed for outdoor workers, trail runners, cyclists, and for other outdoor sports.
I actually purchased one (youth-sized for my petite body and head). I'm happy to say the mask fits snugly, has carbon filters (these get changed eventually based on sweat rates and how much you wear the mask), and proper ventilation. The mask is also made of a breathable material that can be hand-washed. I ordered two so that I can switch them out when one needs to be washed.
While it's too soon to pull evidenced-based research on the long term ramifications on the lungs as a result of exercising in cloth or medical
masks, the recommendation is to not wear one during exercise but to rather properly physically distance one's self during exercise. But, if you are going to wear a mask, get one that has proper ventilation and mind your mask hygiene!
One last thing about masks. There are actually masks out there that mimic training in altitude and are used with the goal of increasing stamina and lung capacity. They're called training masks. I'M NOT TALKING ABOUT THESE MASKS!
These masks are for athletes who are using scientific methods to systematically train their lungs (that's a topic for a whole different blog).
Rather, look for "Dust Mask" or "Outdoor Fitness Mask" or "Outdoor Cycling Mask" or "Outdoor Running Mask" or keep it simple…look for, "Fitness Mask."
---
References:
https://www.who.int/emergencies/diseases/novel-coronavirus-2019/advice-for-public/when-and-how-to-use-masks
https://www.who.int/emergencies/diseases/novel-coronavirus-2019/advice-for-public/myth-busters