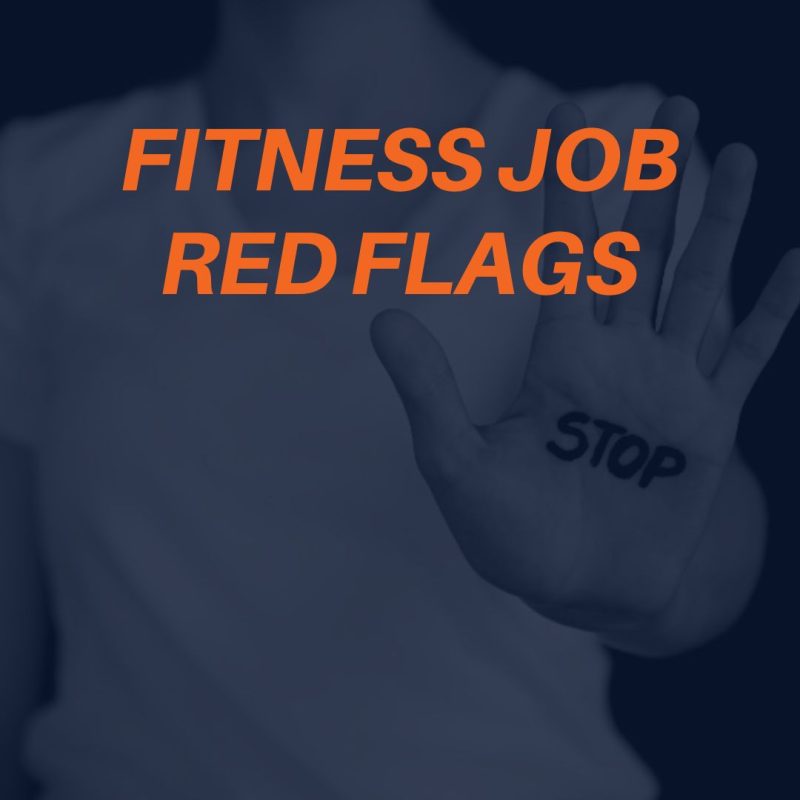 How can a personal trainer know if a job opportunity is worth the investment in time and exploration or is a disaster waiting in the wings? You may not know right out of the gate. Red flags are everywhere in life and in business, and the fitness business is no exception. Read on to identify job opportunity red flags to look for and clear questions to ask to avoid accepting the wrong job.
Fitness Job Opportunity Red Flags
As certified personal trainers, we can work in a variety of settings including studios, big box gyms, small gyms, physical therapy clinics, universities, recreation centers, corporate settings, cruise ships, hotels, and many others. We can also explore contract or part-time work with other businesses owned by other fitness professionals looking to expand their reach or develop a new program. Each setting presents a unique experience, but some may be less legitimate than they appear. Don't ignore the red flags!
Use this collection of "red flag" warnings as a checklist when reviewing job postings on various job boards. Just as you would assess a client for their readiness to participate in a physical activity regimen, assess the opportunities you are seeking to evaluate their credibility and legitimacy.
Disconnected Job Description/Posting: The job posting and description does not align with the job duties the company or owner are asking you to perform.
Hot Mess Express: If the general practices do not seem to connect or the powers that be are lacking organization, clarity, or clear communication, it's time to raise an eyebrow (or two)
Role Confusion. When you join a new company, small or otherwise, the key players and those "in charge" have a duty to orient new staff and clearly outline who does what and why. A business should not have role confusion or a cloudy purpose.
No clear onboarding process for clients. This is huge. For example, if the company or business is hiring contractors to work as fitness coaches but those hired are not made aware of what the client onboarding process includes (such as waivers, health history, assessments, etc.), this is a concern. Any organization that coaches clients or offers services like we do should have a way of bringing new clients on board in an organized and efficient manner.
Questionable lead generation. Of course, businesses need a way to generate leads and find prospective clients. Some do this through social media, some through word of mouth, targeted marketing, or partnerships with other entities such as clinics or recreation centers. This is not a red flag.Let's look at an example. The company or business you are working for is generating leads by buying them from a supplement company. A consumer purchases a supplement/weight loss product, upon checkout, clicks a box (or must know to voluntarily unclick a box) that says they would like more information on how to achieve their goals, and then the business you work for asks its staff to contact that consumer. The consumer then thinks you are a representative from the supplement company. They start asking you questions about a different product or why they are having GI distress with their fat loss pill, etc.

First, it is outside the scope of an exercise professional to recommend supplements. Second, supplements are a slippery slope anyway due to lack of regulatory oversight and minimal third-party testing to guarantee quality or purity or efficacy. This type of situation then creates a cascade of confusion that you must work to untangle in hopes that you ultimately recruit the prospect to the program you are working with. Ultimately, it feels like a disingenuous practice.
Question avoidance. If you ask questions and they are not directly answered, that is a job opportunity red flag in any situation.
Free labor. If you are not getting paid for the work you do based on what the agreement outlined, clear red flag and perhaps time to move forward on another path.
Out of scope. If the business you are working for asks or expects you to do anything that is outside of your certified scope (recommending specific nutrition or meal pans, for example), it is time to make a graceful exit.
We are fortunate to have several avenues we can pursue professionally to elevate our skill set and serve our clients. The majority are valuable options to explore and work in, but it's best practice to perform some research and ask questions of the business and its leaders ahead of time before accepting a job opportunity. After all, there are still less-than-ideal opportunities lurking.