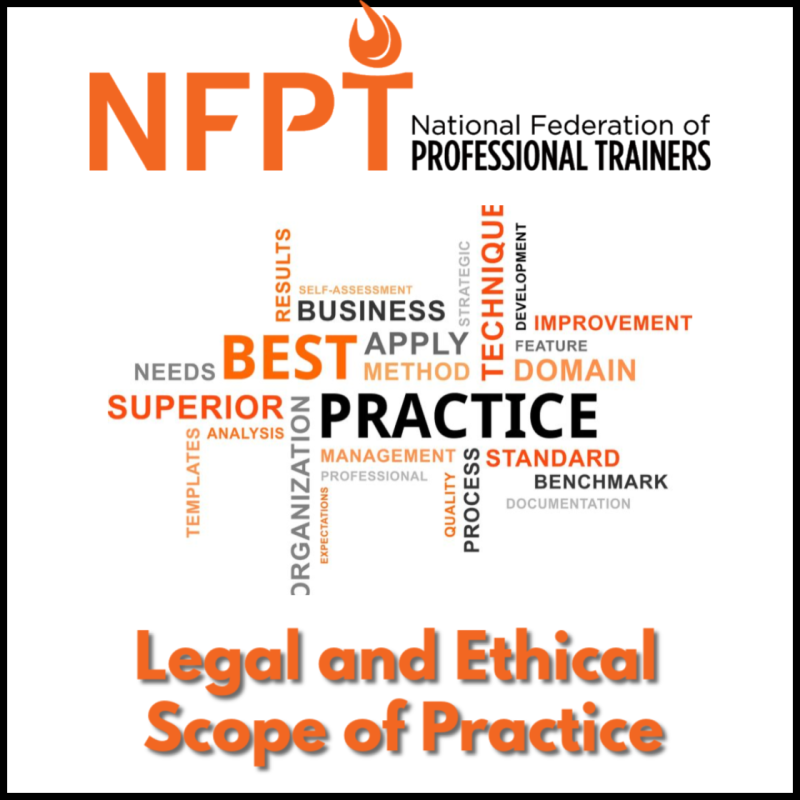 With the lines of health and fitness professionals being continually blurred with all the cross-over, synergy, and holistic education programs/niches available, it can be quite difficult to discern what personal trainers are legally and ethically allowed to do within their fitness practice. For those who hold multiple certifications, licenses in other health industries, or doctoral degrees, your scope of practice will be dictated by your highest level of education or licensure in the area of question. For those who are solely fitness professionals, first and foremost, there several areas of consideration where knowing the law and the boundaries can be the difference between your ending your career and continued success.
Scope of Practice for NFPT Personal Trainers
There are plenty of areas where personal trainers should excel and focus on with regard to best practices and continuing education. Although being the most professional and adept trainer is not limited to the following, this is a checklist you should have no problem ticking off:
Have and maintain a working knowledge of human anatomy, the concepts of functional exercise, basic nutrition, and fundamental principles of exercise science
Demonstrate an ability to design and execute individual and small group exercise fitness programs, tailored to the needs and attainable goals of the individual, apparently healthy client, in a safe and effective way
Understand the need and importance of screening and client assessment and proficiency in conducting these evaluations initially and progressively
Exhibit a passion and desire to help clients reach their health and fitness goals through appropriate cardiovascular, flexibility, and resistance exercise
Effectively motivate others in an encouraging and uplifting manner towards improving their overall fitness and health
Maintain unwaivering personal integrity, client confidentiality, and professional standards for best practice
A dedication to self-improvement, self-awareness, continuous learning, personal growth and development with regard to personal health, fitness and mental capacity
Personal training is a job that starts with heart, motivation, and a love for all things fitness. But, there's much more to it than your own personal motivation to be fit. Your clients' needs, goals, and health are entrusted to you. Taking that responsibility seriously is the difference between a fitness enthusiast and a professional personal trainer.
A good personal trainer delivers safe, effective, fun and interesting workouts to all fitness-training clients. The training programs you develop should be varied and progressive, and geared toward improving your clients' health and wellness. As a trainer, you should be enthusiastic and supportive, so that your clients remain interested and stimulated, which helps ensure they stick with the program — and with you.
What Personal Trainers Should NOT Do
While personal trainers often assume multiple roles with their clients — which sometimes includes being a coach, cheerleader, or confidant, there are some responsibilities that personal trainers should avoid.
When in doubt, refer out. Having a mentor or other close fitness professional to consult when uncertain situations arise can help you navigate ambiguous territory. And be sure to check out the detailed Codes of Conduct for NFPT personal trainers, for additional guidelines.