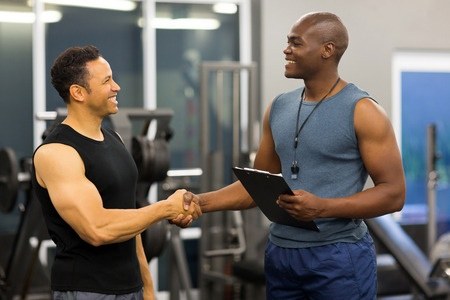 One of the biggest challenges for personal trainers is getting clients. Most would assume that getting clients requires a lot of hard work, time and money. While the first two are almost always a given, money does not always have to be an issue. There are plenty of low-cost marketing strategies that can deliver big results. Some of these may seem simple, but they are on this list for a reason.
Business cards and a handshake. Like I said…simple. Even in this new age world of technology, a face-to-face interaction and an honest handshake still go a long way. A business card tells potential customers who you are, how they can get ahold of you and what you can do to help them. It also needs to give them a reason to take action. Maybe your business card needs to have a "free session coupon" on the back?
Pay for referrals. We discussed for the past two weeks about referrals and how helpful they can prove to be to you as a personal trainer. An easy and cheap way to get referrals is by offering your clients cash for referrals that enter into the program. By offering money, you are making it worth the time and energy to recommend you.
Wear your business. Whether it is on a t-shirt or a hat, get your logo out there. I wore an NFPT polo to lunch one day and had a random guy in the restaurant ask me about it. I got to give him some information and he probably checked us out! I have seen a lot of small business owners put their information on their vehicles and I think this is a really great idea too. Whatever it is, you should wear your business. It is relatively cheap and it works.
Use the Internet. I know we have talked about utilizing Facebook and Twitter to your advantage. Along with that, we have touched on getting your own website. Websites are relatively inexpensive and social media is absolutely free (its just a major time investment). Both can work miracles for your business.
If you want "no-cost" tips instead of low-cost check out this article with free marketing ideas.
Visit with other trainers on the NFPT Facebook Community Page.