Technology is changing the way many Americans exercise today. From Smartwatches to virtual class experiences, and even intelligent home gyms, individuals are embracing ever more convenient ways to work out and track progress. The Peloton system is among these gadgets with unmistakable allure: "Technology can help engage people in exercise more," says Dori E. Rosenberg, Ph.D., a clinical health psychologist and an associate investigator with the Kaiser Permanente Washington Health Research Institute.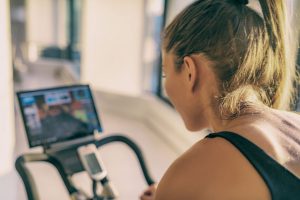 Presenting the Peloton System
The most recent member of the "online fitness community" arrives in the form of cycling, specifically the revolutionary Peleton stationary bicycle. The Peloton bike offers a very sophisticated indoor ride, outfitted with a Wi-Fi compatible 22-inch touchscreen tablet. Users can access on-demand classes and compete with other virtual riders while being mentally fueled by an energetic and experienced cycling instructor.
Introduced in 2014, Peleton's goal of bringing a high-end indoor cycling program to busy individuals remains extremely successful, topping the list of convenient, challenging, and creative programming. The product boasts of accessibility for any and all fitness levels, always an ideal selling point. With an online "library" of over 7,000 class formats from which to choose, a rider most likely never exhausts the possibility of new and increasingly difficult challenges, complete with accompanying "scenery" on the screen.
At-Home Advantages
In terms of the social aspect of in-home cycling, riders can join a virtual community, engaging in a group dynamic that can inspire and compete with even the most seasoned "spin" veterans. Riders have the ability to track their progress from ride to ride, and may enjoy repeating favorite classes to improve fitness levels by beating past ride times.
If general fitness, not competitive cycling, suits a rider, s/he can choose from a variety of class formats and music, both beats per minute as well as genre. Top instructors, specifically trained and certified in indoor cycling, keep motivation high throughout every ride.
Peloton Pros and Cons
To date, most of Peleton's reviews are very positive. I did find a few reports of uncomfortable bicycle seats, as well as one incidence of having to cease cycling altogether due to incurring "female anatomy problems". However, the most significant drawback, mentioned in almost every review, is cost.
The bicycle itself runs at least $2,300, perhaps more with delivery and installation. Mandatory for the first year of ownership is Peleton's $39/month membership fee, enabling the user to access the iOS app and live- streaming content. After the first year, forgoing this fee removes the "fun" from this cycle's "functionality"; the class choice gets diminished from 7,000 to a paltry three 45-minute-long rides. While these classes allow for resistance adjustments as per the rider's abilities, a considerable amount of enjoyment falls off in the absence of "scenery".
Figuring out the Financials
While many individuals prefer to work out within the confines and privacy of their own homes, the investment of high-end exercise equipment should not be entered into without careful consideration. If the initial cost of a Peleton bicycle seems daunting, amortize the cost over a full year, or better yet, two or three years. Comparing that cost to the fees associated with joining a gym or cycling studio can provide a clear picture of whether or not the purchase represents an ultimate savings or a frivolous expenditure.
Furthermore, take into account the number of household members who may be using the bicycle and the myriad of services offered by the Peleton integrated system. If five members of a family plan to regularly engage in indoor cycling classes, purchasing this product makes excellent financial sense. If, on the other hand, one lives alone and perhaps has a tendency toward fitness "impulse buying", thinking something sounds like a great idea but motivation slacks after the first few months, this investment may end up costing more than initially calculated. (We are all familiar with the folks who purchase stationary bikes, only to have them end up as excess clothing racks!)
When clients inquire about the Peleton indoor cycling experience, inform them of all the benefits as well as the pitfalls. Encourage novice clients and fitness center members to try a few of the cycling classes offered at your gym, to ensure that this is in fact an ideal mode of exercise before they buy.
---
References:
www.onepeloton.com/bike?gclid=EAIaIQobChMIkOW58vG65gIVTNbACh3pWgWxEAAYASAAEgINwfD_BwE
www.consumerreports.org/exercise-fitness/new-tech-is-changing-how-we-exercise/
thewireiutter.com/reviews/peloton-review-what-to-know-before-you-buy/