My start with running happened in what I think of as an unusual way. I'd taken my dog for a walk, and he wanted to go faster. So I broke out in a trot. That's it. I thought to myself after a few ungainly strides in my regular street clothes, I should keep doing this! And so it began.
I ran like a newbie, just as I was supposed to…being new and all. But a little bit of advice would've done me a world of good had I known to ask about it. This is about the fundamentals of running for the clients who are just breaking in. Emphasis on "fun," because nothing about this article is going to help anyone run faster or crush that first 5k, but it can help someone be happier at the finish line. This is the stuff that no one talks about.
Shoes need not be funky! There is a trick or two to help keep shoes smelling fresher than they really are. Let your clients in on this info or they'll be helping fellow runners set new PRs just to keep from being downwind. When sweat, or water (but seriously for sweat) saturates running shoes, remove the insoles and sprinkle baking soda on them. That will help absorb moisture, and it also de-funks quite nicely. Stuff the shoes with newspaper, once again for moisture, and then remove the newspaper and baking soda in a few hours.
For lady runners, the right bra is essential. I can't say how much. The wrong fit can let straps move during a run, and skin can actually rub off. Most think more anti-chafe product is the answer. Many times, it is not. Get fitted at a running-specialty store, pronto, and skin can stay where it belongs! Plus, no more stinging showers.
Here is a fact: Ten-thousand gadgets and items are not necessary to get started with running. I said it. Here's the thing. A new goal or hobby is exciting. In that excitement all things are shiny and new and irresistible. If one is not careful, the end result can be a closetful of items that are still shiny and new a year later…from lack of use. Gadgets are fun. No question about it. I've got my favorites. But, to keep from breaking the bank, runners should be choosy and make sure that the purchase fits his personality and needs. Don't fall for the latest fad because of all that awesome advertising or even because everyone else has it.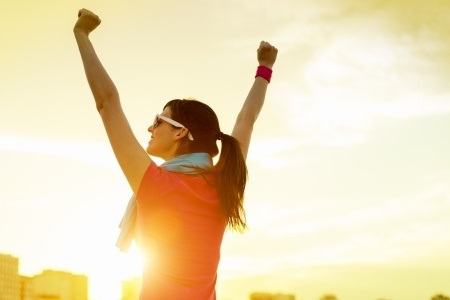 Want to learn about the science of running? Want to know how to correct for common dysfunctions and improve times? Check out NFPT's newest course, Running Mechanics.
What fundamental advice do you want to share with new runners? Help someone out by leaving a comment!