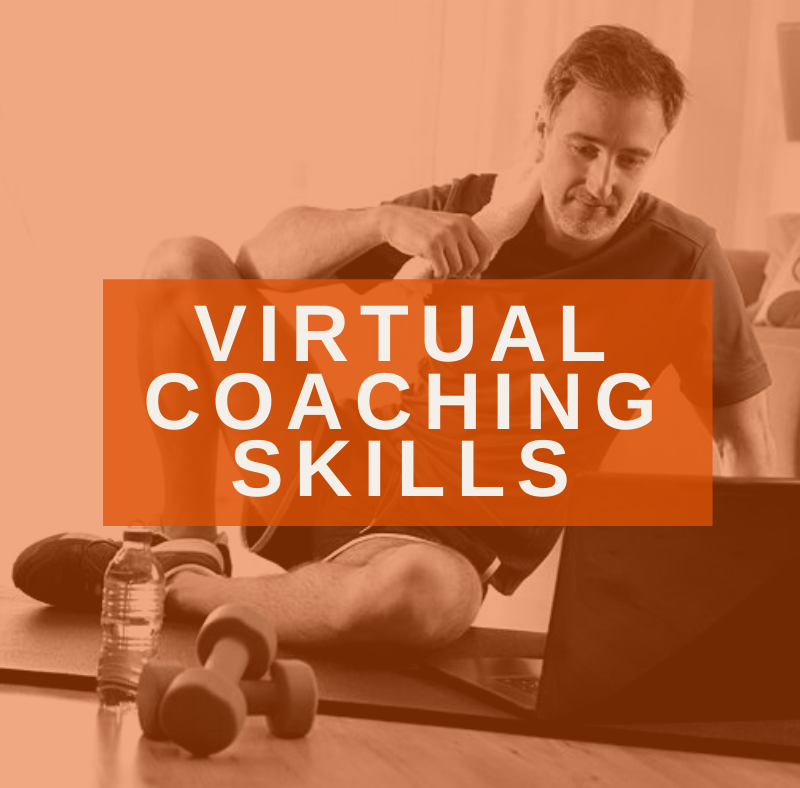 It is an interesting time to be (or become) a fitness professional. As a result of the novel coronavirus, mandated closures, and social distancing rules, the fitness industry's once traditional practices are morphing into new and innovative approaches to training and coaching. Even when the pandemic slows, it's highly likely we will see a continuation of virtual services in many sectors of health and fitness.
Before COVID19 (B.C.), virtual fitness services were not unheard of, however, in light of these global events, the fitness industry has responded thoughtfully and creatively in order to accomplish two primary objectives.
First, to retain existing clients and keep them progressing towards their intentional goals. Second, to expand a professional skill set and reach a broader spectrum of clients.
Fitness professionals across the nation are working diligently to re-imagine their methods of operation and develop a new set of skills in virtual coaching. It's no small task but taking a mindful approach in your design and collective delivery of your individual services will only expand your professional reach and influence.
The First Step
While it can be tempting to react quickly and throw together a website and a menu of online services for your clients, taking a more formulaic approach will enhance results. Start by assessing needs – both from your perspective and your clients' perspective.
If you are new to online/virtual services, use a modified SWOT analysis to thoughtfully detail the following as they relate to an online environment:
Strengths (what are you best at?)
Weaknesses (what scares or intimidates you)
Opportunities – (what elements do you have such as technology skills, recording abilities, etc. that you can use to your advantage?
Threats (what elements could cause trouble for you in the delivery of services?)
Then, take a similar step to evaluate your clients' needs. You can do this by having direct conversations with them or an email survey. What you're hoping to ascertain here is the answer to "What do my clients need to be successful in a virtual experience?" The answer will vary for each client, but in taking an investigative approach, you can learn what your clients prefer and identify a theme that will inform your new practice.
Other Skill-Building Efforts
Choose your tech. This is crucial, which is why it's at the top of the list. You'll need to find the right technology, apps, and equipment that will drive your training and coaching sessions. Fortunately, the market is not short of quality technology. I recommend choosing a couple of platforms to allow you to offer both live and pre-recorded/streaming workouts. In other words, don't limit yourself in the realm of technology. You can always start simple and build from there. You may also need to invest in a quality HD camera and a microphone. Other considerations would be access to a word processing package or cloud-based system such as Google Docs to be able to create workouts. This is necessary if you don't have an app that offers this as an embedded feature.
Conduct a trial run and assess your online presence. I recommend asking a friend or family member to volunteer as a "client" for a session or two. This is an opportunity for you to polish your onscreen presence/demeanor, pay attention to your body language, and work out any "kinks" you (or the volunteer) might experience in a session. The user experience is critical in any virtual service offering so gathering outside feedback before migrating clients is invaluable.
Create a dedicated space. Just as you would need in face-to-face setting, a specific space is necessary to demonstrate exercises. Practice recording brief workouts that you can play back and evaluate for stumbling blocks. Look for issues such as poor lighting, obvious distractions (such as an open bathroom door, dogs running around, etc.), or extraneous noise. Invest considerable effort in setting up an environment that is both appealing and functional for you and your online clients.
 Forms. As you would require in a face-to-face setting, forms are crucial. Ask your certifying agency what guidelines exist for online training and coaching and what forms they recommend. Be sure required forms are available electronically on your website and emailed to the client. At minimum, check with your insurance provider and attorney to be sure your bases are covered in terms of safety and liability.
Create downloadable client guidelines. Clients need specific guidance when it comes to how to use the technology if they are unfamiliar, how to create a safe and functional workout space, and recommended equipment for at-home use. This is where a "welcome video" or video tutorial series can be meaningful and effective.
These recommendations are not intended to be an exhaustive list of "how-tos" but rather serve as points of consideration if you wish to move to an online/virtual operating method. Above anything else, be forgiving and flexible with yourself and your clients. There is a learning curve with any new approach so it's important to exercise patience while you thoughtfully integrate online options into your menu of fitness services. In essence, you are working to change a behavior just as your clients are and we know behavior change is never a linear process. Instead, we are all a work-in-progress.