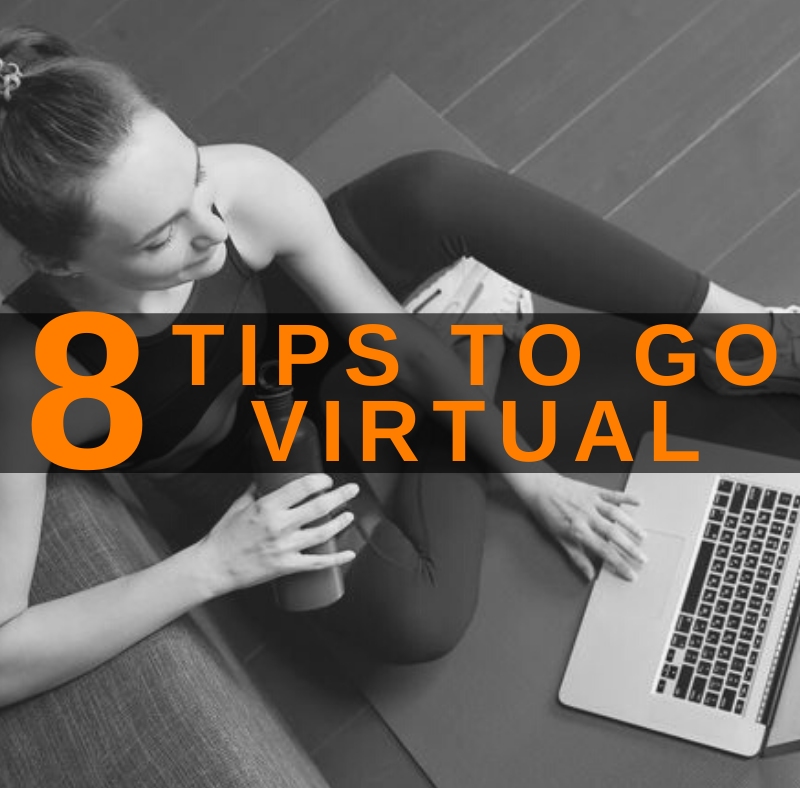 Virtual personal training is on the climb to greater popularity thanks, in part, to COVID-19. While the global pandemic has had wide-reaching negative effects, it has also forced fitness professionals to harness their individual and business creativity in order to continue to serve their clients and patrons. A silver-lining, perhaps? If you are looking to increase your virtual presence either as a way to offer additional services and formats or as a way to continue to support your business in an economic decline, here are eight tips to getting yourself ready to train clients virtually.
Identify a client management system. If you're just starting out, this doesn't have to be overly complicated or expensive. Some fitness professionals successfully use Google Drive. Other software options could include TheBrightApp, Trainerize, True Coach, or MyPTHub are other options. The current market offers a large variety for fit pros. The software you use will not make or break your success but it is an important component – especially as your business grows. Take time to evaluate what will work best for you and your clients.
Check your insurance plan. Fortunately, many insurance plans also cover at-home and virtual personal training services but be sure to cover this base thoroughly so that you and your clients are adequately covered.
Create the space. This goes two ways. First, you want to make sure you have an adequate training space that allows you to effectively demonstrate exercises and/or perform them with the clients you are training virtually. Free the space of clutter and distractions and organize your equipment ahead of time before each session. Second, help your clients organize a space for themselves at home by providing tips and organizational strategies to help them. A quality workout doesn't require an entire gym – a simple 10-foot space can work well if you're creative.
Invest in quality production equipment. It's true – you have to spend money to make money. Production equipment is key to quality virtual or streaming services. Start by researching the best high definition webcam options and purchase additional lighting resources if necessary. Set up your equipment and run a test-session with a friend, family member, or fellow fitness professional to seek feedback and work out the "kinks" before going live.
Create a video library. A great online personal trainer will have a repository of "how to" videos that feature key movements and a breakdown of the form of each movement. This is especially helpful for teaching form for the more complex movements. Keep the videos simple with brief verbal descriptions and two full repetitions so clients can gain a good sense of the movement pattern. YouTube works well for something like this.
Develop an at-home equipment list for clients. A great workout doesn't require a ton of equipment. It's important for potential clients to understand that they don't need to purchase a complex system of large equipment to get results. Get creative and encourage affordable options for clients. Resistance bands and loops, adjustable dumbbells, cordless jump ropes, stability balls, and fitness sliders are all affordable and have great utility in all types of workouts. This list can be downloaded and available in a digital format complete with hyperlinks.
Create a digital client orientation packet. This is really about the necessary paperwork. Include a personalized welcome letter, PAR-Q+, Health History and Lifestyle Questionnaire, Informed Consent, Medical Referral Document, and other required forms. Seek the guidance of legal counsel to ensure you have all bases covered.
Decide a marketing approach. It's important to avoid spreading yourself too thin in the beginning. Choose two platforms clients in your niche market use regularly and begin marketing specifically on those platforms. You can grow your following and then branch out to different channels.
Bonus Tip: As part of your continuing education efforts, invest in taking some classes focused on personal training in a virtual space. These courses will help you grow your skillset and help you shape your online business.
Virtual personal training isn't for every fitness professional or client, but it does have some unique selling points. It's convenient, can be structured for on-demand services, expands your geographical reach and presence, and is highly flexible. If this is something you're interested in pursuing, now is the time to get creative in your efforts.