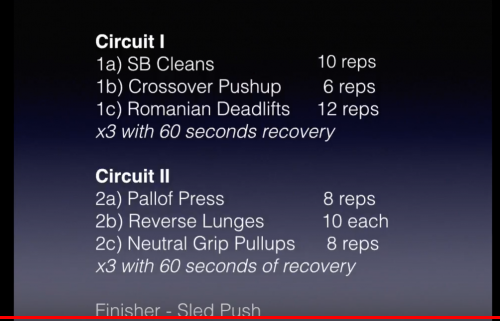 Address most of your clients' needs with this full body workout. Anyone doing three days or less per week of strength training and most of the general population should be involved in a regular workout program like this.
This 50-minute workout is focused on movements that start in the warmup and continue through the workout. When done at an appropriate intensity for the client, you won't need to go any longer. My belief is always, quality over quantity.
At Premier Fitness we train the way your body is meant to be trained. Functional training is working out with a purpose. Functional training gets you looking better, but also moving and feeling better. There is a "why" behind every movement that we do at Premier Fitness.
In this workout, you received proper form cues and instructions for the following exercises:
Warmup – Leg Lowerings, Walk Outs, Spidermans with Rotations, Hip Hinges, Mini Band Lateral Steps, Band Pull Aparts, Seal Jacks
Workout – Sandbag Clean, Crossover Pushup, Romanian Deadlifts, Pallof Press, Reverse Lunges, Neutral Grip Pull Ups, Sled Push
If you like this workout, try it. Teach your clients proper form and coach a controlled tempo. As we know, to get the most out of resistance training, we need metabolic stress and muscular tension.
__________________________