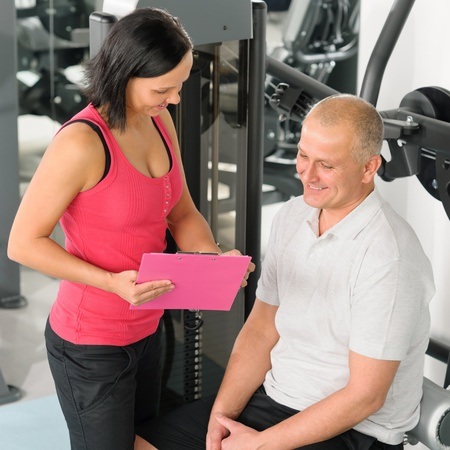 Finding or asking for referrals as a personal trainer is not an "in-the-bag" kind of game. The following are some best practices to employ when seeking new clients from an already existing personal training client base.
Earning Referrals
The first thing personal trainers need to acknowledge regarding the best practices of attracting referrals is having a strong trainer-client relationship with current clients. Your clients need to trust you in order to endorse you. You need to make them want to refer you. Go above and beyond what you are called to do as a personal trainer. Don't just view these people as clients, but as relationships that need to be built up. You need to earn referrals. They won't just fall in your lap without giving your clients results or connecting with them.
Timing
There are two major times to ask for referrals from your clients. The first is after they have seen results from you working with them. A perfect time would be after they have met a weight loss goal. They can see that you are good at what you do and will be willing to vouch for you. The other time is when you first start meeting with a new client. Obviously they have some sort of faith in your services because they have hired you. This is the preferred way. If you start asking for referrals right from the start, you have set the standard. Your client now knows that you will be asking them for referrals and won't be taken off guard when you do later.
Incentives and Rewards
You don't want to ask every Joe Shmoe you train to refer you. You want your best clients to refer you, the ones that love you and your work! These are the people who will be most enthusiastic and sell you the best. This can make it a privilege for clients to refer you since you can then tell them that they are one of a select few people who you ask for referrals. Rewards can work well too.
Rewards can include anything from free swag from your business, gift cards to their favorite restaurant, to free sessions training with you. Some people feel uncomfortable doing this because it may feel more like a bribe than an incentive. If you feel the slightest bit uncomfortable with it, find a way to change your perspective about it, or don't do it at all. Just bear in mind, this approach has proved as an effective way to get clients to become regular referrers.
Make It Easy
It needs to be easy to refer you. Have a few different options that are all incredibly simple for your clients to refer new people to you. Business cards with all of your information on one side, a QR code to your website, and maybe a free session voucher on the other side. Have an email message ready that your clients can email to their friends. This works very well with Facebook messages as well. You could even offer a "Bring A Friend For Free" session. It is easier for someone new to come with someone they know. It adds a level of comfort.
Act Quickly
Your personal training clients will have no doubt told their friends that you would be contacting them, (make sure you ask them to!).  Referrals are expecting to hear from you soon. Make that contact as soon as possible and follow it up as well. Lastly, make sure to act quickly on thanking your clients for providing you with more potential clients. The least you can do is say thanks!