For many years, medical experts have known that regular exercise can decrease the risk of cancer. But what if you have already received a cancer diagnosis? Recent research indicates that regular exercise can have benefits for nearly all cancer patients and survivors. In fact, in survivors of certain types of cancer, research has indicated that those who exercise regularly have a significantly lower risk of recurrence. Other research indicates that there may be a correlation between increased life expectancy for survivors of certain types of cancer who make exercise a regular part of their lifestyles.
Exercising during cancer treatment is important also, but it can get a bit tricky. If you have any questions about what type of physical activity is best for you or your clients, consult your doctor. Your oncology staff will also be able to point you in the direction of good exercise programs for cancer patients as well as give you tips for activities you should avoid with your clients. For example, if you are undergoing treatment for mesothelioma, you may need to avoid excessive aerobic activity until your lungs heal. Patients undergoing certain cancer treatments may need to avoid chlorinated swimming pools and aquatic centers. There is, however, almost always some form of exercise that a cancer patient can participate in.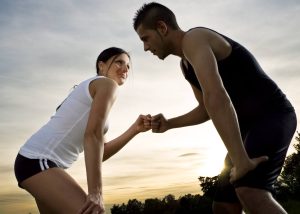 Even though you may have to make accommodations to you or your clients' physical activity, remaining active even during treatment has many benefits for cancer patients. These benefits include:
Decreased risk of osteoporosis
Less nausea
Lower blood pressure
Better stamina and decreased fatigue
Better circulation and blood flow
Weight control
Maintenance or improvement of muscle strength
Maintenance or improvement of range of motion
Elevated mood
Better social connectivity
Cancer patients who exercise regularly report a better overall quality of life than those who do not exercise. A patient's quality of life can affect every other aspect of their treatment including everything on the list above.
At whatever point your client may be following their cancer diagnosis, physical fitness remains an important aspect of their life. Ask the oncology team for help in finding resources and establishing an exercise regime to suit them. This is your fight. Step up with fitness.

Melanie Bowen
Melanie is currently a Master's student with a passion that stems from her grandmother's cancer diagnosis. She often highlights the great benefits of alternative nutritional, emotional and physical treatments on those diagnosed with cancer or other serious illness. In her spare time, you can find Melanie trying new vegan recipes, on her yoga mat or spending time with her family.