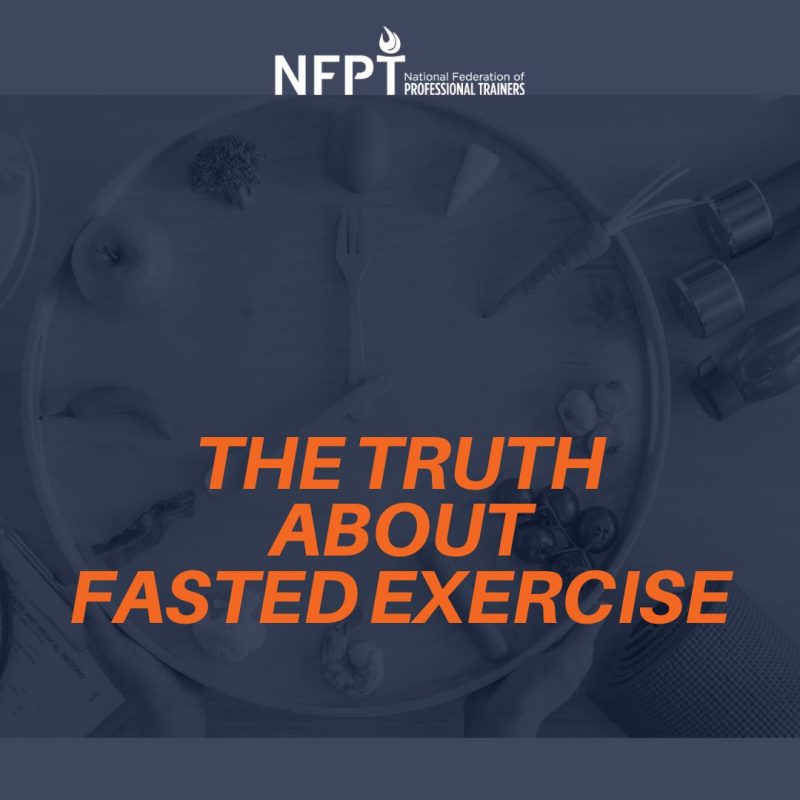 The two main reasons people cite for exercising in a fasted state generally relate to weight loss and/or anti-aging benefits. While studies often show data to support this theory, an equal number of scientists cite concerns. Read on to determine whether fasted exercise aligns optimally with your clients' physiology goals.
The Upside to Fasted Exercise Sessions
Substantial research seems to show that by depleting stored glycogen, the body shifts toward utilizing fat as an alternate energy source. The hormone insulin regulates the amount of sugar circulating throughout the bloodstream. Glucose levels rise with food consumption, and the body then commences the process of generating insulin to convert glucose into energy. Insulin signals the muscle cells to pull glucose out of the blood and store it as glycogen.
Upon reaching an excess, the body begins to store glycogen as fat. When exercising during a fast, the body draws upon most, if not all, of its glycogen stores for energy. After depleting glycogen, the body taps into its fat stores for energy.
As for reversing the effects of aging, fasted exercise may reduce inflammation pathways, and seems to have a mitigating effect on such age-related concerns as Alzheimer's disease/dementia, Parkinson's disease, and even wrinkles.
Fasting and the Cardiovascular System
Cardiologists at the Intermountain Medical Center Heart Institute corroborate other studies elucidating how fasting may lower the risk of coronary artery disease, diabetes, and improve cholesterol levels. "Fasting causes hunger or stress. In response, the body releases more cholesterol, allowing it to utilize fat as a source of fuel, instead of glucose. This decreases the number of fat cells in the body," says Dr. Benjamin D. Horne, PhD, MPH, Director of Cardiovascular and Genetic Epidemiology at the Intermountain Medical Center Heart Institute.
Since diabetes and high cholesterol very often contribute very to heart disease, fasting/intermittent fasting prior to a workout offers some appeal.
The Other Side of the Argument
Not all data, however, point to favorable outcomes in regard to fasted exercise. Here we highlight several of the more detrimental potential scenarios.
The Case for Human Growth Hormone
Human growth hormone (HGH), a component essential for cell repair and tissue regeneration, helps the body recover after workouts and facilitates the building of lean muscle mass. Some experts claim that weight training while in a fasted state induces the release of growth hormone (GH). However, a study undertaken at the University of Virginia revealed that while this release may have an anabolic effect, most likely the body reacts by attempting to counter the catabolic impact of fasted exercise. This data brought the scientists to conclude that cardio and/or resistance training in a fasted state may ultimately lower athletic productivity. For clients who clearly prefer to exercise in this fashion, particularly first thing in the morning, trainers can suggest a bedtime meal, which in turn can help ramp up glycogen stores for use the next day.
Prolonging the Burn
Some studies indicate that engaging in cardio-based fasted exercise can incite the body to burn 20% more fat, as compared to exercising after a healthy meal. While this offers a great deal of appeal for many of our clients, the fact remains that fasted cardio does not increase the body's fat-burning ability over the ensuing 24 hours. As such, this does not always lead to sustained weight loss. The effect ends at the conclusion of the fast. Ingesting complex carbs prior to training will increase the post-exercise "afterburn" more so than what one can expect in the fasted-training state. This means extra calories continue to get burned throughout the day, and not just while engaging in the workout.
Diabetics and Other At-Risk Populations
Clients living with diabetes can easily slip into a hypoglycemic state during a prolonged fast, especially when paired with exercise. This medical condition induces symptoms such as sweating, shakiness, elevated heart rate, headaches, and nausea.
Another high-risk group includes clients who take beta-blocker medications to treat high blood pressure. Such individuals often struggle merely to increase their heart rate, regardless of the intensity of training. Furthermore, such clients may suffer from lightheadedness, particularly in the absence of sufficient hydration during exercise.
Experts urge extreme caution when discussing fasted workouts with senior adults, clients with end‐stage chronic diseases, those taking medications potentially impacted by fasting, or individuals undergoing chemotherapy. Similarly, trainers might hesitate to promote fasting exercise regimens for clients with a history of/current battle with an eating disorder. For such individuals, skipping a meal coupled with intense exercise prove potentially life-threatening.
Muscle Catabolism – The Bodybuilder's Greatest Enemy
When working with serious competitive bodybuilders, lack of proper pre- and post-workout fuel can actually undue months of hard work, and make the process of adding lean muscle mass even more difficult.
As we read above, exercising in a fasted state causes the body to eventually catabolize muscle to use as a fuel source. According to Chelsea Amengual, MS, RD, Manager of Fitness Programming & Nutrition at Virtual Health Partners, "You're more susceptible to hitting the wall, which means you'll have less energy and not be able to work out as hard or perform as well."
Priya Khorana, EdD, a nutrition educator at Columbia University, does not endorse intermittent fasting coupled with exercise. "Your body depletes itself of calories and energy, which could ultimately end up slowing your metabolism." She likewise stresses the importance of a carbohydrate- and protein-rich fueling, ideally consumed within 30 minutes of completing a workout.
Re-examining Carbohydrates and Performance
Whether a client participates in endurance-type exercise or prefers the variable speed involved in high-intensity interval training, glycogen stored within muscle tissue gets utilized which eventually results in fatigue. Nutritional advice for athletes, therefore, has largely focused on sufficient intake of complex carbohydrates. This applies not only to pre-exercise but also during and following training, in an effort to optimize performance and ensure proper recovery.
More up-to-date research indicates that advanced athletes can potentially increase glycogen storage in type I and type II muscle fibers within 24–48 hours of carbohydrate loading. Such a practice seems to improve one's performance when training/competing in events lasting an hour and a half or longer: sequential tennis matches, for example, or marathon events, most notably Ironman competitions. While scientists have also witnessed enhanced performance coupled with carbohydrate consumption during exercise, not every athlete's digestive system can comfortably handle such practices.
Despite the popularity of fasted exercise protocols, scientists note that improved performance outcomes do not always align consistently between studies. Trainers often remind clients that overall fitness improves the immune system; however, athletes who frequently engage in high-intensity training, having purposefully under-fueled in terms of carbohydrates, render their bodies more vulnerable to illness and infection. Trainers may therefore consider cycling a client's training to include periods of fasting along with more normalized meal plans, taking advantage of what each protocol offers.
Safety and Fasted Exercise
Scheduling one's exercise while adequately fueled, just prior to or at the onset of a fasting window, ensures ample amounts of necessary glycogen. Gastroenterologist Dr. Niket Sonpal suggests that athletes who wish to attempt fasted exercise strive to time workouts to coincide with fueling windows so as to make the most of training-based nutrition. "If you do heavy lifting,", Dr. Sonpal says, "it's important for your body to have protein after the workout to aid with regeneration."
Keeping workout sessions short and light helps thwart dizziness and lightheadedness, and may help prevent post-workout energy crashes. Trainers might also direct their clients toward optimal hydration while exercising during a fast. Coconut water, an excellent replenishing choice, naturally contains the vital electrolytes depleted during prolonged exercise sessions.
Ultimately, every "body" is different, and as with most training approaches and nutritional plans, what one person finds successful may be an abysmal failure for another. Be clear with your clients who are asking for guidance: You can support them in their choices, but they may have to be willing to see when their efforts are not successful and change course to achieve their goals
---
References:
fitnessvolt.com/fasting-while-working-out/
https://www.ncbi.nlm.nih.gov/pmc/articles/PMC5872716/
https://www.ncbi.nlm.nih.gov/pmc/articles/PMC6836141/
https://www.ncbi.nlm.nih.gov/pmc/articles/PMC8718030/
https://www.ncbi.nlm.nih.gov/pmc/articles/PMC9027421/
https://www.ncbi.nlm.nih.gov/pmc/articles/PMC7052063/
https://www.ncbi.nlm.nih.gov/pmc/articles/PMC5050386/