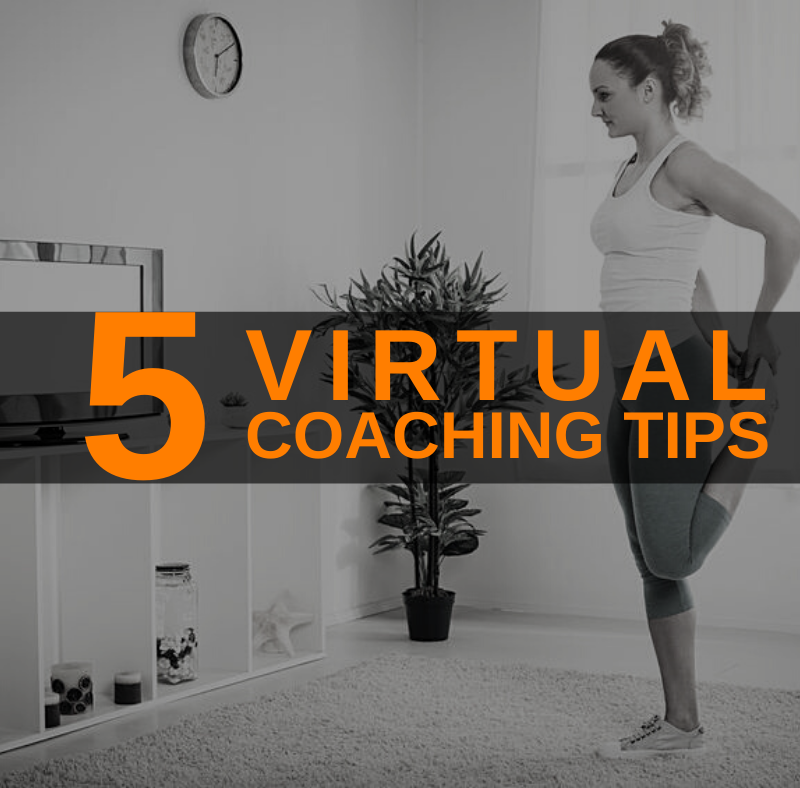 We are all working to adjust to a "new normal" as a result of the novel coronavirus and its widespread impact on all sectors of the population – private, public, and personal. While the presence and rapid spread of the virus lead to business closures, shelter in place orders, and a surge in remote work even within the fitness industry, it's also presented us with a unique opportunity to nurture a culture of virtual coaching and personal training.
While online coaching was already a growing arm of the fitness industry, trainers and health coaches alike are working hard to transition their services to better serve their clients during this peculiar time. The transition from face to face to virtual or even hybrid coaching and personal training is not seamless or easy, there are some "must-dos" to make the switch less painful and cumbersome.

5 Tips For Virtual Coaching
Adjust the Medium. Most fitness clients are used to one medium – one-one-one real-time coaching and personal training. This adjustment is as much a challenge for them as it is for you. As you move toward offering virtual coaching sessions, make sure your clients are comfortable with the medium(s) available. Offering a couple of options and allow clients to select what works best for them. That said, avoid the trap of offering too many platforms. Do your research and choose three options that will work for your space, technological capabilities, and budget.
Test the Tech. Nothing is more disheartening or demotivating than to hop into a virtual meeting or session and the host cannot work the tech or navigate the platform effectively or efficiently. To sidestep this issue, test your tech well in advance before meeting with a client. I suggest logging on to the session at least 10 minutes early to test your microphone, camera, screen sharing (if necessary), etc. In addition, set aside time to teach your clients how to use the platform(s) available. This can take as little as 15 minutes. Another unique option would be to pre-record a "how-to" video and share with your clients via social media and email.
Research and Invest. A virtual environment doesn't just require a different set of skills (skills not likely previously cultivated in a face-to-face only environment), but it demands quality equipment. Take time to invest the best options for a computer, Bluetooth headset, HD web cam, and microphone (and other equipment as needed). Practice recording yourself to test the sound and picture quality.
Seek Regular Feedback. It's all about the user experience in the virtual coaching and personal training realm. At this time, clients may find themselves overwhelmed by the sudden need to morph their entire lives into a remote-stay-at-home existence. Check in with your clients more often than you previously did to ensure that they are feeling comfortable and, if not, you have the opportunity to address concerns and help overcome stumbling blocks.
Family Focus. Schools across the country have been closed down and many have transitioned to a fully virtual school year. A significant number of your clients may have children at home at the same time they are trying to maintain a "normal" life. Consider taking a family-focused approach in designing some of your virtual at-home workouts. It's a great opportunity for your clients to set a strong, consistent example for their little ones. It's also helpful for the kids at home as they've lost structured physical education time due to closures.
Personal training and coaching in a virtual environment take time – just as it did for you to hone your craft at leading one-on-one or group fitness sessions. Be patient with yourself and be honest with your clients. You're likely learning this new approach together and can be of tremendous support to each other as you navigate the strange and uncertain days (and months) ahead.
___________________________________