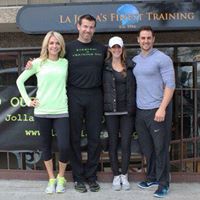 If you can make it through this hiring process then you're set to work anywhere – for anyone! The path to a position and success at La Jolla's Finest Training on the coast of California is one without protocol. You can't prepare for this type of interview, you can only be yourself.
The owner, Jeremy Manning gives the same time and attention to his applicants that he does his clients. Jeremy's passion and dedication to his personal training "family" is part of why this was the first personal training studio in town and it's still thriving to this day.
Jeremy has been consulting and training the fine citizens of La Jolla since 1997 when he completed his tour as a United States Naval Helicopter Search and Rescue Swimmer. He also served as a Search and Rescue instructor, Physical Readiness Coordinator and is trained as an Emergency Medical Technician. Since transferring to the private sector he has performed over 40,000 personal training sessions with great success.
La Jolla's Finest Training is tucked away on the coast of La Jolla, California. It's a small space that is a fully equipped gym with treadmills, upright and recumbent cycles. It also has an elliptical, stepmill, hand cycle, rope climber, rowing machine, free weights, lots of Freemotion, Hoist, and Life Fitness selectorized weight machines. The gym is full of natural light and always has an offshore breeze passing through. There is a separate, more private, exercise therapy area for completing physical therapy exercises, body work, assisted stretching and Pilates.
Here is what Jeremy had to say when I asked him about what it takes to get hired and succeed at his facility, where trainers make an above average income and serve high profile clientele.
The applicant is their cover letter
A cover letter is not necessary, but I like resumes to be delivered in person. I want to see the way the person carries them self. Are they friendly, engaging and presenting them self PROFESSIONALLY? However, they should have taken the time to prepare a professional resume.
Most of our potential hires come from referrals or are trainers relocating their training business to a more supportive environment.
I look for either a BA in exercise science/sports psychology, or a national cert. with a couple years of experience. A trainer needs to have a solid understanding of anatomy and physiology, and we can guide them how to effectively create programs with this knowledge.
Before training at our facility the trainer must provide:
CPR/AED
Liability insurance
Drivers license/social security (copy)
Signed independent contractors agreement
W-9
Business tax license
The personal trainers are independent contractors. Some pay monthly rent and others an hourly amount.
Trial by training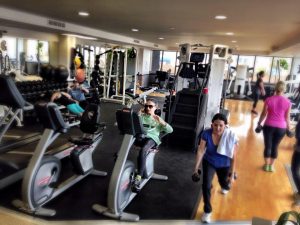 After all their paperwork is in order, I tell them to gather as many friends/clients they can. I let them train them for free for the first few weeks. This gives me a chance to watch them train and discuss strategies with them.
If they can't get friends, family or free/low paying clients to show up, then they aren't going to make it at our level.
If those first couple of weeks are a success I start testing our clients with them. I work on building their skill set and confidence, but they are responsible for finding and retaining clients.
I don't like being a boss, I operate as a coach. I cannot build a clientele for a trainer, but I can coach them on how to build a clientele. It's the old saying, "Give a person a fish and they will eat for a day. Teach a person to fish and they will eat for a lifetime."
Success is this simple
If a trainer is a true believer in the benefits of an active engaged life then they will do well.
If their focus is on passion they will have a fulfilling career.
If their focus in on pay, their fitness career will short and unfulfilling.
People that do well in the fitness industry wouldn't have it any other way. They get into the industry because they believe that their lives are better because of their lifestyle and want to share this perspective with the people in their lives.
Visit the NFPT to chat about this blog and meet other like minded trainers!