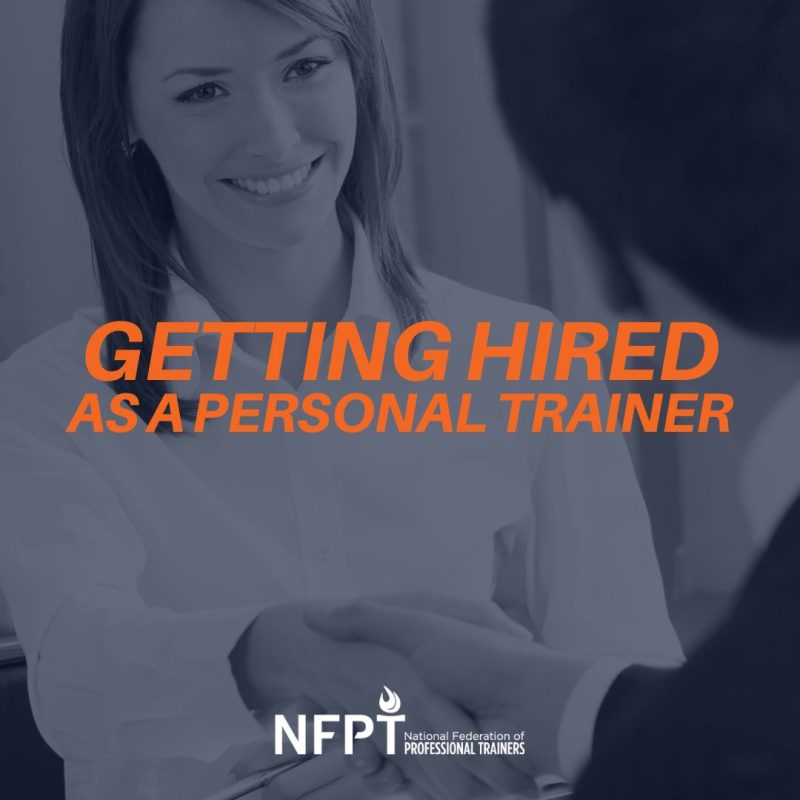 Getting hired as a personal trainer in the fitness industry can be nerve-wracking and confusing compared to some more straight-and-narrow career paths. The process may be more elusive as personal trainers often wear many hats and go by several titles including, but not limited to, entrepreneurs, consultants, independent contractors, often spreading themselves out between multiple employers. That which confounds is often what attracts most of us to this job in the first place: the flexibility and challenges personal training offers us may suit us well, but also provide many options to sort through.
If you are interested in turning your passion for fitness and sharing wellness practices with your community into a career, but aren't sure how you'll find work after you get certified as a fit pro, hopefully this article will provide some insight. I spoke to various leaders at three different health clubs and boutique fitness studios about what they are looking for when hiring, and what it is like to get a job with their organization. Perhaps their insights will help the picture of your career's future come into clearer focus.
Industry Fit Pro's Perspectives About Getting Hired as a Personal Trainer
EOS Fitness
Pete Mccall is a long-time educator, author, and industry fit pro currently serving as National Director of Fitness Education at EOS Fitness, a health club with locations in six states. They run on what they call a high-value, low-cost model, providing a number of services and opportunities with an affordable membership. McCall mentioned that trainers start at $17.50 an hour and their rate goes up from there based on performance, with some commission for sales. Trainers guide a variety of clients through 25-minute sessions. When hiring new trainers EOS looks specifically for: 
Fit Pro with personality and the ability to connect with clients
Personal Training certification
Genesis Fitness
Carolyn Erickson is the VP of Group Exercise at Genesis Health Clubs. With more than 60 clubs in seven states, and a continuing effort to expand, Erickson oversees a large number of fitness professionals and personal trainers. With the large variation in region and club size, Genesis' pay rates start at $12.50 an hour, but with the potential to rise as high as $40 an hour and beyond. When hiring new class instructors Genesis looks for
Personality (again!)
Fit pro who might match the demographic of the club population
Certified personal trainers and group exercise instructors
Orange Theory
Bruce Sarmento is the Director of Fitness for West Coast Fitness, the leading Orange Theory Fitness franchisee, having management, partial ownership, or full ownership of 77 locations spread across California. Boutique fitness centers like Orange Theory often pay a base rate plus more based on how many people come to your classes. For example, West Coast Fitness starts their trainers at $40 per class, and it can go up from there, with the average pay per class at $60. Orange Theory fitness also has a tightly held proprietary workout modality, making the hiring and training process to work at a facility last up to about 6 weeks.
When hiring Sarmento looks for:
Willingness to learn
Fitness certification
Three qualities that will get you hired 
As is common throughout the fitness industry, and seemingly important specifically to the organizations interviewed for this article, its important for fit pros who are looking for jobs to:
Be certified

 

Be willing to learn
Be personable
At the end of the day, there is no one quality or set of steps to adhere to in order to get hired and also be successful as a personal trainer. But certainly, being enthusiastic, humble, consistently open-minded, and of course, certified, will get you in the door. Just make sure it's a door you want to go through since not all employers deserve your loyalty! Stay committed to helping others, passionate about learning, and willing to assess your performance, and you will likely find the success you seek.