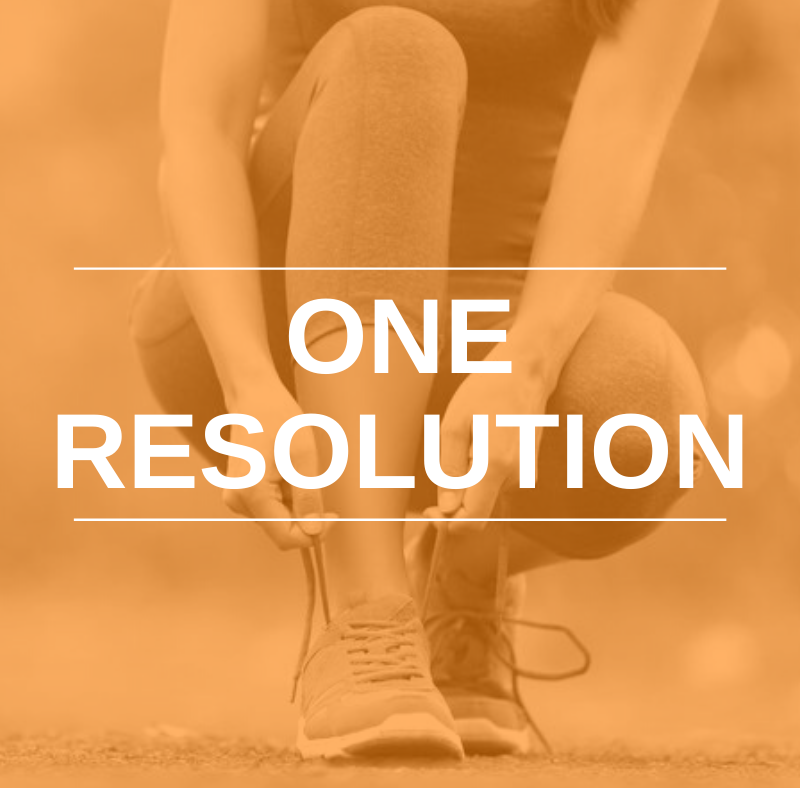 The exercise resolutioners come out of the woodwork in January. Many vow to get in shape, eat healthier, and make positive lifestyle changes. In a typical year, the gyms get busy at the beginning (although 2021 remains to be seen). By the time March rolls around, the numbers typically begin to dwindle and gyms do not seem as crowded. One way to help clients stick with their best new year intentions is to encourage them to make just one resolution.

Yep, just one can make a great enough difference and will have a greater chance of adherence.

Trainers can be helpful as clients determine their best intention for fitness improvement. Being involved in the decision-making process helps maintain and strengthen the trainer/client relationship. Kudos for that.

Why Only One Resolution?
There are several pros to having one resolution: 
• By focusing on one goal, clients will not get bogged down with a long list.
• A general intention allows for flexibility, which helps lead to success.
• One resolution is less intimidating than many.
• It's easy to remember.

The Possibilities
Here are a few ideas for a single intention, resolution, goal, or whatever you prefer to call it.
• Start using a fitness tracker.
• Do something for mind, body, and soul each day.
• Go to the gym three times a week (or add a day to the current routine).
• Work with a trainer three times a week.
• Try a new group exercise class.
• Try using a new piece of exercise equipment each month.
Preventing Failure
Stats vary depending on the year, but an estimated 50-80% of all resolutions are failures; the success rate, then, is not impressive. There are many reasons why people fail at keeping resolutions.
Here are a few:

• Setting unreachable goals that cannot be attained realistically. Picture a beginner client who watched a marathon and got motivated. If the client has never been a runner, aiming to complete a marathon with only a short amount of training time is an admirable intention, but has plenty of room for failure. Some running plans suggest success in six months. Another option is to encourage your client to start small and build up. Like run a 5K, then a 10K, etc. The resolution might be something like running four races in a year increasing distance with each one.

• Lack of commitment from the beginning. A client makes a resolution for the sake of the new year, without careful consideration, may not be fully committed. Trainers and clients can discuss options ahead of time.

• Giving up too soon. Some give up and throw in the gym towel at the first chance of failure. Remind clients that they can always start over. For example, a client commits to three training sessions a week. In the course of an entire year, there are 52 weeks of possible schedule conflicts. Vacations, illnesses, busy work schedules, or basic life hiccups might cause a client to miss their target goal. Missing a week or two or three is not the end of the training world. Getting back on schedule is all they need.
Getting Creative with Only One Resolution
While generalized resolutions seem ambiguous, they are measurable. Doing something for mind, body, and soul each day (my usual one) is a general one. A simple way for clients or trainers to attain that intention could be reading one of the NFPT blogs, taking a walk, and meditating. Another day it might be learning a new muscle group, using the muscles in an exercise, and being thankful for the ability to move.

Trying a new exercise class or new equipment offers long-term benefits. It opens the door to continued fitness commitment and explores new ways to exercise.
Using a fitness tracker and reporting results can be a great motivator. 

Hitting the gym on an average of three times a week is doable with some leeway. If your client makes it twice one week, the following week he or she can make up for it with four times.

Whatever the one resolution is, 2021 is a new start following an unusual (to say the least!) year. With only one exercise intention, we can help our clients cross the proverbial finish line of success and improvement.
---
References:
https://www.nytimes.com/guides/smarterliving/resolution-ideas
https://www.psychologytoday.com/us/blog/modern-mentality/201812/why-new-years-resolutions-fail#:~:text=Give%20yourself%20a%20round%20of,Year's%20resolutions%20fail%20by%20February.
https://www.womensrunning.com/training/road/go-couch-marathon-training-plan/