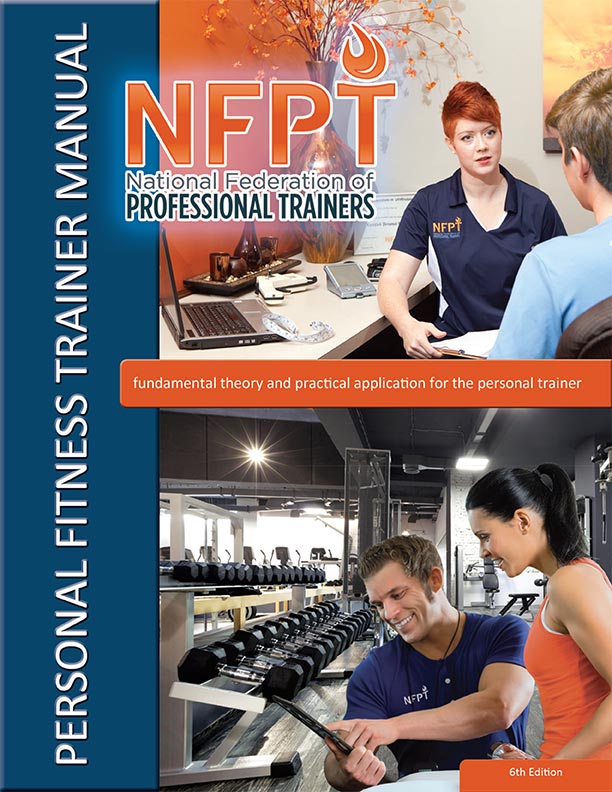 This newest version of the NFPT personal trainer manual has been one of our biggest projects for some time coming, and it's officially here!
This new version is designed to be more of an every day training resource. Our message to you is this…we're in this personal training endeavor with you, and we're in it to win it! We work every day to be the kind of trainer certification partner that you need in this business. We set out to make our good manual great, and we want you to be the judge of that.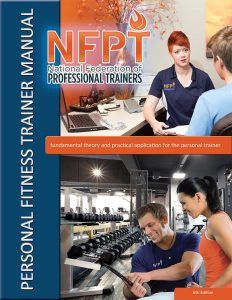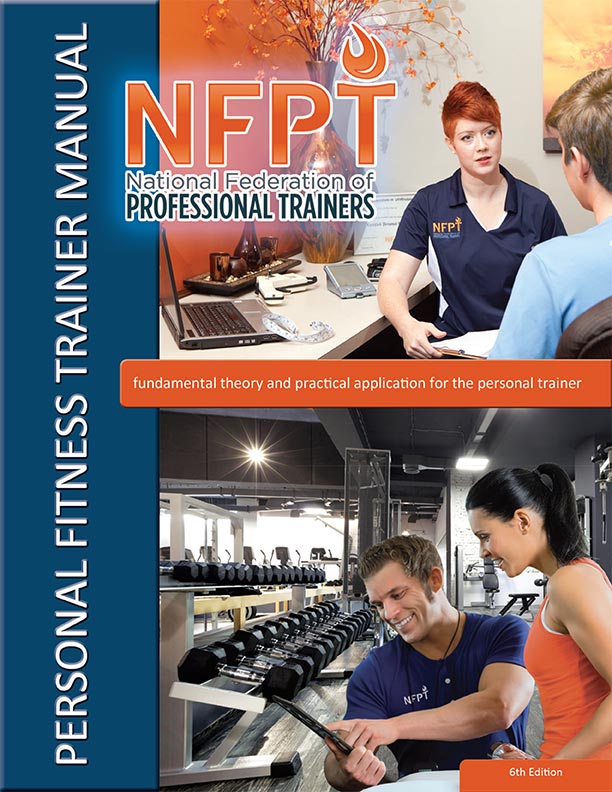 Whether you are new to the field or you've been in it awhile, we hope that you will find the NFPT Personal Trainer Manual to be an asset to you and your clients. Of course, our manual is considered recommended reading for the NFPT – CPT exam for trainer certification, but it's more than that. It's a complete guide for offering safe and effective fitness trainer services. From fundamental exercise science to initial assessment, program development, re-evaluation and everything in between – we want you to get the most day-to-day applicable knowledge possible from our manual.
We teach the necessary elements of health, fitness, the human body and how it all works together along with methodologies for putting goal-oriented training techniques to work for you and your clients. Complete consultation and assessment guidelines, screening forms and other professional documents for incorporating into your work are just some of what you can expect in this education manual.
Our education manual is easy to follow and stimulating to read. It breaks down anatomy, physiology and specific training techniques in a way that is interesting and enlightening to any fitness enthusiast. You won't just read this manual to pass a test and then set it on a shelf, it will work for you every day!
The emphasis is to teach and reinforce on-the-job skill sets for safe, effective and successful personal training. Learning outcomes include:
Knowledge of human anatomy and the concepts of functional exercise, basic nutrition and basic exercise science
An ability to design individual and group exercise programs tailored to the needs of specific clients
An ability to conduct and understand the need and importance of screening and client assessment, initially and progressively
An ability to execute individual fitness program design in a safe and effective way
A desire to help clients reach their health and fitness goals through appropriate cardiovascular, flexibility and resistance exercise
An ability to motivate others to improve their overall fitness and health
A dedication to maintaining integrity and your own personal health and fitness
An understanding of what is expected of you in terms of legal and professional business practices
NFPT's Personal Fitness Trainer Manual gives you a foundation for learning and offers a very comprehensive step-by-step guide to fitness training.