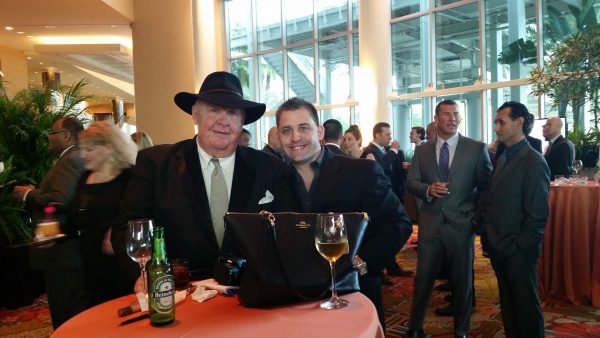 On October 5th Norm Cates will be receiving Club Industry's Lifetime Achievement Award and will celebrate the 25th anniversary of the Club Insider publication. Both Club Industry and Club Insider are companies to know about in the fitness world – they keep club owners, operators, and employees connected, up to date and thriving. Norm is at the heart and was at the start of this mission.
Back to back career accomplishments like these don't happen overnight. And they are just a drop in the bucket of what Norm has done during his fitness industry life. Daily actions that are simple and consistent lead to monumental moments like these.
Fitness Industry pioneers like Norm Cates have a lot to teach those of us who have established a career in helping people be healthy. Norm is part of fitness industry history. He has an admirable attitude about work. Norm has a lot to share about the past, present, and future of our field. I feel grateful that he made time to share his story with me. When Norm said I was a "good phone partner" it was the icing on the cake for me.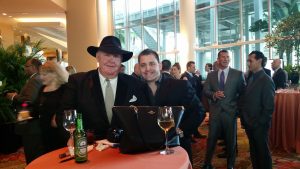 Unsurprisingly, Norm doesn't take much time off work because he says it's what makes him tick. He's not all work and no play though. Norm likes reading, football and having fun with friends and family. Norm doesn't drink alcohol but loves throwing parties. Every year 250 + people attend The Great CHARACTERS of Atlanta Party (GCA) and/or The Legendary LADIES of Atlanta Party. Who needs a vacation when you surround yourself with people who fill your cup of life with so much joy?
Success stories like Norm's start with a personal fitness experience that snowballs into a lifelong journey. It's why many of us get involved in this people-focused industry that revolves around healthy habits. We want to reap the benefits of this lifestyle and share it with others.
Norm's journey began in his 9th-grade weight room. It continued with a full football scholarship to N.C. State. The habit of lifting weights is what Norm attributes to his inclusion on the 1st Team All Atlantic Coast Conference and Honorable Mention All American Football Team as a guard in 1967.
Later on his journey Norm met one of his business partners, Ray Irwin while waiting to play racquetball at their apartment courts. It was then, in 1974 that they began their efforts to build and open the first racquetball club in the Southeast.
As with many dreamers and achievers, Norm and Ray "had no money and that's a BIG problem to have!" says Norm. He also says, "Determination goes a LONG WAY!" In 1976 Ed Jelks, a former Air Force buddy of Norm's introduced him to Rich Bloggs. This team of three eventually caught the attention of Fred Streck who owned the Xanadu and Stone Pony nightclubs.
One Wednesday night this successful nightclub owner and entrepreneur stunned the racquetball club aspiring trio by saying, "Let's make a deal now and I will be under construction by Friday morning." Can you imagine being there to hear a statement like this made about a project you have been working on and dreaming about for over 2 years!?!? Luckily Norm and his friends had blueprints ready to go…
Putting your visions and dreams on paper has great power. This is something I've learned from many successful people. Have you got an idea? Write it down. Then, share it with other like-minded people.
Four racquetball clubs in Atlanta expanded into 9 total across three states by 1981 with a total of 60,000 members. It was a great success that the gentlemen later split up amongst themselves. Norm eventually sold his facility but would like to open a square dance club in the future. There doesn't seem to be a dull moment in this man's mind!
Aside from Norm's early business partners, he has had many like-minded mentors to model along the way. Norm says, "I learned a lot from the guys we created IHRSA with. Rick Caro, Dale Dibble, Curt Beusman, Red Lerille, Dick Trant…these were guys who had already been at it for awhile when I started in 1974. They were significant mentors each bringing his own skill set to the table when it came to sharing their knowledge."
Club Industry and Club Insider are just two of the major fitness industry projects Norm has left his mark on. Norm was heavily involved with the merging of the National Court Club Association (NCCA) and the International Racquet Sportsclub Association (IRSA) which now has over 10,000 member clubs worldwide in 50 countries and has added "Health" as part of its name (IHRSA), which Norm attributes to its soaring success. Norm was the final president of NCCA and first president of IHRSA in 1981.
Norm says, "Being part of this project and transition was a lot of work. I think this is important for all people entering the industry to hear. Fitness is a passion, but running your own business and changing lives is work!"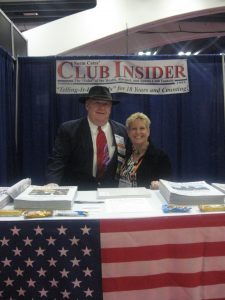 The birth of Club Insider arose naturally in 1993 when the late Jane Beusman said that the industry needed a publication that was "irreverent and outspoken and Tells it like it is!". At the time Norm's current business partner and son, Justin Cates was 8 years old. Norms says working with his son is a great blessing from God.
Norm doesn't plan on selling Club Insider the way he did with his racquetball clubs. Norm and Justin have produced 284 Club Insider editions and now 284 of them and 9,000 Club Insider pages are in the www.clubiInsideronline.com Archives. Norm says, "It's a work in progress because when I kick the bucket, my son, and partner, Justin Cates, is going to grab the baton and keep on running. He is being schooled to do what I have always done: Tell the truth. And, tell it like it is. Period."
The club and fitness industry has changed and evolved greatly since Norm's racquetball club days. Health Spas and YMCA's without cardio equipment dominated what are now high-tech fitness clubs and studios. It's hard to imagine a fitness facility without cardio machines!
Norm told me that the future of the fitness can be described by this statement: "Exercise IS Medicine." He says this new era will help club owners and operators reach a new and more respected level than ever. Norm mentioned Mike Alpert, the President, and CEO of the Claremont Club in Claremont, CA as a catalyst for this change. He believes that Mike's dedication is helping the industry rise to the next level.
Being that Norm has had so much influence on what's unfolded in the fitness industry to date, I take his thoughts about what is to come very seriously and to heart.
[info type="facebook"]If you're an NFPT trainer, join the Facebook Community Group to chat with other trainers. If you're not, come talk with NFPT here, we would like to meet you![/info]