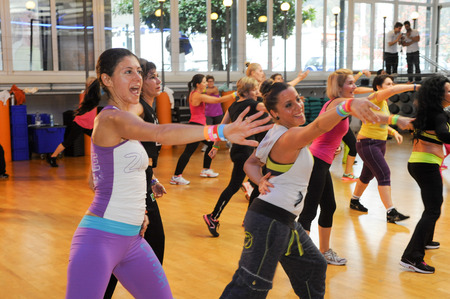 Interviewing for certified personal trainer positions can and does look similar to interviewing for other types of professional jobs. For example, if you're interviewing for a faculty position, you will likely be asked to give a teaching demo. The same is true for a fitness position. It is not an uncommon practice to require those interviewing for a personal training or group fitness position to demonstrate their skills by performing a sample workout or lead a small group class as part of the interview process. The interview team or hiring manager will likely provide you with guidelines if they ask interviewees to perform a "training demo" or "workout session". Here are a few pointers to help you prepare for a personal trainer practical interview.
What the Personal Trainer Practical Interview Can Include
This is where the situation can become a little more "best guess" than "absolute" because every gym conducts interviews differently and follows a different protocol for client intakes, assessments, and programming. However, it is not uncommon to be presented with any one of the following scenarios.
A mock client profile you are expected to evaluate and stratify his/her risk
Leading a client session using a workout provided to you by the committee
Leading a small group fitness class or workout with three to five participants
Observing a mock client-trainer session in which you are asked to identify errors
Ideally and hopefully the hiring manager or interview committee will provide you with details as to what they expect. However, if they do not, ask for some additional information. At a minimum, you will need to know any special conditions and/or the overall health risk profile of those who will be participating in the class or session demo.
Preparing for the Practical Basics
As we all know, there's not one right program for every person. That said, there are some basic skills and abilities you will need to be able to demonstrate and execute regardless of the scenario you are given. Ask yourself how confident you feel in being able to:
Prepare an example of a new client intake folder complete with common forms (PAR-Q, Health Status Questionnaire, Lifestyle/Behavior Questionnaire, Goal Sheet, Medical Release (if necessary), and basic physical assessment forms, etc.). If nothing else, this provides the committee with a model of your process for handling a new client intake
Demonstrate, at a minimum, resting heart rate, body composition (probably using skinfold calipers), postural evaluations, blood pressure (prepare for a manual cuff), & girth measurements.
Identify potential risk factors and explain how you would handle a client who presents with those risk factors
Hold a short conversation about the client's goals (or group participants' goals for the workout)
Demonstrate modifications for basic exercises that either decrease or increase the challenge
Construct a full-body workout and explain the exercises you chose and how they relate to a client's goals
Correct form
Whatever areas you feel are "weakest", concentrate on building those skills before the interview.
Other Preparation Tactics
While it isn't possible to predict all the expectations of the committee, you can give yourself the added edge by being ultra-prepared. Approach the interview the way you would approach working with a new client – be confident, warm, and encouraging.
I also recommend visiting the facility in advance to examine what the space is like and what equipment is available. Spend some time crafting different workouts in your mind (or on paper) to "study" for this practical portion of the interview. If you enter the interview with three or four workout designs (maybe one is a full-body, another is a core, and another is H.I.I.T. workout, etc.), you will have a variety of exercises to demonstrate with whomever your audience turns out to be.
Don't forget to include the warm-up and cool-down. Show that you have the skills to craft a well-rounded and balanced workout regimen for any client while still being mindful of what his or her goals are.
More chatter about practical personal training interviews in this episode of NFPT Live: