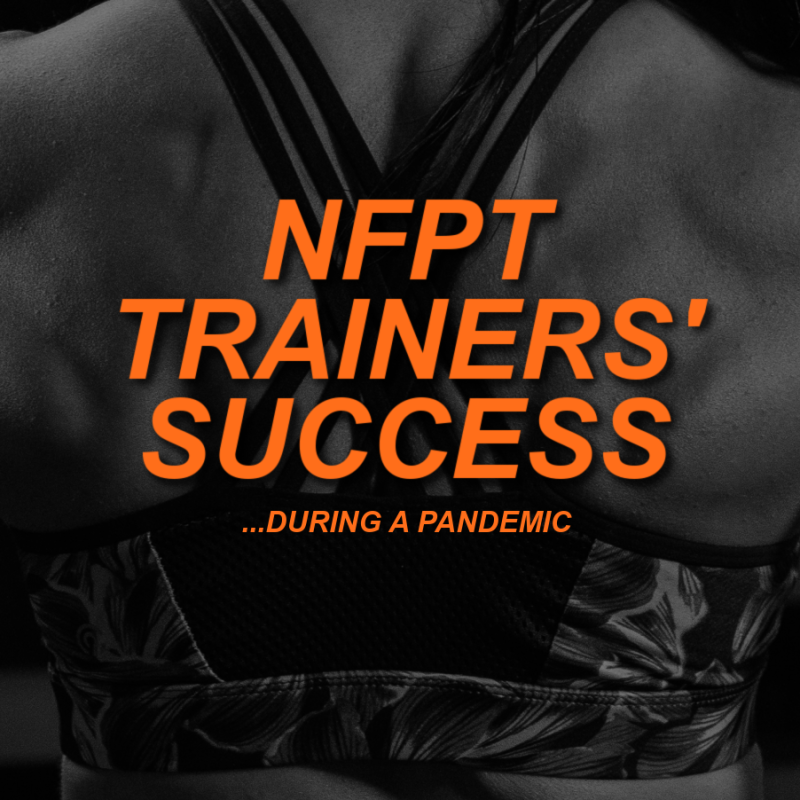 We've all seen the meme by now: "The moment you realize 2022 is really 2020, too". I prefer to go into this new year with a bit more optimism and appreciation for some of the good things that came out of 2021. Like, getting to know some of our rockstar NFPT trainers and getting insights into how they turned lemons into lemonade this year. You may be surprised by how versatile and adaptive we are as an industry!
I asked each of our NFPT Trainer Spotlights this question: "How did COVID-19 affect your business and career path?"
Here's what 10 NFPT Certified Personal Trainers answered that question:
Covid-19 has definitely added to the constant learning curves of being a trainer. Typically much of your work is done hands-on/person-to-person and that quickly changed. Ironically, right before Covid hit, I left the "big box" gym I'd worked in for 15 years and moved to another state. Prior to the transition, I'd been working at getting my online training business going and as luck would have it, I was able to utilize that. 
I would say the COVID-19 pandemic affected my business very positively. Of course, I would love more face time with my clients, but I'm happy to have the business either way. Being virtual or working out at home also offers a different level of creativity that I would have never experienced if the pandemic hadn't impacted gym openings. The pandemic also allowed me to have the time to study and focus on becoming certified. My main goal for 2020 was to become certified, and I exceeded my expectations. I would have never thought I would be where I am today.
COVID has made me dive into the realm of virtual classes, which I have considered doing in the past but never got around to. I actually finally published my first website, because of these times. It has been rough, but it has taught me that I can broaden my horizons.

COVID has significantly affected my fitness practice as people did not want to train in person for a while. People are slowly going back to training one on one.
Luckily for me the owner (Kristen McAullife) of It's Working Out is a beast and if we missed a beat during Covid-19 I couldn't tell. Covid did affect people coming into the gym, but virtual training was also born. I most definitely think that virtual/remote training is the future of fitness. It's a great way to make sure your client never misses a session. 
COVID has positively impacted my fitness practice. I've completely embraced gymless exercise. No need to leave your comfort zone or no need to dedicate your whole morning or evening to working out. You can finally get back to the basics of a workout and enjoy it from anywhere you want.
I had to move to a different town and a new home so I could turn a bedroom into a  "studio" to train my clients in. I am only back to 50% of the hours I was at prior to COVID but am as grateful as can be. I have many high-risk clients and clients in the medical field so I have been extremely cautious. I am not taking on new clients in-person unless I know them personally.  
Teaching clients to train virtually was quite the challenge. Making them use their body weight more and getting them off machines had been a life-changer for many. Balance, strength, and coordination increased for so many. I also began to train most of them barefoot which they love and no longer want to wear shoes.
Covid actually helped my career jump start due to gyms being shut down. I had quite a few clients join me in training out of my home gym. They got others involved and before I knew it, I was rolling! Social media has allowed me to get my content out and show the hard work and dedication that goes into creating a better "you" and inviting others along with you on that journey. It helps to describe what it is I do and what I can do for my clients. 

Covid of course impacted my business in a very positive way. More people are on social media, therefore more people are inquiring about services in the fitness industry and getting educated.
There are a lot of influencers out there but I believe you should look for the influences that have the personal accreditations therefore you know that advice you're giving is the best advice and not a quick fix as the majority of people want. It's a lifestyle to get healthy and fit, but at the end of the day especially with social media and the Internet, your mentors and role models ought to be the right people. We don't know everything! I too have a coach from the NPAA sport. Fitness is an ongoing journey and knowledge is wealth.
Covid has impacted my fitness practice in both a positive and negative way. It helped me become more creative in routine building, opened my eyes to other places and environments where a workout can take place (which could literally be anywhere!), and helped me discover different sources on how to deliver a workout to my clients. The negative impact it had was not being able to have much 1-on-1 in-person time with my clientele as I would prefer.