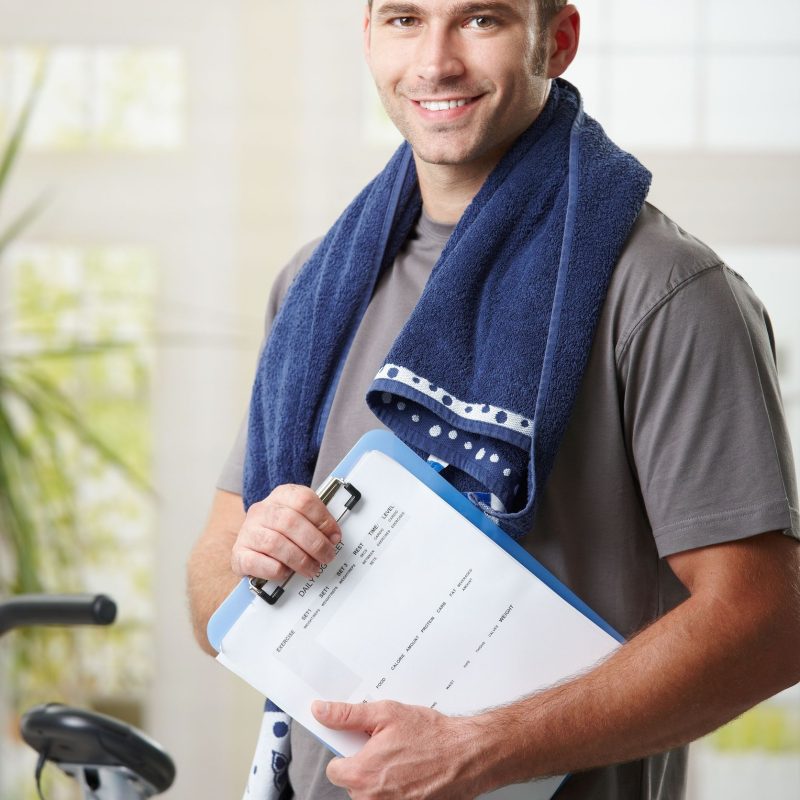 "Do you make up this workout as you go?"  (A client asked me this question mid-way through one of our regular sessions.)
"No," I replied, slightly caught off guard.
She continued, "How do you know what to do if you don't have any notes?  How do you remember what we did last time?"
I smiled and said, "I just remember.  I think about it in the morning and make changes according to what you say at the start of our session.  Some days you're more tired from biking than others and need something different than what I plan."
She nodded, seeming satisfied with my response and asked "What exercise is next?"
It was hard for me not to get defensive.  I felt on the spot.  Was she doubting the way I conduct my sessions?  No, probably just curious.  We worked together for years after that, but I changed my ways slightly.
Some personal trainers write down workout plans the night before, the same way teachers do with lesson plans.  They hold clipboards and refer to what's next between each exercise.  The rest of us are on the fly, changing the workout according the clients current condition.
I've always preferred to have my hands free and options open, but decided to give note taking a try and found two methods that work well for me.
Method #1: Workout Routine Plans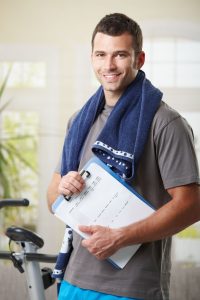 I now keep a small 3 x 5 inch spiral memo pad with client exercise routines in it.  Clients have commented on it and seem to like that I have a plan (even though I don't always follow it).  It has a list of exercises that each client typically does, with the resistance and duration.
A page in that book looks like this:
Client Name
Warm Up Exercise 1, time
Warm Up Exercise 2, time
Warm Up Exercise 3, time
Exercise 1, weight, reps/time
Exercise 2, weight, reps/time
Exercise 3, weight, reps/time
Exercise 1, weight, reps/time
Exercise 2, weight, reps/time
Exercise 3, weight, reps/time
Method #2 : Post Session Notes
I also have a regular sized binder with a section for each client, where I keep overall notes about their health and routine changes.  This doesn't come to each session, it stays in a locker or at home somewhere safe.  It comes in handy to note progression.
I can quickly scan this information into my computer or type it in to send to a substitute if I'm sick or on vacation.  It was especially beneficial when I moved from California to Montana and transferred clients over to a permanent new trainer.  Both the client and replacement trainer were grateful.
A page in the binder looks like this:
Client Name: Bob  Age: 57  Height: 5'11" Weight: 175 lbs.
Health History: Lumbar fusion L4-L5, stiffness in the area.  Cholesterol medication.
Hobbies: Snow skiing, water skiing, road biking, grandfather.
Other notes: Doesn't like chit chat during session, stay on task.  He enjoys functional exercises that apply to his sports.  Prefers routine with 1-2 new exercises each session.
Regular Exercises:
Exercise 1, weight, reps/time
Exercise 2, weight, reps/time
Exercise 3, weight, reps/time
Exercise 4, weight, reps/times
LOG:
11/15/15
Physical Therapist worked on thoracic rotation yesterday.
Added torso rotation with red resistance band into routine.
Right lower back sore.
11/22/15
Increased weight for lat pull down from 50 lbs. to 55 lbs.
Held plank for 90 seconds.
Glutes were sore.
Why are Notes Important?
Having a plan and records radiates professionalism, so long as you don't spend more time looking at the notes than at your client.  Ideally, it frees up your attention so you can focus on checking form and perceived exertion.
There's nothing worse than a personal trainer (or any professional) that says to their client, "What did we do last time you were here?"  It's unprofessional and comes off as careless.  Find a method that works for you this year and put it in to practice!
Share your record keeping tips in the comments below.
If you found this helpful, share it!