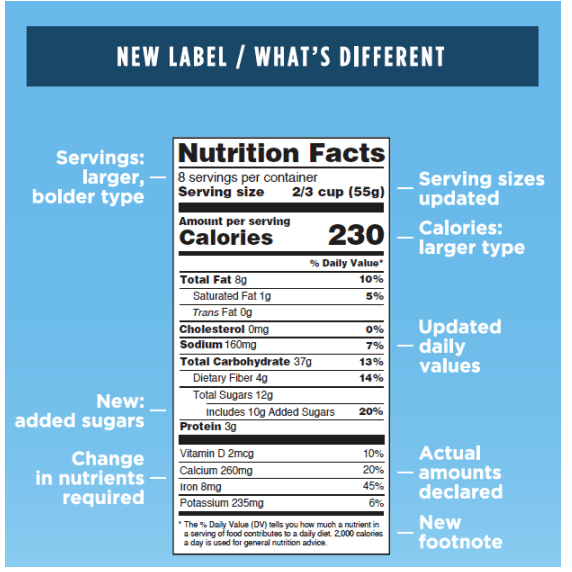 UPDATE 4/11/2018:
The FDA is proposing changes to the original compliance dates. The proposed date changes are July 26, 2018 to January 1, 2020 for manufacturers with annual food sales at or above $10 million. For those manufacturers with less than $10 million worth of annual sales will need to comply by January 1, 2021.
These proposed changes have not been finalized to date.
The changes in the compliance dates were sparked by industry complaints and feedback from food manufacturers. Companies expressed concerns about the tight timeline for implementation and asked for extended time to successfully implement all required changes. For more information, please visit the FDA's Constituent Update.
Learn More and Get Involved – 2018 Nutrition Food Label Updates Delayed
Even though 67% of consumers read and examine food labels (Salge, 2016), they often misinterpret the information when making purchasing decisions. How consumers apply nutrition label information to their decisions is a stumbling block. Luckily, personal trainers and health coaches can help teach clients how to use a nutrition facts panel effectively and consistently.
Why are these nutrition label changes happening after more than 20 years? To create a label that better reflects the 2015 Dietary Guidelines which is derived from the most current scientific studies in nutrition. Fortunately, many of the changes are designed with the consumer in mind. Let's review the history and the changes so that you can educate your clients and students.
The Historical Perspective
To provide a quick reference to the evolution of this movement, the timeline below briefly notes the major acts and/or events that ultimately led to these changes.
1980 – the FDA becomes involved with an initiative to improve the content and format of food labels. First dietary guidelines published.
1990 – Nutrition labeling becomes a requirement via the Nutrition Labeling & Education Act (NLEA).
2002 – Nutrition Label Reform and public commenting begins.
2014 – FDA proposed two rules on which it requested public comment for the changes to the NFP (Nutrition Facts Panel) and RACC (Reference Amount Customarily Consumed – we know these as "serving sizes").
2015 – FDA holds a comment period for supplemental rules, which included a percent daily value (%DV) for added sugar.
2016 – FDA published it final rules which mandated a new nutrition label to be unveiled by July 26, 2018.
General Overview of Changes
The primary changes on the horizon include:
The visibility of Total Calories is increased by the use of larger and bolded font. Even better than having the total calories listed per serving, the new labels will reflect total calories per package/container for products that contain MORE than a single serving. This allows individuals to quickly evaluate caloric cost if they consume more than a single serving.
Calories from Fat will no longer be listed. Researchers found this item to be confusing for consumers as it didn't really provide usable or relatable information for the general public.
Multiple changes to %DV's.
Added Sugars declaration as well as and a %DV for added sugars
Changes to mandatory declaration of vitamins and minerals
Declaration of absolute amounts of vitamins and minerals will be provided.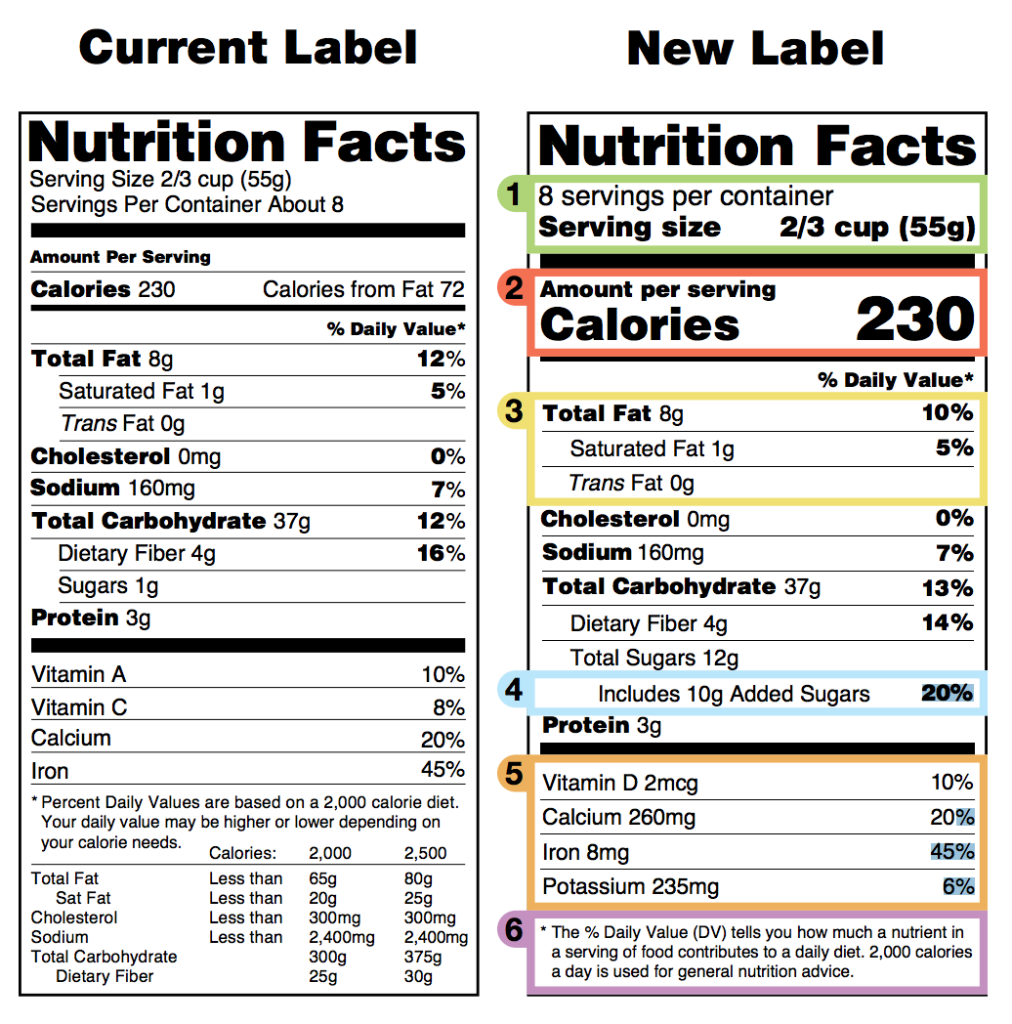 Nitty Gritty Details
Carbohydrates
The biggest changes are seen in the carbohydrates section.
Dietary Fiber: The Daily Value for fiber will increase from 25g to 28g while the caloric value will be reduced from 4kal to 2 kcal/gram for non-digestible soluble fiber. Since fiber is considered a "nutrient of concern" (one that Americans do not consume enough of), this increase challenges consumers to eat an adequate amount.
Sugars will now be referred to as "Total Sugars" and the label will include a declaration of "Added Sugars" or those sugars added during the processing or packaging of the food.
The FDA established a Daily value 50g (<10% of a 2,000-calorie diet) for added sugars. Currently, added sugars make up about 13% of the American diet (Salge, 2016). This declaration will likely make the consumption of these sugars a more conscious behavior rather than an "out of sight out of mind" aspect.
The Daily Value for total carbohydrates will decrease from 300g to 275g.
The current voluntary declaration of "Other Carbohydrates" will be removed.
Fats
Dietary Fat is the second of the macronutrients to see changes. The primary changes include an increase in the Daily Value of "Total Fat" from 65g to 78g. This is in addition to the removal of the "Calories from Fat" notation. While carbohydrates and fats will see changes, protein will remain the same.
Micronutrients
There will be changes to the vitamins and minerals categories on the current label.
A mandatory declaration of Vitamin D and Potassium
Quantitative amounts of Vitamin D, Calcium, Iron, and Potassium
Voluntary declaration of Vitamins A and C (unless the food label contains a claim).
Summary of Daily Value Changes
| | | |
| --- | --- | --- |
| Nutrient | Current DV | New DV |
| Fiber | 25g | 28g |
| Vitamin C | 60mg | 90mg |
| Vitamin D | 400IU | 20mcg (800 IU) |
| Potassium | 3,500mg | 4,700mg |
| Calciu | 1,000mg | 1,300mg |
| Sodium | 2,400mg | 2,300mg |
| Total Fat | 65g | 78g |
| Total Carbohydrate | 300g | 275g |
(Storey & Salge, 2016)
RAAC Changes (serving sizes)
The serving sizes will increase for many items including cereal, bagels, ice cream (did anyone else do a little cheer?), and soda.
The serving size for yogurt will decrease.
There are 25 new RACC categories established including one for appetizers and dried soup mixes.
All containers that contain more than 2 servings must include information for the entire container as well as for a single serving. This will appear as dual columns: "One Serving" and "Whole Container".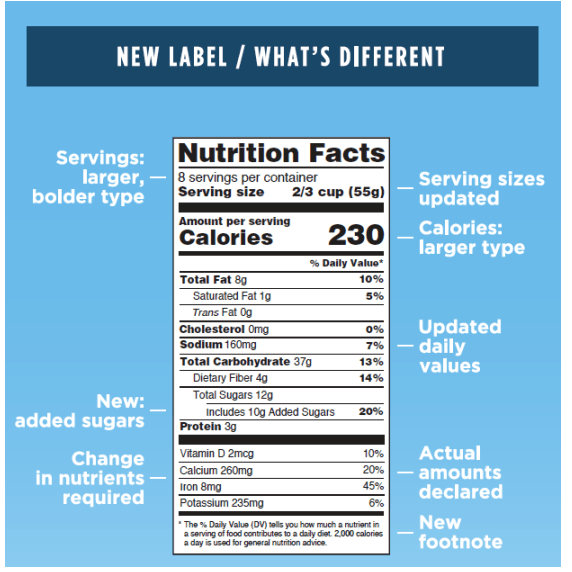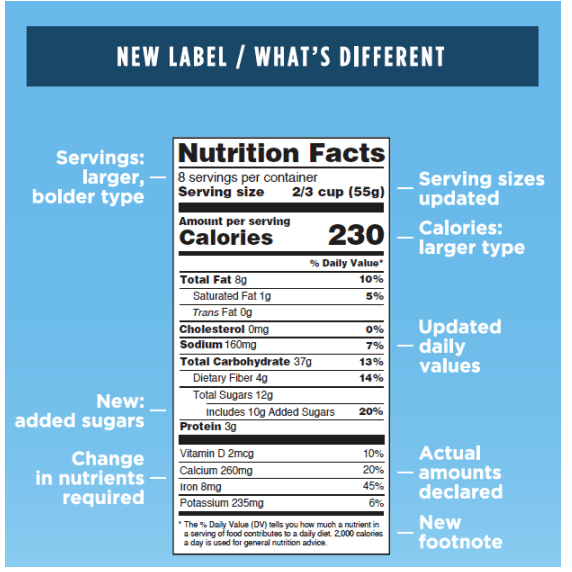 How do you help clients apply nutrition information?
[info type="facebook"]Join the Facebook Community Group to meet other trainers.[/info]