Personal trainers might recommend metabolic efficiency testing for their clients to help them reach their fitness goals more easily. Metabolic efficiency refers to how well the body can utilize fat and burn energy (calories). It's also known as nutritional fitness.
Metabolic Efficiency Testing comes in two forms: Resting Metabolic Rate Assessment (RMR) and Active Metabolic Assessment (AMA). Both help clients figure out the amount of energy (calories) their body uses at rest and when in motion.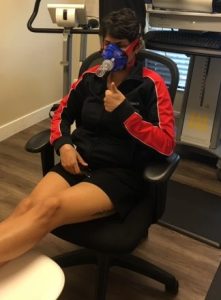 How Metabolic Efficiency Tests Work
The RMR assessment is takes about 10-15 minutes to administer and lets clients know exactly how many calories they're burning at rest from fat. A healthy rate would be 70% of energy being burned from fat while at rest.
The RMR  assessment process is simple. It requires a fast for three hours followed by going into a testing center. At the testing center, a trained Metabolic Technician will ask the testing patient to wear a mask and then connect it to software.
I recently had the experience of these testing procedures at Sparks Systems, local to the Phoenix Area. Sparks Systems uses Medgraphics Ultima Cario2 PFX to measure breath by breath gas exchange. The HR monitor used was Polar H10 Heart Rate Monitor.
Here's the RMR Assessment experience:
The AMA is more involved than the RMR and is typically done with the mask on and connected to the same software on either a treadmill or bike. I opted for the bike because I have a history of an ankle sprain. The mask and equipment measure the amount of oxygen (O2) the body is using and the carbon dioxide (CO2) being produced.
The test starts with a comfortable and low-intensity warm-up, with a trained Metabolic Technician who gradually increases the intensity every two to four minutes (measured by wattage or pace). The technician monitors the rate at which the body consumes oxygen and is actively engaged in aerobic exercise, burning fat as a primary source of fuel, the heart rate (through the hr monitor), and rate of perceived exertion (RPE).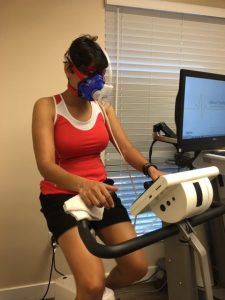 The bulk of the test is completed once the sub-maximal effort or maximal effort is reached, and peak levels of O2 consumption is recorded. It ends with a two-minute cool-down period.
Max testing gives a much more accurate reading and can recommend a specific cardio protocol for improving vo2 max, and ultimately your metabolic efficiency score (This would improve fat utilization bc if vo2 max is higher or you are working to improve it).
Sub max testing is appropriate for people with more modest goals or for those recovering from injuries.
When I did the test at Sparks Systems, I opted for a sub-maximal test given that I've been recovering from the ankle sprain. Other situations or clients may opt for more intense testing and go to maximal effort.
Once the movement part of the test is done, the Metabolic Technician utilizes the software to generate a testing report that includes the client's MEP (Metabolic Efficiency Point), aerobic threshold, lactate threshold, VO2 Max, individual heart rate training zones and a preliminary overview of the best action plan suited for the client to reach his/her goals.
The last steps of testing involve removing the equipment (mask and HR monitor) and a review of the results.
Here's the AMA Experience:
The MEP is the point at which the body switches from using fat as a primary source of fuel to carbohydrates. This is a vital number not just in endurance sports and athletes but also in personal training clients. Imagine being able to train to the MEP, and building fitness protocols around it by keeping a client at their target heart rate to optimize burning fat and utilizing it as a primary fuel source. Knowing how to keep your clients in optimal fat burning ranges for the session and result in less 'bonking' or post work out fatigue can make your job a lot easier and your clients attain results much more efficiently.
The better the MEP number is, the more 'nutritional fitness' a client can claim, or in other words, the more they are able to utilize fat stores as a primary source of fuel during exercise at a higher intensity. Utilizing the tests by re-testing regularly helps to determine if the MEP number is improving. The Metabolic Technician and professional team can work with the client to determine how often he/she should be retested for the most effective results.
Another benefit of having all of these numbers can help fit pro's work with health coaches to generate a nutritional course of action to help clients maximize energy (calorie utilization).
MEP Explained:
Benefits of Metabolic Testing Recap:
The fit pro will know the science and numbers
Can work with a team to tailor a nutritional course of action
Can have specific HR target zones for cardio protocols and strength training
Clients will learn to maximize fat burning efficiency
An increase in MEP will allow clients to burn more fat at a higher intensity, preserving CHO stores during exercise
Maximize burning fat stores at rest
A fitness professional can build a professional relationship with Metabolic Specialists
Where to find metabolic testing services
I live in Phoenix, so I went with Sparks Systems. They're local and user-friendly. If you don't have a Metabolic Center or Specialist in your area, you can go to a University or College. The recommendation is to ensure they use up-to-date equipment and software and that it's well-maintained. Ask the university or institution how many they do or how recently the equipment has been calibrated. Some systems use algorithms while others are more personalized and sophisticated.
Employing a University or College is usually more cost-efficient as the testing can cost well into the hundreds. Many places will offer package discounts, so it couldn't hurt to ask. Unfortunately, most insurance companies do not cover these tests. Some companies may provide discounts or bonuses for working with a Fit Pro & Metabolic Professional.  Some companies also have specials for employees taking an Integrative Nutrition or Integrative and Functional Wellness approach to their health.
Another thing to look for when selecting a location is making sure Metabolic Technicians are trained or have a background in physiology and metabolic testing. Certification and training requirements would vary from state to state.
Who should seek metabolic testing?
Endurance Athletes
Clients who have plateaued
Data-driven clients who are interested in having a specific 'dialed in' cardio and strength program
Expecting mothers (physiology will change over 9 months + post delivery)
Anyone interested in improving their Metabolic Efficiency
Fit Pro's interested in learning more about the testing
Contraindications & Special Considerations:
It is recommended to use the PAR-Q and use caution with anyone having diagnosed medical conditions prior to doing a metabolic efficiency test.
Here's more on how to assess cardiovascular risk with fitness clients.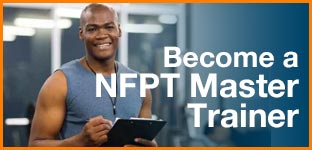 Protocols are determined by the Health History collected and the client's goals for performing the test.
If the client feels nausea or light-headed during testing, it would stop.
I did the testing as fieldwork for this blog and because I've been on a bit of a hiatus from running while recovering from my ankle sprain. I wanted to create a cardio protocol based on my numbers, so I got them thanks to Sparks Systems and Metabolic Efficiency Testing!
---
References:
Dr. Jason Fung: https://www.dietdoctor.com/authors/dr-jason-fung-m-d
Dr. Hyman: https://drhyman.com/
Dr. Peter Attia:   https://peterattiamd.com/
https://www.enrgperformance.com/metabolic-efficiency-testing#:~:targetText=Metabolic%20Efficiency%20testing%20is%20a,preserve%20its%20precious%20carbohydrate%20stores
www.sparkssytems.net