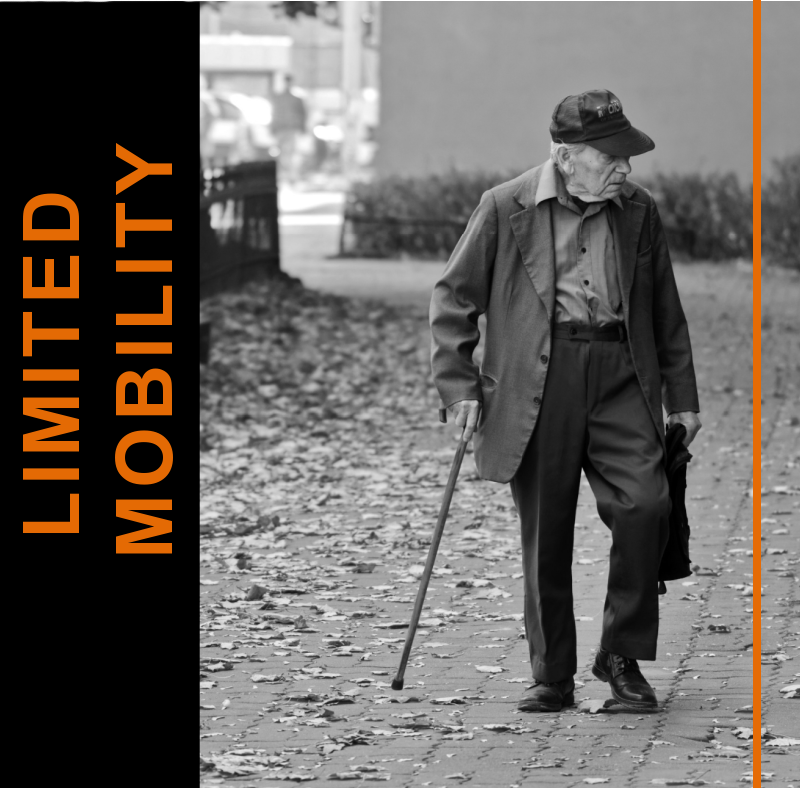 If you have never worked with a limited mobility client in your career as a personal trainer, it might seem daunting at first. You might wonder how to find creative ways to exercise without full use of the body or worry about how to properly motivate and encourage your clients.
As a personal trainer, you already understand that your job is to help clients achieve their unique fitness goals at their own unique pace. When it comes to training clients with limited mobility, this same core principle applies.
If you are curious about working with limited mobility clients or about to start training with your first differently abled client, there are a few tips and tricks you can have ready to help you and your client succeed.
Here are our recommended tips and tricks for working with limited mobility clients.
Things to Know Before Working with Limited Mobility Clients
1. Be sensitive to your client's needs.
This is the most obvious tip, but it is also the most important. Remind yourself that the training programs you put together for limited mobility clients must be extremely customized to their comfort level and capabilities. There are some exercises they will not be able to perform, or that might actually cause them pain. But there are also many exercises you can adapt to suit your client's unique needs.
2. Don't underestimate your client.
On the opposite end of the spectrum, don't ever assume your client can't perform a movement without talking to them about it first. Make sure you are never talking down to your client or making them feel inferior due to their adapted exercise style. Remind yourself and your client that their fitness regimen will simply be different, not lesser. Your client will appreciate the respect you show them, and it will help to strengthen your bond of trust.
3. Understand your client's goals.
While some limited mobility clients may be utilizing personal training to help them improve functional strength development or manage weight, others may be serious athletes training for sporting events like the Paralympics. Make sure your training program reflects those nuances and is not a one-size-fits-all approach to everyone with limited mobility.
4. Always prioritize safety.
Finding the right balance between challenging clients physically and keeping them safe from harm is always critical as a personal trainer, but it takes on greater magnitude when working with limited mobility clients. Make sure you are utilizing the right equipment for the right circumstances and have a complete understanding of how your client will be using it before you get started.
5. Educate yourself.
This tip connects to prioritizing safety. Make sure you are up to date on the latest thought-leadership surrounding adaptive fitness methods and are always seeking out new methodologies that could help your clients. Clients with limited mobility look to personal training to work towards a broad number of health benefits, like cardiovascular endurance, flexibility, blood circulation, digestion, bone density, reduced muscle atrophy, and more. When you work with a limited mobility client and find out which specific health benefits they are seeking, do your research on which training methods will directly impact those parts of the body. Your clients will be more likely to make more progress if you are well informed about differently-abled individuals.

6. Seek out the latest equipment.
Once you are educated on the latest research concerning limited mobility and personal training, try to access the best possible equipment for your clients. Wheelchair accessible machines and tools can make an enormous difference in the quality of your clients' training. Familiarize yourself with things like arm bikes or adjusted rowing machines so that you can ensure your clients use them as safely and effectively as possible.
Here is a top 10 list for adapted exercise equipment we recommend.
7. Get creative.
There are so many exercises that limited mobility clients can participate in. Sports like basketball, tennis, rugby, and track are all possible within a wheelchair. Outdoor activities like horseback riding, swimming, or rowing can also be an exciting change of pace. Yoga is a solution for both mindful peace and improved flexibility and can be easily adapted to any body type.  Resistance bands are also an excellent tool since they come in sets with different levels of resistance for different types of clients to use. Get creative as you search for the right personal training solutions for your clients to help them stay engaged.
8. Reimagine popular fitness programs.
Sometimes the key to creating something amazing is learning from something amazing. Look to some of the most successful fitness programs and consider how their methodology could be applied to your own strategy for people with limited mobility. This will allow you to assess what is so successful about these programs and what is lacking from them. Then you can fill in the gaps or make adjustments based on what your clients need.

Practical Exercise Tips for Clients with Limited Mobility
Once you have done your research and taken the time to understand your client's goals, the next step is to get started with their training program. Here are a few practical tips for doing that.
Get your client in the right mindset.
Exercising is more impactful when you feel motivated and capable. As a personal trainer, you are probably already familiar with motivational techniques to help your clients continue progressing towards success. Limited mobility clients have their own unique goals to accomplish and therefore may require plenty of encouragement. Try asking your clients to start out their day with positive affirmations, find work out clothes they are excited to wear, and make a playlist of music that gets them pumped for a trip to the gym.
Warm-up.
No matter your body type or abilities, warming up is a critical start to your work out to prevent injuries. Help your client do dynamic arm and/or leg stretches that will keep them limber for more strenuous activities.
Start slow, then increase activity.
Just as you would typically with an able-bodied client, start off at a doable pace when you begin training a client with limited mobility. Help your client start a routine where they exercise consistently at the same time and in the same way each day. Then you can gradually increase the amount and complexity of exercises.
Make sure your clients stick to the plan.
As you know all too well, it takes several weeks for an activity to become a habit. Encourage your clients to write down their reasons for working out and refer to them when they feel like giving up. Celebrate short term wins like reduced stress levels or mood improvements. Focusing on these milestones will help your client stay motivated towards bigger goals and health benefits.
Stop immediately if your client experiences pain.
While a good workout should always be a challenge, there is a difference between feeling tired or "worked" and potentially causing harm. Monitor your clients closely to make sure they are not overworking themselves and getting hurt. If your client does appear to be in pain, stop to check on them rather than encouraging them to keep pushing through it.

Start Working with Limited Mobility Clients
Helping limited mobility clients on their fitness journey might seem more challenging than personal training for your more mobile clients, but in many ways, it is similar to assisting those able-bodied clients. People with disabilities or reduced mobility typically have fewer opportunities to benefit from exercise, so finding equipment and activities that will meet them exactly where they are is valuable and rewarding.
When you become a personal trainer for someone with limited mobility, just remember to treat them with the same patience, encouragement, and respect you would treat any of your clients. Working out and meeting fitness goals should be empowering and accessible to everyone.
If you are interested in working with special needs clients, Special Strong offers a certification course that will prepare you for working in the field and offer you plenty of specific examples for limited mobility work out routines. While you are progressing towards your completed certification, you can volunteer at a local special needs organization or pass out flyers at your local gym to offer your services.
For more information on a fulfilling career working with people with disabilities, visit our certification website.
Special Strong provides adapted fitness for special needs children, adolescents, and adults with autism, Down Syndrome, and other disabilities. Through our online training platform, we also provide special needs certification courses for educators, professionals, and parents who want to learn how to adapt fitness to serve the special needs population. Fitness franchise opportunities are available.
It helps to know a little about a wide range of different disabilities. Here are some resources you can use to do that.