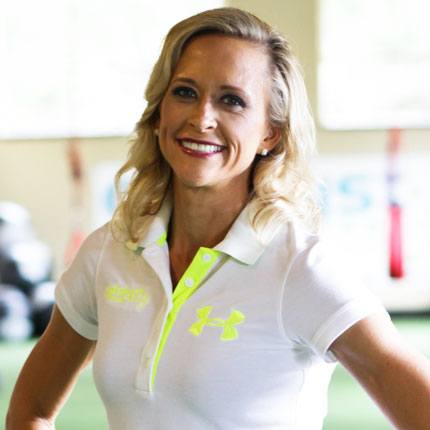 We are so excited to be able to bring to all of our NFPT personal trainers and fans an exclusive interview with this year's PFP Trainer of the Year, Valorie Ness.
NFPT: Thank you so much for the opportunity to speak with you and ask a couple of questions. First, we'd love to hear how you feel about being the 2013 PFP Trainer of the Year?
Valorie: I am truly honored to be representing PFP and the personal training industry for 2013 as a leader, business owner, educator, author, and role model. I am humbled to be selected out of over 600 qualified applicants and will use this opportunity to help grow personal training as an industry as a more rounded career. This is an industry that changes lives on a daily basis, 365.25 (Leap Years included!) days a year.
We also have the ability to make a wide reach into our individual communities by donating our time and talents to create awareness and excitement about the benefits of exercise and "movement" and how they improve ones health. After all, "Exercise is Medicine" and we as fitness professionals are in a unique position to be able to educate and help those that need it.
NFPT: Personal trainers really are in a unique position to help others. What do you think separates you from the rest of personal trainers out there to win this award?
Valorie: This is a tough question for me because I do not view myself as someone who is "better" than others. I have always looked at myself as a true "professional" in the fitness industry.
Wikipedia gives the following criteria for a "professional."
Expert and specialized knowledge in field which one is practicing professionally.
Excellent manual/practical and literary skills in relation to profession.
High quality work in: creations, products, services, presentations, consultancy, primary/other research, administrative, marketing, photography or other work endeavors.
A high standard of professional ethics, behavior and work activities while carrying out one's profession (as an employee, self-employed person, career, enterprise, business, company, or partnership/associate/colleague, etc.). The professional owes a higher duty to a client, often a privilege of confidentiality, as well as a duty not to abandon the client just because he or she may not be able to pay or remunerate the professional. Often the professional is required to put the interest of the client ahead of his own interests.
Reasonable work morale and motivation. Having interest and desire to do a job well as holding positive attitude towards the profession are important elements in attaining a high level of professionalism.
Appropriate treatment of relationships with colleagues. Consideration should be shown to elderly, junior or inexperienced colleagues, as well as those with special needs. An example must be set to perpetuate the attitude of one's business without doing it harm.
A professional is an expert who is a master in a specific field.
The above points imply that a "professional's" quality of workmanship and service are always on point and that they do so with the utmost care and respect for those that they work with.
To me being a "professional" in this industry means nailing the above seven points not just doing the bare minimum to get by. The vast majority of people who call themselves personal trainers do not even possess a certification let alone a degree in a health- related field. For the majority that do obtain a certification, they often do what they need to, to get by.
For example, how many trainers do you know that have one certification and obtain the minimum number of CEC's every two years to get by, or even those that just retake the test instead of actually learning something new from a CEC class? Unfortunately, if you run the numbers the above-mentioned type of "trainer" represents the largest portion of our industry. These types of trainers bring our profession and industry down.
Over the last 17 years I have been working to constantly challenge myself to grow as a professional and person. I am constantly studying and challenging myself so that I may better serve my clients, teammates and my industry.
From where I started, I have made significant progress in my career including becoming a National Educator after completing my first Personal Training Certification just 2 years prior, owning my own Personal Training and Performance Enhancement Facility, presenting internationally, and being cognizant of always giving back to the community I live in through fundraisers, charity events and race sponsorship.
Check back next week for the rest of our exclusive interview with Valorie where we will hear what motivates her as a trainer and her story of becoming one.
NFPT: Tell us your story. When did you become a personal trainer? Maybe more importantly, why did you become a trainer?
Valorie: I received my first Personal Training Certification from ACE in 1995 and have continued my personal quest to continue to learn since then.  I now hold multiple certifications and advanced specializations through ACE, NASM, and NSCA.  Specifically, I hold the following certifications and advanced specializations:
ACE-CPT, and Group Fitness
NASM-CPT, CES
NSCA-CPT
I will also be adding in a certification from NFPT in the next couple months
I am also a Master Trainer for ACE, Red Cord, MET, Surge 360, Balanced Bells and a ViPR Pro Instructor.
The choice to become a Personal Trainer was not a tough one.  Ever since the age of 8, I have been participating in fitness-related activities.  Starting with group fitness then track and field, dance line, and 5K's.  I became captain of my track and dance team and started teaching group fitness classes at age 18.  Taking a leadership role seemed very natural to me and this is where I was the happiest.
I had a knack of taking those who seemed to be struggling "under my wing" and helping them become the best they could be.  I take great pride in educating and empowering those I train and those who attend my workshops.
NFPT: What motivates you to do this job? It isn't an easy field, helping and serving others all the time.
Valorie: Your are correct, this is not an "easy" career field to be in.  The hours are long and giving of yourself in body, mind and spirit all day long, 5-7, days per week can be challenging, but the answer is easy, I LOVE MY CAREER CHOICE!  Those of us who have been working full time in the industry understand this fully.  This is a career you do because you love it, not because its a way to pay the bills.
This a very rewarding career on many levels.  We have a unique opportunity to change peoples lives for the better and changing one persons life has a trickle down effect and has a way of influencing everyone else in their life (spouses, children, relatives, coworkers, friends, etc.).
I was born with the desire to care for and help others as well as an innate ability to be self motivated to accomplish any goal I set my mind to.  I believe these characteristics that I have developed overtime that make me a great Personal Trainer.
NFPT: What are the future plans for Catalyst Fitness?
Valorie: In short, we will continue to doing what we are doing. Our reach and our markets will continue to grow and we will continue helping to the raise the bar in our industry.
As a company, Catalyst Fitness has four divisions:
Facility (One on One, Partner, and Small Group Training)
Corporate Wellness
Education
Consulting
As a Facility, we will be increasing the number of our corporate locations and adding in franchise locations.
Our Corporate Wellness Division continues to grow and will continue to consult and provide services to companies and their employees.
Our Education division will continue creating and writing evidenced based content to deliver at conferences, workshops, and in the forms of books, DVD's, etc.
Our Consulting division will to continue to consult with hospitals, healthcare systems, government agencies, equipment companies, and Fitness related businesses.
NFPT: Any advice for other trainers out there?
Valorie: For newly certified trainers:  Chose this career because you love it and truly passionate about helping people change their lives for the better.
For those who have been in the industry awhile:  Never stop learning, knowledge is power.
For all trainers out there whether new to the field or a veteran, let Science, Systems, and Tools be your Guide!
This means everything you do should be able to be explained and founded in Science.  Use Systems to increase your efficiency and productivity. Use Tools, and specifically the right tool for the right job, to get the job done.
NFPT: Great! Thank you so much for your time, Valorie. We are glad we could get some time to hear your insights! And we know that our readers out there will learn a lot from this.