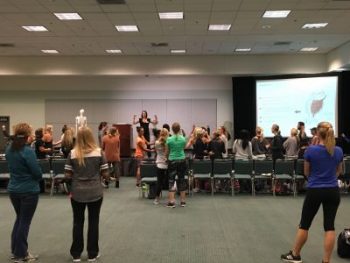 Do you want to share your fitness passion with a larger audience? Contributing to the body of knowledge in the industry is a natural next step in any fitness professional's career. 
It's a way to challenge yourself, grow your business and presence, enhance your credibility, and have fun!
There are many fitness industry events hosted each year from Idea Health and Fitness, IHRSA, and other organizations. There are plenty of options for every type of teacher. Writing is another wonderful alternative for the less vocal leader inside of you.
Sharing your experiences with emerging personal trainers and group fitness instructors is rewarding, but it can be intimidating to take the first step. The main difference between you and those that are on stage is a leap of faith and planning efforts.
Before you move forward, ask yourself why you want to present, teach or write. For the spotlight? For marketing? Income? 
These goals are all very different and will help you decide where to place your priorities. You might have to work for free at first to gain experience, so it's important to choose opportunities that align. Time is money, so invest it wisely.
Whether you're ready to take the plunge, or getting close – move that way at your own pace by following the steps below. Any progress is positive – just like with exercise! You've got to start somewhere.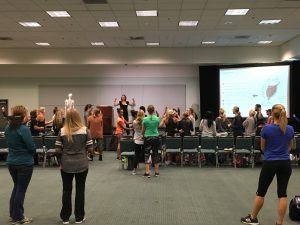 Five Steps to Becoming a Presenter
1. Attend the event where you want to speak and experience the environment. Do you resonate with the mission of the organization? The attendees? The other presenters?
2. Observe the presenters and what makes them successful. Usually, you're paying attention to the information being shared in a workshop or lecture.
Shift your focus to the methods of delivery. Take note of their visual aids, their attire, the words they use.
3. Network with presenters and find out how they got started. Invite a teacher you know to coffee or lunch (treat them). Most people enjoy sharing their success with an admirer. Some might be too busy, so ask more than one person.
4. Brainstorm ideas on what you could teach based upon your experiences and topics not already being covered at the event. What are you good at teaching? What do your clients come see you for?
5. Pitch your idea to the event coordinators about a year in advance. Many will have an application form on their website. Send a few ideas for them to pick from to increase your odds of being chosen. Have 3-5 people review your submission before it's finalized.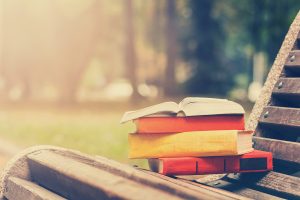 Five Steps to Becoming a Writer
1. Read fitness publications regularly. Familiarize yourself with various magazines, journals, and blogs.
Identify the ones you like best and want to be a part of. Set your focus there. 
2. Get familiar with the topics being discussed and the tone of voice within your chosen publications. Some websites/magazines are more serious, others casual. Some radiate a sense of humor. Take notice – are the posts/articles long or short? 
3. Who is the audience and how could you help them? Each publication has a specific audience they are "talking to". At NFPT, ours is personal trainers who want tips about being successful in business and new programming ideas. We keep their needs in mind when choosing authors and publishing blog posts. 
4. Brainstorm an idea (or a few) for an article/blog title and 1-3 key points that you would cover. Titles should be catchy, but not confusing.  
5. Email an editor with your ideas in a "pitch" or "proposal" tone of voice. You might get turned down or ignored. It happens to even the most seasoned writers. 
Your idea might not fit with their editorial calendar or someone else might already be writing a similar post. Editors get a lot of inquiries and don't always have time to respond to turn you down or tell you why they can't use your idea. 
On either path – stay persistent. Try, try again.
Which path will you pursue as you take the next step in your career?
[info type="facebook"]Keep us posted on your journey in the NFPT Facebook Community Group.[/info]