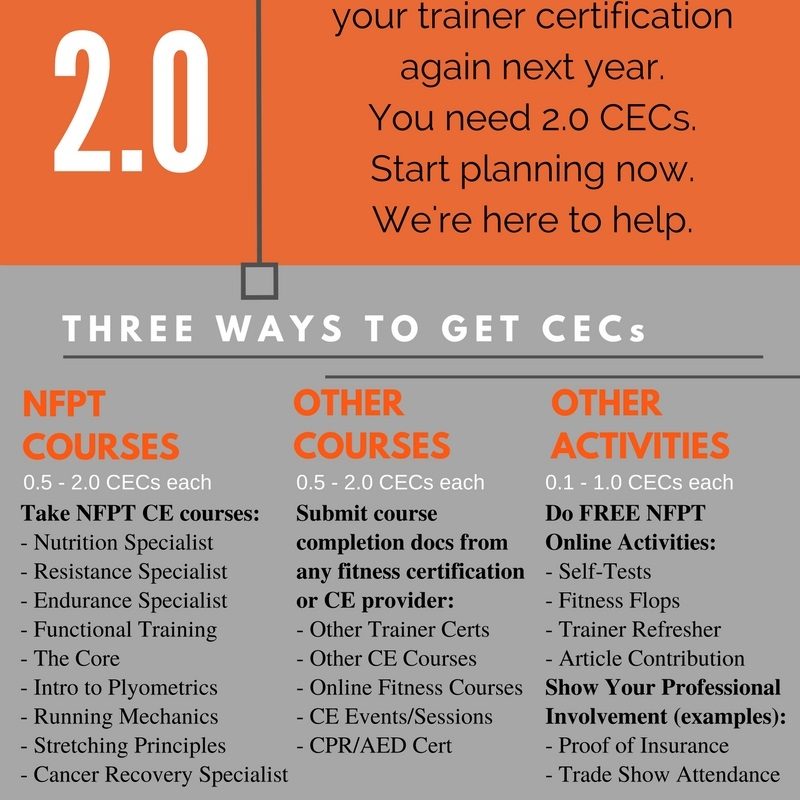 For every certified trainer, there is continued growth in the field. Whether it be learning more about fitness training or business concepts, attending health and fitness events or maintaining CPR/AED, trainers are actively and consistently doing something to better themselves in their profession.
So, What's the Deal with NFPT CECs?
Simple. You just send us what you would be doing normally for continued learning, and you'll credit. You need 2.0 CECs per year, starting in year 2 of your certification (because, after you pass the trainer exam and get your CPT title, you're good for the first year, no CECs needed). Here's more about how to get credit and how many credits you need after your first year of NFPT certification: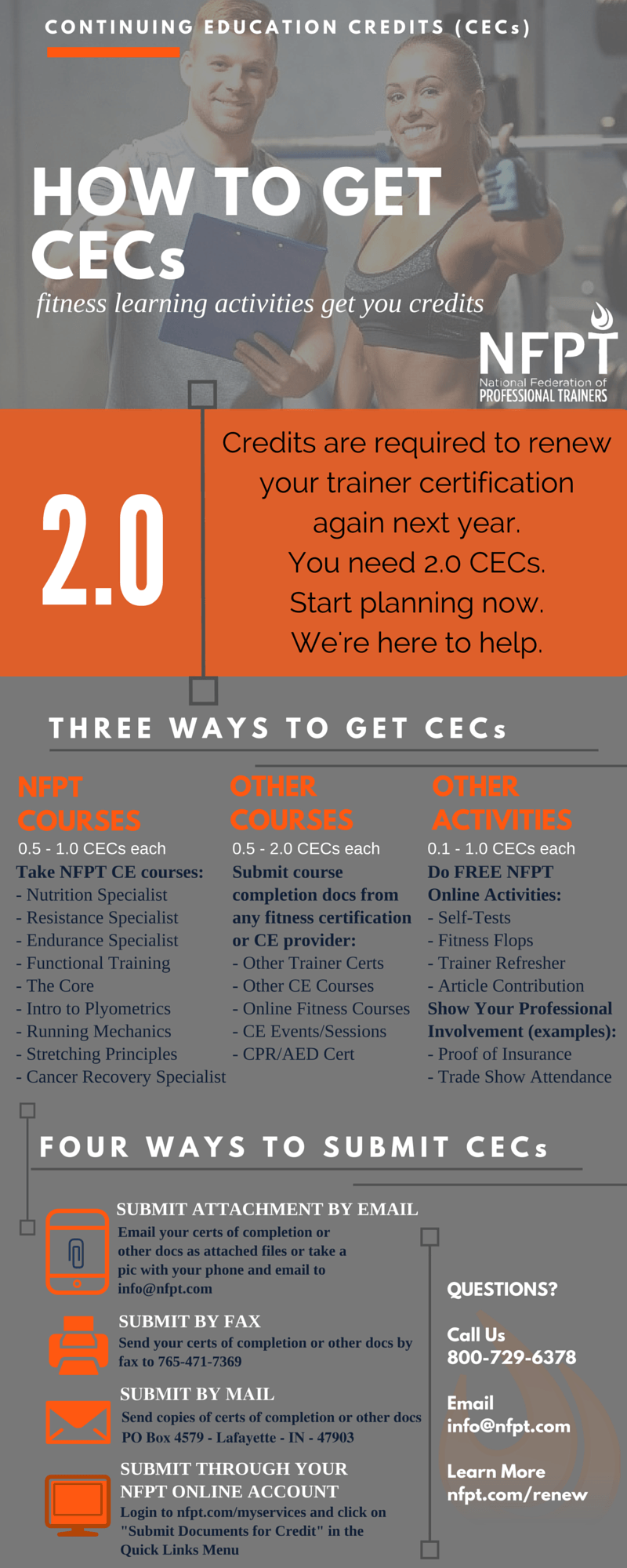 Okay, Then What's the Deal with Renewing My NFPT CPT?
That's simple too. When you have your 2.0 CECs, you're eligible to renew your CPT title. (But remember, you don't need CECs to renew it for the first time. The need for CECs starts in your certification year 2). NFPT has an annual membership fee of $85. Get your CECs, pay your membership fee, and then you get your new CPT certificate in the mail.
Why is There a Membership Fee?
Here are the top 5 NFPT Membership Benefits:
FREE CEC offers, like the NFPT self-tests and Trainer Refresher course. You can get the entire 2.0 credits each year by taking advantage of NFPT FREE CEC offerings.
Discounts on NFPT CE Courses, like Nutrition and Functional Training, all CE courses are discounted for NFPT CPTs. NFPT Certified Trainers get 10% off on any NFPT course.
NFPT Logo and Affiliation usage. Use the NFPT logo or certified trainer badge on your website or social assets to enhance your trainer advertising and credibility.
Certified Personal Trainer Directory listing. Potential clients and employers look at NFPT's Personal Trainer Database to confirm current certification, and can message you for potential job opportunities. Also, your certification can be confirmed through the IDEA Health & Fitness website, specifically the FitnessConnect database, an additional value to your online authority and searchability.
Customer Care and Personal Service. Call our office and you'll get to talk to someone who can help you, really help you. Our phone agents are managers in their own right, no one on the phone has been with NFPT for less than 5 years. We maintain a tight, close-knit organizational staff and only staff the finest. NFPT agents really care about your success!
Why Do I Need to Renew Every Year?
Because if you went 2 or 3 years without doing anything, you'd probably forget you had anything to do. We take the 'slow and steady wins the race' approach. We don't want you to be surprised 3 years from now that you have to get CECs to renew your cert (that can get crazy expensive)! Let's do a little at a time through the year and get the advantages of consistent learning that won't result in a lot of scrambling to get CECs. We'll remind you through the year to send us your certs of completion or other documents that show us what you're doing in the area of continued learning. Or, you can do what we offer, for free, and get all the credits you need to renew.
Learn More about Continuing Education and Getting CECs
Learn More about Recertification with NFPT
Contact us with any questions, we're happy to help!