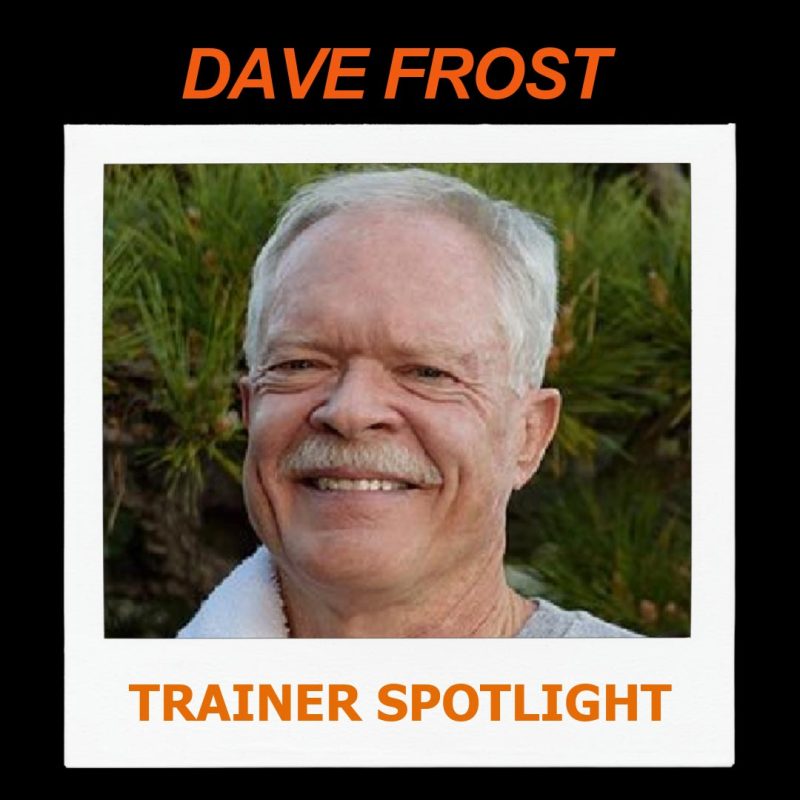 Meet Dave Frost, NFPT-CPT since 2013, Master Fitness Trainer since 2019, and NFPT blog author. Dave specializes in solo and group fitness sessions for physically and medically challenged clients. His practical experience with adaptive protocols and corrective exercises (CE) helps many clients and including Wounded Warriors, often with spinal injuries and amputations, strive for success.
As a rower and former world champion in Masters Rowing he loves to lead group fitness classes at The Row House. He also coaches youth rowers as a certified US Rowing instructor. Dave has owned and operated Well Past Forty LLC since 2012 to focus his professional efforts on those in their middle ages and older. That business and his experiences led him to author his first non-fiction work called KABOOMER: Thriving and Striving into your Nineties in 2020.
In earlier life chapters, Dave was a 2:56 marathoner. He retired from Naval service in 1997, then served as a senior manager for corporations. He is a college adjunct professor – with teaching assignments that range from human and organizational behavior to IT networks and IT project management. A Vermonter by birth, he has resided in San Diego, California since 1979.

Dave Frost, how long have you been certified with NFPT, and what made you choose it?
Since 2013. I liked the personal touch and expertise of the NFPT staff in my initial encounters.
Why did you decide to become a fitness professional?
In September 2001, I herniated my L5-S1 disk. That major injury derailed my rowing and distance running and impacted my quality of life. As I re-habilitated, I started to gather experiences and expertise that I realized would be useful to others. Essentially, injury triggered my phoenix-like rise from ashes to train and write.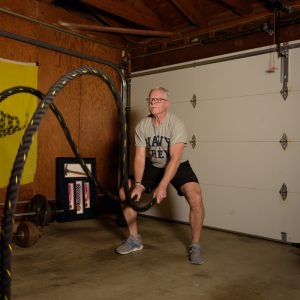 How you are currently utilizing your personal training certification?
My NFPT certification, plus more than a few continuing education courses, allow me to safely and confidently serve individuals aged 12 to 92. I think of myself as a valet service and knowledge provider who mentors each individual with bespoke and achievable objectives. I approach each client or client group with a whole lot of listening. Whether on-ground, on Zoom, or on-the-water, I deliberately demonstrate a move or motion with the notion I won't expect a client to perform anything more than can I.

What is the biggest challenge for you as a personal trainer?
A trainer can and should always work to optimize her or his soft skills – empathy, self-awareness, motivation – to make a client's session special. No client cares how much I know or can do until she or he knows how much I care.

What is your biggest accomplishment in the fitness industry?
KABOOMER is a lasting professional achievement for me, which was enabled by many supporting results of my CPT clients, coached individuals [and of me]. My next book, Strong to Save, will be the culmination of a decade of professional training and six decades of work on my own physical 401(k).

What has been your most rewarding experience as a personal trainer?
As a systems engineer in a former life chapter, I thrive on the feedback from my clients who overcome obstacles and meet or exceed their goals that I help establish. Feedback is my reward, whether it is a pleasing change in client body composition, a PR for a strength or stamina, or confidence gained and lifestyle changes made.
How has social media played a role in your fitness business?
In candor, I invest more time on writing books and articles that I do for social media.
Any advice for people thinking about a career in fitness?
Do what you love. Love what you do, and then labor on to achieve your goals. Creatively and/or diligently find a way to make each client a success.
What does the future hold for you and for the fitness industry?
I want to disprove Social Security actuaries for my
lifespan while maximizing my healthspan
. My future may be as a centenarian with purpose, humor, and with lots of friends and family. Our fitness industry will necessarily adapt as technology, geroscience, and individualized medicine advance. Our people and processes should help people put added years in their lives and add life to their years.
Is there anything else about your personal training career that you'd like to share?

I reckon that people make this zany globe go round. Professional trainers can bring out the best in others to make life on that globe a little bit better.

---