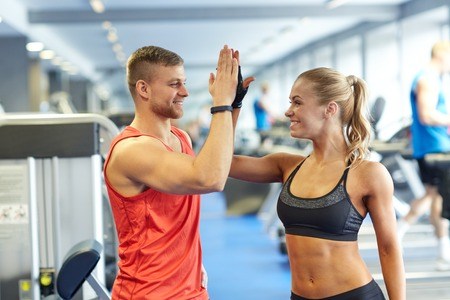 Before taking the National Strength and Conditioning Association's Personal Trainer certification exam, I received what has turned out to be the most impactful piece of advice from a fellow trainer:
"Clients don't always care how much you know, as long as they know how much you care."
This adage resonates on many different levels. Our clients like to feel that they are important, unique, and respected. Sure, they appreciate your vast experience and knowledge base. Above all, though, each client who invests time and money in working with a personal trainer wants to derive value from his sessions.
It's More than Just Physical
Since the gym where I am employed establishes the pricing structure for trainers, I am unable to offer "value" in terms of offering a reduced rate. There, the benefits must come from another source. Here is where the etiquette of personal training begins. Clients determine 'success' in a variety of ways: increases in lean muscle mass, decreases in body fat percentage, improved numbers for their cholesterol, blood sugar and triglycerides. The most overlooked measure of success is often the one that is intangible; how does a trainer make a client feel? This is the most important aspect of being a consummate professional.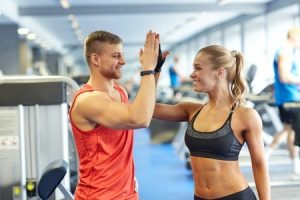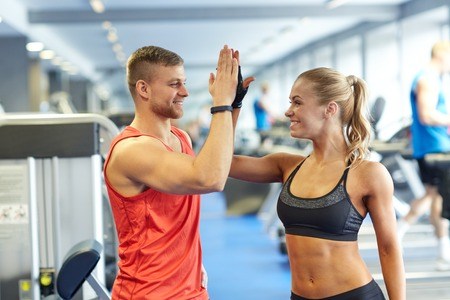 Bound To Maintain Boundaries
When interacting with a client in close proximity, such as spotting a chest press or monitoring proper form on a squat, personal space must be respected. While it is necessary for you to touch your client's body in order to correct form or demonstrate exercises from time to time, it's important that we ensure our clients' comfort throughout the process. We are expected to maintain boundaries. This does not mean that it would be inappropriate for you to train your best friend. In general, however, client-trainer relationships should be straightforward, respectful and professional. Touching should never even approximate or hint at appearing sexual in nature. This protects you, the client, and any onlookers throughout the gym who are just waiting for a juicy faux pas about which to gossip!
It's All In The Approach
It has often been postulated that imitation is the highest form of flattery. Nowhere is that more evident than on a fitness center's gym floor. There is always some member who is new to both the gym and strength training. Since Joe Newbie has not yet hired a personal trainer, he will look around, see what he decides is an interesting exercise, and attempt to perform it. The problem with this is multifaceted. At the top of the list is the risk of injury. Very often an uninitiated novice will think what he is doing is correct, because in his mind's eye, that's what the guy next to him was doing. Sadly, just as often, he is mistaken. If we should notice this individual and his obvious recent status at the gym, what is the most professional and polite way to approach the situation?
Since Joe Newbie clearly is an observer, and is obviously open to emulating other fitness buffs around him, we can set the professional standard. Rather than gawk at his lack of form, a trainer might introduce himself and ask the member about himself. Welcoming him to the gym, you might inquire as to what body part he was just working with the aforementioned exercise. Chances are pretty high that he will not know, and will tell you that he "saw someone else in the gym doing it and it looked pretty cool". Now is your golden opportunity to gently demonstrate correct form when executing the move, and offer to spot him as he tries it again. After all, if imitation is what he is comfortable with when starting out, seek to become the example he will follow from now on. You may even gain a new client.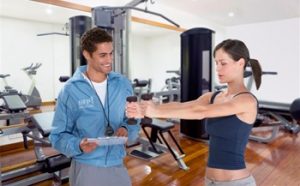 Cues Often Come From The Client
As each of us has discovered in this profession, not every client aspires to become a professional bodybuilder. A majority of my clientele is striving to add lean muscle mass, increase cardio stamina, and in general, improve appearance. While a dedicated trainer always focuses on the client during a training session, take your cues from him. If he initiates conversation as he is training, keep him engaged by responding to his topic at hand, be it work, the children, or anything else that may be on his mind. By not forcing his attention solely in the lifting, by showing interest in his life outside the gym in between sets, you are actually responding to him as a person and not simply as a means to earn money. This helps you to develop and maintain a connection, which in turn keeps him motivated.
Timeliness Is A Priority
Life often gets inconveniently in the way of our carefully structured daily agendas. A power outage rendering an alarm clock malfunction, construction causing traffic delays, or a sick child can cause frustrating tardiness. We have to roll with it, and contact our clients as soon as possible. Barring such unforeseen circumstances, however, an important aspect of personal training is making your client feel like he is a priority. This includes showing up on time for every training session. Personal training is expensive at most fitness centers, and your client is the one who is paying for your services, and perhaps specifically selected you from among several other trainers. Keep this in mind, value it, and pass respect on to your client by being on time.
Put Away Your Toys
Whether your place of employment is spacious or small, a great personal trainer helps to keep the areas cleared of equipment. When your client has completed all of his sets using dumbbells, it is your job to stash them wherever in the gym they belong…not just on the floor, even if that was where you found them. Consideration shown to members who are not clients goes a long way. Clients will notice that level of care, and you will be instantly lifted a notch or two in their estimation! Similarly, a great trainer is flexible. If the next exercise on your client's program is a leg press machine, for example, and it is currently in use, be creative and have another exercise readily in mind to substitute for that particular machine. Such seamless transitions will keep the session flowing smoothly.
Goals Are Golden
Every trainer has a "style" of programming to which his clientele is accustomed. Whether you favor high volume/low weight, pyramid schemes, or high-intensity interval training, keeping the client's goals in mind when planning workouts is one of the best and most highly regarded service a great trainer has to offer. Keep all of these points in mind, and tomorrow enter your fitness arena confident in the knowledge that you are a great, professional personal trainer!
Which of these is easy for you and what do you need to work on? Talk to us about it in the comments on Facebook.
If you're an NFPT trainer, be sure to join our Facebook community group!
REFERENCES
http://www.livestrong.com/article/397751-things-every-personal-trainer-should-know/
http://tonygentilcore.com/2014/07/what-every-personal-trainer-should-know/
http://www.livestrong.com/article/396608-personal-trainer-etiquette/
http://dailyburn.com/life/fitness/worst-people-gym-etiquette/
http://www.huffingtonpost.com/jill-s-brown/gym-etiquette_b_4552633.html
http://thehybridathlete.com/13-ways-to-make-money-when-youre-not-training-a-client/