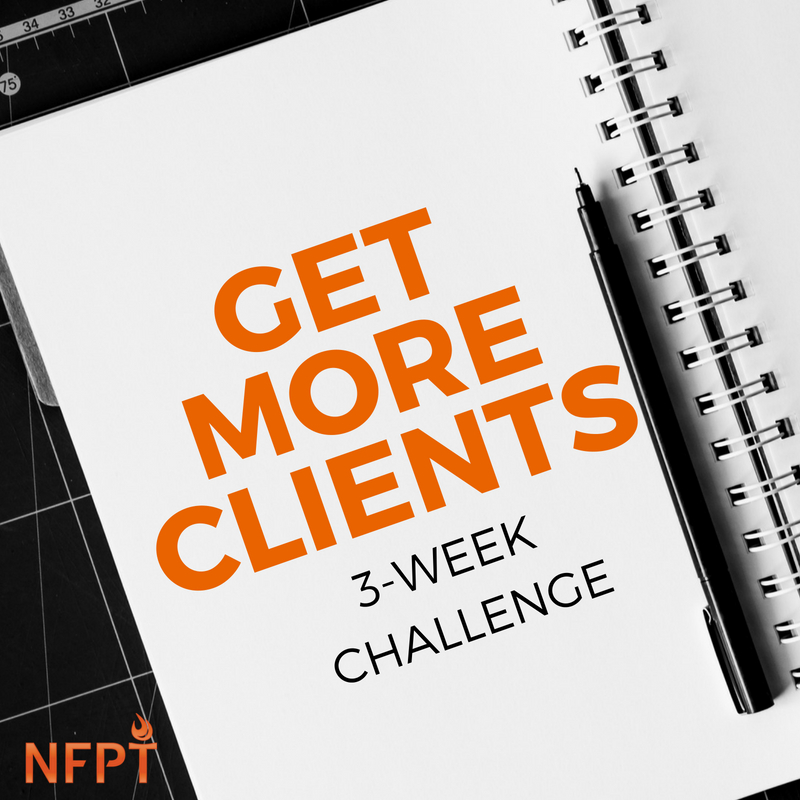 Getting more personal training clients is all about consistency and creativity. It is quite different than getting certified as a trainer but there is a similar step-by-step process you can follow to get to your goal. You start from the inside with your current clientele, work your way out into the community, and supplement with the internet.
Having the drive to get more clients is the foundation for finding people to train with you. Why do you want more clients? Most personal trainers give these two reasons, "I want to help people" and "I want to make money". If you can dig deeper than that and get to the core of your desire it will help fuel your fire when you get tired of marketing yourself.
The deeper reasoning might be tied to a specific financial goal or personal reason for helping people – such as your own fitness journey story or that of a loved one.
Beyond this, it's all found in a day's work. Here is the path toward getting more personal training clients and earning more income.
Captivate Your Current Personal Training Clients
Every mentor I have ever had has told me that the best kind of marketing is word of mouth. You have to do an excellent job to get and keep personal training clients on your schedule. If you want your clients to talk about you after they leave the gym you need to exceed your client's expectations.
Referrals are the best type of business-builders. Cathleen Kronemer says, "Some are referred by the physical therapist who has an office in our gym. Others come to me having heard about me from friends who have had success working with me. Our gym posts photos of all the trainers with brief bios. Many people look at those as they decide on a trainer. Also, I am a member of the St. Louis Jewish Sports Hall of Fame, and my pic is on the Hall of Fame Wall. That brings people to me, too."
Enhance your credibility with current clients by writing, speaking, teaching, or mentoring other personal trainers – clients like to know they are working with the best of the best. I allowed college students to attend my sessions and observe (with permission from my client ahead of time). A few of my clients mentioned how proud they were to work with me for that reason and because I was teaching in the field.
Plant a seed with your current clients that you are looking for a few more personal training clients to fill spots in your schedule. Ask if they know anyone looking for fitness guidance. Tell your clients you will provide a free consult or that a friend could come in and try a buddy session if that's comfortable. You could also offer an incentive to get friends to try a sample workout. It might feel awkward to ask, but it works – especially if you are doing an awesome job and getting results.
Debrae Barensfeld the owner of Nitroforce Performance Studio in Medina, OH says, "Since all of my business is referral-based, I would have to say in my email blasts, I offer extra free classes if they buy the Frequent User Card and I offer Bring a Friend & Get a FREE Class! Also, all of the clients get results so regular measuring & assessments mean a lot.  Women LOVE a specialty class like BUTTS & GUTS, etc. I also send out informative health & fitness articles to my clients to read."
Susan Finley of TrainSmarter in Birmingham, AL says, "I went through a period a year ago when I was trying paid Facebook ads, referral contests, promotions and spent a lot of money generally in an effort to make up the clients we lost when 2 trainers left and opened up 3 miles away. It was a huge bust and I was SO frustrated and discouraged. (though not desperate enough to engage in weight loss competitions, which I abhor!)
"Then I started following Jon Goodman's advice—focus on making your current clients' experience top-notch. Deliver quality content. Get out and meet people—Jon says to introduce yourself to 5 new people every day. I started posting videos designed to address peoples' problem issues, like plantar fasciitis and teaching the implications of walking 'duck-footed', and continue to grow our YouTube channel.
I'm hoping to increase our 'hybrid training' through a local large insurance company that has a fantastic facility but lousy options for training. And I continue to reach out to people who have been in but aren't currently working with us."
"A big strategy was focusing on us and what we do best, blocking out what other facilities are offering. Also, we now have the best coaching staff we've ever had, one that works together beautifully, respects and genuinely likes each other. So this year, things are completely different. Our atmosphere is fun and engaging–and our last 2 weeks beat the same 2 weeks of the last 4 years! AND we have already gotten 6 more personal training clients in the first 2 weeks of May."

Connect With Your Community
Spread the word beyond your gym walls and into the people around you and your business. You should be networking weekly – with potential clients, with other fitness professionals, and with influencers like doctors, physical therapists, hair stylists, health cafe owners, etc. Invite people to tea or coffee, an educational event, or for a free workout. Apply the same principles you use to make friends and the referrals will come later.
To network effectively you need business cards that sell your business well and you need to know how to use them. A business card tells people you take your career seriously. The design on the card gives them a taste of your personality. Sharing your business card with others is only half the equation.
Make sure you get one in return, or some type of contact information so you can follow up. Make sure and follow up and build the relationship in any way that you can.
Having a website is an online version of your business card. It's a smart idea in today's world – but doesn't have to be complex. A simple site with your biography and professional photos can help people see what you are all about before they make a commitment. It also makes it easier for the people you network with to spread the word and get more personal training clients.
Supplement With Social Media To Get More Personal Training Clients
Whether you are using social media for business, pleasure or both – it's important that you are authentic but professional. How you spend your time online can make or break your success with marketing your services – even if you aren't trying to sell yourself on social media. Especially if you are connected to your clients or colleagues online, be mindful of what you post.
If you want to use social media intentionally to sell yourself, consistency is key. Study your social media platforms of choice the same way you did to pass your personal training exam. Ideally, you start with one (just like your cert) social media network, master it and then add a second channel. Here are specific strategies for Facebook and Instagram that work well for personal trainers.
Mike Kneuer, an NFPT Certified Personal Trainer in Boca Raton, FL says, "My biggest driver of getting more personal training clients has been my Instagram @WhatMikeEats. I've been posting all my meals, fitness tips, workout videos, and funny fitness-related memes consistently for over 5 years.
People like to be educated and entertained and by providing that type of content day in and day out for years you become familiar and trusted and when one of your social media friends decides it is time to hire a trainer I'm usually the first that comes to mind because they see me every single day."
Getting more personal training clients isn't rocket science, but it does take hard work – just like lifting weights and committing to cardio. Put some of these strategies into your planner, calendar, or to-do list each week, and keep an open mind. If you are planting seeds consistently you will eventually see the fruits of your labor sprout in more business.
Get More Personal Training Clients Challenge
Ready for more business? This three-week Get More Clients Challenge is designed to bring you more clients. And it works! NFPT trainers have reported results (more clients) as proof.
You can start and finish the challenge anytime you want. Simply mark the dates accordingly in your calendar starting on a Monday.
Here is what's on the menu:
Day 1 (Monday) – Write down the names of 5 people you admire and want to know better. These people could be online, local or long-distance.
Keep this list somewhere you can find it. You will use it next week.
Day 2 (Tuesday) – Call a client who you aren't seeing anymore to check-in. If you don't have one, call someone you know who likes to exercise, and catch up with them. Find out what they are doing to eat healthy and stay in shape these days. You don't have to hard sell or have an agenda, just a quick call to say hello will show that you cared enough to take the time; the purpose here isn't to try and win them back (but that would be a bonus), it's to collect information that can help your efforts moving forward.
Tapping into what's happening in people's lives who aren't on your schedule provides you insight for targeting people like them in your marketing efforts. You can find out what the roadblocks are, what they do to stay in shape, etc.
Day 3 (Wednesday) – Search a social media site for 5 people who are like-minded and send a friend request. Find friends on Facebook, Instagram, LinkedIn, or wherever you like, or want, to spend your time online.
After you send the request, also send a private message introducing yourself and why you want to connect. It helps you stand out. Putting yourself out there is a strategy for success when looking to expand your business horizons. Surrounding yourself with others on the same mission as you helps keep you motivated, fresh with ideas and provides a support network.
Day 4 (Thursday) – Ask your clients to invite a friend or family member to their session sometime this fall or holiday when visitors are in town. First-degree referrals are the best way to get more personal training clients. Open the invitation and remind folks of it once in a while. Use this day to make an official invitation that you physically hand your clients, or send a text to your clients (individually, not group) that lets them know you'll train anyone of their choosing alongside you, no strings attached.
(Make sure the workout buddy is apparently healthy, no special conditions or inherent risks to injury, unless you are otherwise trained yourself for it). Offer this up in casual conversation or as a special promotional effort that you announce.
Day 5 (Friday) – Today, or this weekend (or start the process and get it on your schedule) attend an exercise class of someone you've never met at a gym you've never been to – most will give a free day pass. This is important because it gives you insight, insight you would not otherwise have if you're unwilling to cross over to other 'worlds'. It is important for your own growth and understanding that you see a bigger picture, and, who knows, you may find opportunities to be part of something in your community that you didn't know was there before.
Go to the website of the local YMCA, Recreation Center, College Gym, or small studio in your town and mark this class on your calendar. Call and find out how to get a free guest pass if it isn't posted on the website.
Weekend Break!
Day 6 (Monday) – Call one of the five people you admire from Day One and invite them to meet up until someone responds and meets you. The people could be local, online, or long-distance…and you can plan a meeting around an event that you'll both be attending or a road trip that you want to make. The date to meet up doesn't have to happen tomorrow, just make sure to try and make it happen.
Maybe this is someone you went to school with? A teacher you had? Or, someone you don't know well, but like. The idea here is that you're purposeful in putting yourself around a person that you admire. Sure, this could end up being good for business, but it's really meant to be good for you, personally.
Day 7 (Tuesday) – Call someone you wish could be your client and connect – no sales – just connect. This can be a friend or family member who is an ideal client. The point of this activity is for you to get to know this person better so you understand others like them and can more adequately target your ideal customer.
What you focus on grows. If you focus on getting to know people that you want to personally train, then more of them will appear. It's not magic, but it is a phenomenon all successful trainers know to be true.
Day 8 (Wednesday) – Interact with one of the five people on social media who is a new friend. Comment on some of their posts, share a post you like or send them a message with some questions to get to know them better.
Building your network of like-minded friends leads to your name getting out there more.
Day 9 (Thursday) – Invite your current clients to a 30-minute weekend workout class that is $5-10 that you will lead, and tell them they can bring a friend for free. It could also be a 'pay-what-you-can' session or consider conducting your first 30-minute weekend session as a donation to a local charity. This could be a great way of getting the word out while also getting some extra help to a charity of your choice. It could be this weekend, next weekend, or in a month.
Once you've done this process one time, then think about taking it a step further by scheduling it as a weekly opportunity for the next 6-8 weeks so you can gain momentum and get the word out there. The pricing structure could vary from the first special event session, i.e. the first time around is a gift to the local food bank, and the next session will be $5 'at the door' that you keep (or that you split with the local charity of your choice)…just make sure that your clients are aware of what and who they are paying.
As an alternative – you can also record a 30-minute workout session and put it online.
Day 10 (Friday) – Find a free talk at your local library, hospital, etc. in the upcoming month and attend it – aim to meet three new people afterward. Look in the local newspaper or pick up an events magazine at a local coffee shop.
You can also go online to the library or hospital websites to find events. Or, to the chamber of commerce website to see what's happening in town. Facebook is also a great place to find local events.
Weekend Break!
Day 11 (Monday) – Sign up for Canva and make a social media image you can share. Place an inspiring quote, fact, or photo in the graphic. It can be very simple if you aren't a designer. You might surprise yourself though once you see how intuitive this application is!
Canva provides colors, fonts, icons, and templates to make it super simple for you. It might take you 15 minutes up to 60 minutes depending on your comfort level with creatives.
Day 12 (Tuesday) – Post your Canva image to social media with appropriate hashtags. If you haven't finished designing yet, give yourself a deadline and choose a day soon to post it.
Day 13 (Wednesday) – Share inspiring social media images, articles, etc. from one or more of the people you admire online. Tag them when you share. Use the "@" symbol and their name to tag them.
Simply go to your social media channel of choice, find some inspiration, and share it. Send a message to the person you got your post from and give them a virtual "high five"! Tag @TheNFPT  and use #nfpttrainer so we can see what you are posting.
Day 14 (Thursday) – Invite your clients for a group hike or walk and encourage them to bring friends. Schedule this anytime in the next week or two.
The most important thing to do today is to choose a day and time, put it on your calendar, and start telling people to put it in theirs. Think of it like a birthday party. Spread the word!
Day 15 (Friday) – Ask clients what they are doing this weekend, and where they are going. Find a new event or activity you can attend, like a kids' sports event, festival, etc. so you can spend time where your clients like to spend time. There's no pressure to market yourself or do anything fancy.
Just go and see what happens. Maybe you will see some of your clients, maybe not. At least you will get more insight into the people you want to work with by seeing them in action. If you feel weird going alone, invite a friend, grab a coffee, and enjoy the time together.
Weekend Break! AND…..
Ready for another challenge? Repeat these 15 tasks again. Consistency is the main secret to getting more clients. Just like it's key to fitness goals.
If you got behind that's ok too. Just pick up where you left off and keep working through the challenges at your own pace.
IF YOU'RE READING THIS AND YOU'RE NOT CERTIFIED, YET, MAYBE IT'S TIME.
FIND OUT IF A CAREER IN PERSONAL TRAINING IS RIGHT FOR YOU…