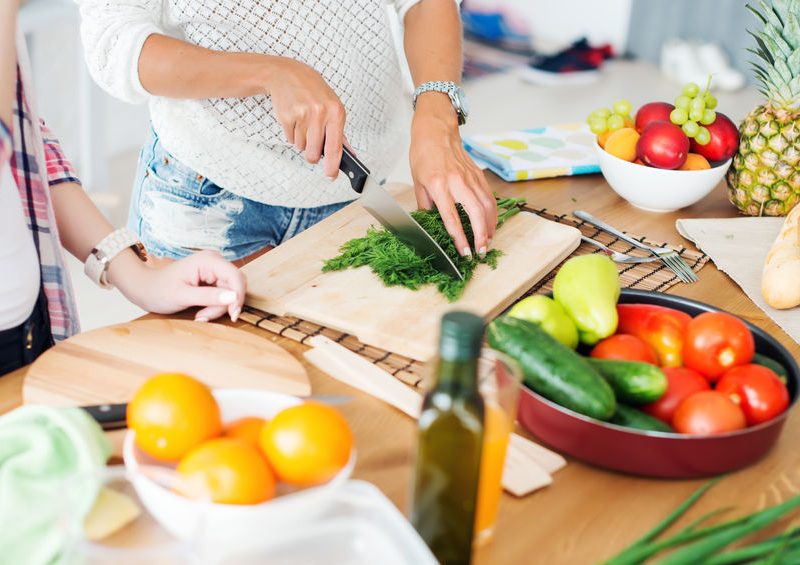 Hands-on experience in prepping healthy and balanced meals is beneficial for your personal training clients and business. Expand your community by inviting others from your client's network to the cooking demo. Boost results in the gym by having a more far-reaching impact on what is happening outside your sessions. And, have fun connecting with clients in a new way!
While a personal trainer's scope of practice is limited as it relates to their clients' nutritional habits, organizing and hosting healthy cooking demonstrations is not a limitation. Even so, partnering with a nutrition professional has advantages.
Connect With a Nutritionist
It's considered best practice to have a registered dietitian or licensed nutritionist in your professional network. If you don't have one already in your referral network, begin by researching who you can connect with to fill that gap and serve in that role.
Once you find someone, start by making personal contact with them via phone or email to introduce yourself and explain what your goals are for helping clients with their nutrition. Communicate to that person that you recognize your limited scope of practice when it comes to nutrition and you'd like to partner with a professional who possesses a more sophisticated and robust body of knowledge and experience to support the efforts your clients are attempting to make.
Ask if they would be interested in meeting with you to discuss partnership opportunities. Don't be alarmed or discouraged if the first person you ask declines. Keep in mind that everyone has a busy schedule and it might not be the right time or event for them to consider. If that's the case, move forward.
If you do have someone in your network, start by approaching him or her with the idea of helping you organize and execute a cooking demo at a venue or at someone's house.
Planning the Cooking Demo Event
To keep it manageable, limit the workshop to a smaller number – around 5 clients is sufficient to begin. A smaller class size creates a more intimate gathering and allows you to give more attention to individual client questions and comments.
The types of meals (breakfast, lunch, dinner, snacks) your clients seem to struggle with the most will likely influence the choice of prepared cuisine and overall menu. Set aside a couple of hours for the event, but do the prep work ahead of time.
Plan a recipe remake or general meal that represents a well-balanced plate (veggies, lean protein, whole grains, etc.). Be sure to have alternatives available or on display that appeals to those with certain dietary restrictions or palate preferences (i.e. gluten-free, vegan, dairy alternatives, plant-based proteins, etc.).
Helping clients modify nutritional habits is primarily based on goals and likes/dislikes. Not everyone will have the same taste or preferences, so it's important to make the experience as individualized as possible.
This reinforces the personal aspect of personal training and also teaches clients that any meal can be prepared in a multitude of ways – this is appealing for large families or clients who are responsible for cooking for more than two people.
Benefits of Cooking Demos
Many clients struggle with nutritional choices due to a perceived lack of time and/or lack of culinary skills or confidence. Offering these types of events to clients can help build their confidence in the kitchen, cooking talents, and teach them to modify ingredients to enhance the nutritional profile of any dish.
Additionally, cooking demos can allow clients to practice seasoning dishes with spices and herbs over salt and added fats. Offering cooking classes in small groups further help to reinforce social support, connectedness, and lifestyle change. Clients can take the skills they learn in the workshops and apply them directly to their personal and professional lives, thus resulting in positive sustainable change.
Cooking demonstrations are well within your scope of practice as fitness professional. Partnering with a registered dietitian is beneficial to building your network and making the experience for clients as robust as possible. Build your network and keep thinking outside the gym for creative ways to further influence lifestyle change.
In what ways do you help clients build their skills outside of the gym?