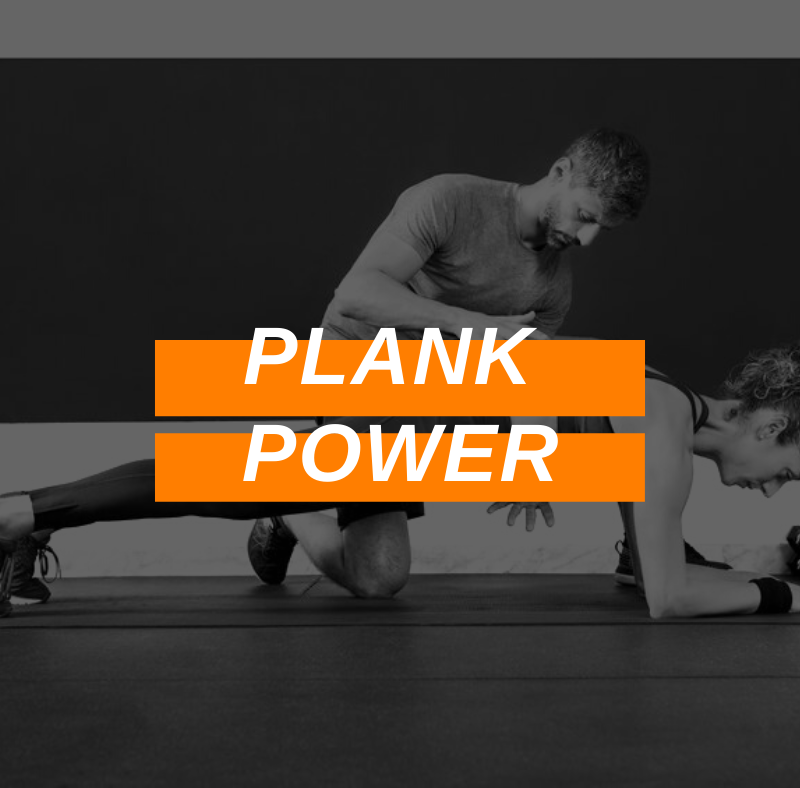 I have been a strong proponent of the plank for many years. It's no-impact, builds core strength, and takes very little time to make a big impression. Almost anyone can do it, especially with modifications available due to mobility limitations. There is a sense of power with performing the plank!

All you need is your body and the floor. Since no equipment is needed, except for some variations, you can do it anywhere. No excuses.

Trainers can incorporate planks in training sessions or recommend clients to do them on their own (once they know the proper form). More on technique below.

Turn on music, listen to the TV, or just focus on the exercise.
Proper Plank Technique
Trainers demonstrate proper technique for clients. Things to look out for include:
• Keeping head in alignment, cervical spine in neutral
• Elbows under shoulders for forearm plank
• Hands under shoulders for straight arm plank
• Back should be straight (neutra) with no arching; cue to engage the abdominals by pulling navel towards spine
• Butt should be in alignment, not in an upward position
Time Requirements
Many people find planking each day to be beneficial, although a rest day is always wise to factor in weekly.
The time involved is short, a matter of seconds or a few minutes. Even with busy schedules, planks are doable and effective.

I came up with a December plank challenge several years ago, but it most certainly can be picked up at any time of the year. The challenge begins at 10 seconds, but depending on your current fitness levels, start where you think you or your client should according to fitness level. Here is how the progression works for 31 days:
Day 1 – 10 seconds
Day 2 – 20 seconds
Day 3 – 30 seconds
Day 4 – 35 seconds
Day 5 – 40 seconds
Day 6 – 45 seconds
Day 7 – rest
Day 8 – 50 seconds
Day 9 – 60 seconds—Congratulations! This is the first minute!
Day 10 – 70 seconds
Day 11 – 80 seconds
Day 12 – 90 seconds
Day 13 – 100 seconds
Day 14 – rest
Day 15 – 110 seconds
Day 16 – 120 seconds, which is 2 minutes!
Day 17 – 130 seconds
Day 18 – 140 seconds
Day 19 – 150 seconds
Day 20 – 160 seconds
Day 21 – rest
Day 22 – 170 seconds
Day 23 – 180 seconds, which is 3 minutes!
Day 24 – 190 seconds
Day 25 – 200 seconds
Day 26 – 210 seconds
Day 27 – 220 seconds
Day 28 – rest
Day 29 – 230 seconds
Day 30 – 240 seconds, which is 4 minutes!
Day 31 – your personal record!

Results
By establishing a daily schedule, you set up a routine. Having a routine automatically generates commitment.
Those who plank on a regular basis usually boast a stronger core than those who don't. I know beginners who were surprised at how well they progressed beyond their own expectations.
There may be visible changes, as well as the sense of feeling stronger.
Posture and balance are likely to improve. Of course, maintaining the proper form of a neutral spine, relaxed hands, and engaged glutes are necessary for posture improvements.

Variations
The plank can be done in many ways, like rocking on the toes, lateral walks, hip dips, and side planks. Variations (without equipment) to consider with a daily planking challenge include:
Kneeling plank (beginner)–maintain a "straight line" from knee to shoulder.
Forearm (low) plank
Straight arm (high) plank
Forearm plank to straight arm
With a weighted vest or plate on back (advanced)
A few variations using equipment include:
Straight arm with dumbbell row (renegade row)
Forearms on BOSU
Straight arms with toes on BOSU or balance ball
With feet on stability discs.
Plank Power
The power of the plank is seen in many ways. It has the potential to build strength, improve posture and balance, while also honing cross-over form of other movements and exercises.  When one exercise takes you beyond the actual moment you are doing it, I'd say that's pretty powerful!