Hip flexion happens every time you step, squat, lunge, sit and revolve on a bike. Because of this fact, understanding hip flexion, correcting it and enhancing the efficiency of this movement has a huge impact on locomotion.
Many people describe hip flexion as when the knee comes toward the chest. Others who are more technical might say it's when the angle between your femur and trunk decreases. It seems simple enough, yet it can be quite complex from a biomechanical standpoint.
The better you understand anatomy and biomechanics the more effectively you can program exercise for clients who need correction and/or to restore balance between the right and left sides of the body.
Hip Flexion Muscles
There are 11 muscles involved in hip flexion. The amount of activity of each muscle changes depending on how much flexion and whether the femur is in neutral, abducted, adducted, internally rotated or externally rotated.
Psoas Major
Iliacus
Tensor fasciae latae
Sartorius
Rectus femoris
Gluteus medius (anterior fibers)
Gluteus minimus
Adductor longus (assists)
Pectineus (assists)
Adductor brevis (assists)
Adductor magnus (assists)
Review all of the muscle attachments in Hip Flexor Muscles and Anatomy for Personal Trainers to understand how each hip flexor muscle contributes to motion. Notice how each one has unique attachments. Then, consider the other movements each of the hip flexors is capable of.
Each hip flexor muscle also has other abilities for movement. For example, tensor fasciae latae also internally rotates the hip and abducts it. Whereas sartorius abducts but externally rotates the hip. The muscles in the human body all overlap each other in their abilities making it the machine of many movements that it is.
That's pretty cool and here's something that's weird! Adductor Magnus and Gluteus Medius are able to BOTH flex the hip and extend it! What!?! We've named them each as ONE muscle, but they actually have different sections to them.
Hip Flexion and Internal Rotation
Gluteus medius (anterior fibers)
Gluteus minimus
Tensor fasciae latae
Adductor longus (assists)
Pectineus (assists)
Adductor brevis (assists)
Adductor magnus (assists)
Hip Flexion and External Rotation
Psoas Major
Iliacus
Sartorius
Hip Flexion and Abduction
Gluteus medius (anterior fibers)
Gluteus minimus
Tensor fasciae latae
Sartorius
Hip Flexion and Adduction
Adductor longus (assists)
Pectineus (assists)
Adductor brevis (assists)
Adductor magnus (assists)
There's much more happening behind the scenes when the hip flexes! Learning the attachments of the 11 hip flexor muscles is the best way to begin getting a handle on what's happening when personal training clients complain of tight hip flexors or seem to have referred back pain from an imbalance in the muscles. You're then able to design and suggests stretches and exercises that are specific to the issue at hand when you understand the form and function of these muscles. Here's a few thoughts for you when doing that…
Hip Flexor Stretches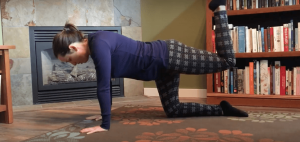 The hip flexors often get deemed as tight. You can stretch the hip flexors as a group by doing hip extension. This may not get to the root of the issue though. As we just learned, each hip flexor participates in the motion differently depending on the position of the femur. Carefully add internal or external rotation and abduction or adduction when extending the hip to stretch hip flexion. It's a good place to start when wanting to create a more effective stretch.
Then, consider that there where there is tightness there might also be weakness somewhere near by. With 11 muscles contributing to the gross movement of hip flexion, it's possible that some of the muscles are stronger than others. If some are stronger and work harder than others they might get overly tight. Identifying which hip flexors are weak and strengthening them is another way to approach hip flexor tightness.
Read Hip Flexor Stretches for Personal Trainers to get some fresh ideas.
Corrective Exercises for Hips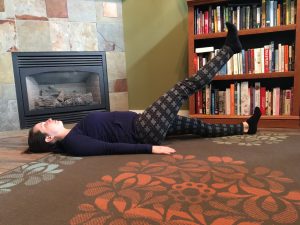 Once you know where each muscle attaches you can identify specific weakness by designing exercises that target a smaller group of muscles or positions instead of all of them at once. To know which ones are tight or weak strengthen your knowledge of the anatomy of hip flexion and function of the various muscles. Then, design exercises that target each muscle more independently to explore the strength of each one. This is one version corrective exercise.
Add these Hip Flexor Exercises for Personal Trainers to your exercise library
How do you know if your hips are out of alignment?
If a client reports soreness on one side of their hips more than the other, if they wear one shoe more than the other or seem to be leaning when doing bilateral leg exercises such as squats or deadlifts, there is likely misalignment in their hips. You as the fitness professional can identify this by paying close attention to their movements.
Then, do your best to help them become more balanced. Using corrective exercises is one way to explore muscle imbalances in the hips, which would cause them to be out of alignment. The bones are directed and connected by the muscles. They don't get out of line on their own.
Take a peek at NFPT's Online Anatomy Video Course and get CEC's to study anatomy.
References
Biel, Andrew. 2014. Trail Guide to the Body. Boulder: Books of Discovery