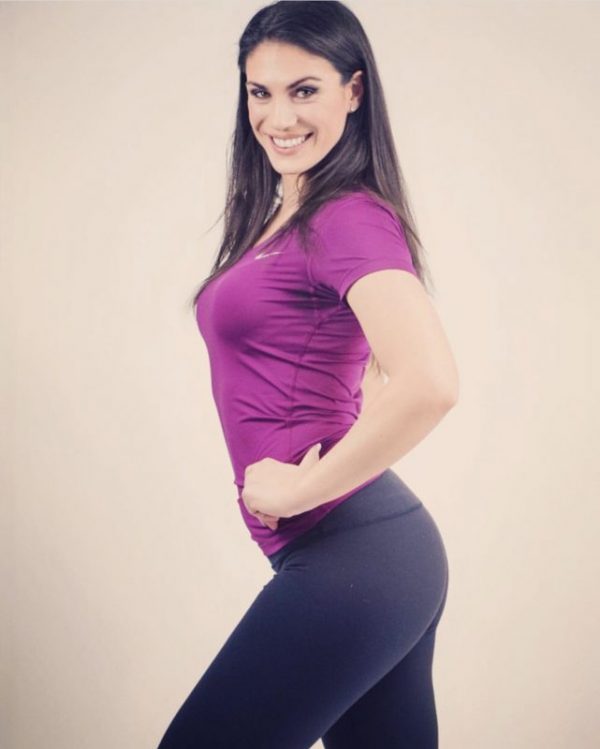 Why did you decide to become a personal trainer?
I love being active and fitness has always been an outlet for me, it's what I fell back on during the harder periods of my life. I had the opportunity in 2010 to visit my sister in Botswana while she was living there. At the time, I thought I wanted to study nursing but after a lifetime of sports (such as snowboarding, soccer and rugby) and a love for fitness, I saw a need for it in the community while abroad and was inspired.
I've always naturally focused on others and knew I wanted to help people. I particularly am drawn to helping people overcoming the obstacles to reaching their goals. Becoming a personal trainer blended my passion for fitness and wellness with truly helping people. It is the perfect way for me to use my knowledge and experience to guide people into becoming the best version of themselves.
Why NFPT?
While I was in Africa, I was connected to a gentleman affiliated with NFPT and was offered the opportunity to teach some native students CPT material. When I picked up the NFPT manual I just couldn't put it down. I loved the approach and content; it was comprehensive and detailed. My hunger for knowledge grew even more and my desire to help people further expanded.
That year I became certified as an NFPT-CPT and later also obtained a Master Trainer Certification. I held training seminars and taught the CPT material to students, who then became CPTs. I love teaching and sharing my knowledge with those also eager to learn. The learning process never stops! I have grown to love NFPT as a company and am thrilled to be able to work for and with them!
It's strange where life takes you. I went to Botswana not knowing I would pursue a career in the fitness industry. I saw a need in the community, I was inspired and saw an opportunity to share my passion and knowledge. We end up where we are supposed to be!
What is your focus and drive as a fitness professional?
Helping people on their journey to living their best life and watching them achieve their goals is what drives me. It is important to me to make an impact and for that impact to have a far reach. Six months ago I transitioned into a position at a large commercial gym managing the other trainers and took a small step back from one-on-one training. But, I actually feel this way I can have an even bigger impact on more people. I see them when they first come into the gym and every day thereafter. I assess their needs and match them to the right trainer. I continue to check in on them, and remain a part of their fitness experience.
My goal is to give the client a lift in his or her everyday life— to make sure they're having a good day, getting a dose of positivity, and walk away feeling better. For me, it's about giving clients an experience. The physical aspect of personal training is secondary to me. I want to leave them feeling better than when they came in. I focus on the individual and what their specific needs are.
What is the biggest challenge for you as a personal trainer?
Making sure I have adequate time, and making sure each individual gets what they need. I want to feel like I can really help people achieve their goals. Some people are more complex and have more needs but I want to be sure I do the same for everyone. Some people have more challenging needs than others. If you lose the individual approach, your ability to get the client to the "other side" of their goals diminishes a bit.
What is your biggest accomplishment in the fitness industry?
Certainly, having the experience of teaching, training and proctoring exams for ten CPT students in Africa feels like quite an accomplishment. Thanks to social media, I've been fortunate to stay in contact with the students I trained and each of them has remained in the fitness industry since getting certified and are training in various locations throughout Africa! A few have even opened their own studios.
What has been your most rewarding experience as a personal trainer?
If I can ignite that same passion for wellness and self-improvement in someone else and they can carry it on and adopt the lifestyle, especially if they've never done it before, it is very rewarding for me. What drives me is when their life has truly changed, and their whole outlook changes. If my passion and enthusiasm for fitness are contagious, then I know I've made a major impact.
Any advice for people thinking about a career in fitness?
My first question to those considering fitness as a career is, "Do you like people?"
You have to want to work with and care for people. Are you a people person? Because that skill set is number one in this industry. You can know all the technical stuff, but if you don't know how to speak with someone, or demo with them, or get them to open up and share what they really want, then it's really difficult to actually help them. You're only just skimming the surface.
It's not about simply training. Being a personal trainer isn't a sales position to me. When you like people and want to help them, they come to you. If you put out an energy that says, "I truly want to help," people can feel that and will be drawn to you.
It's also important to be passionate about knowledge and share this with people. We can all strive to be better if we educate ourselves first, and then others.
What does the future hold for you and for the fitness industry?
The fitness industry itself is a great and constantly growing industry, with a growing depth in research and education. Everyone–people of all ages, religions, race and economic status–can benefit from the services of a personal trainer. And it can be provided anywhere in the world!
I will always find a place for myself in the fitness world, I only need to be around people. If I go into any gym setting, I will always find a way to help people. Wherever I am and the more knowledge I have, the better. I'm hoping to teach, to manage, to help people in a bigger network as time goes one.
Is there anything else you would like to share?
I know the value of fitness and wellness. When I teach it and express it and when I'm working with people, it's more than just the physical. Wellness and guiding people towards it takes into account the whole person: how you're eating, sleeping, all the things that contribute to being your best self. I do this myself on an ongoing basis.
I try to walk the walk…all the things I figured out on my own are the things I want to share. We can all strive to be our better selves.
-You only get one life…strive to be the best version of yourself and share that effort with others.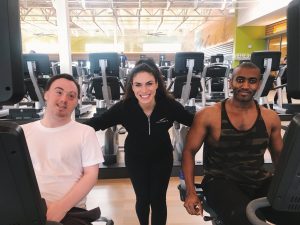 Could you be an NFPT Trainer Spotlight or want to nominate someone? Click Here to learn how.