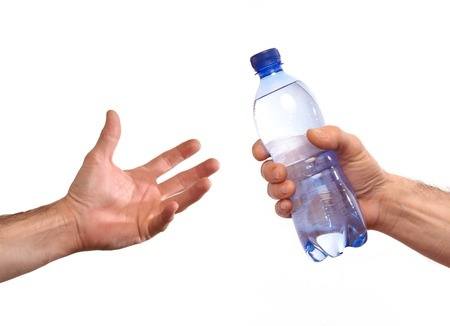 Years ago when I was a personal trainer at a health club, my boss asked me to review a diet plan that he wanted to sell. He asked me because I obtained strong sales skills; I signed up more personal training clients than any of the other trainers combined. After careful review, I decided that the weight loss program was one of the best that I had seen, but it was still a diet.
It did not focus on healthy habits, eating regular food, and gradual weight loss. Since it went against my beliefs, I told my boss that I could not support sales of the product. "You know we shouldn't sell this." He said, "I know, but we could make a lot of money from it." I quit three months later.
Several former employees of a large health club chain have shared similar stories. One man told me, "More than 50% of the 'education sessions' that we had to go to were just sales training on selling supplements. The commission on the supplements was much more lucrative than the training. In fact, it behooved trainers to spend more time trying to sell supplements than training. Trainers who didn't sell supplements were pushed out."
As the fitness industry becomes more and more lucrative, as the rate of obesity rises, and as the desperation of unhealthy individuals increases, club owners will regularly need to re-evaluate their motivation for selling nutritional products, keeping in mind that the safety and efficacy of the product will alter the user's health and perception of the club, for better or worse. For example, if a member uses a supplement that causes a toxic reaction, or a diet plan that results in a nutritional deficiency, he may cancel his membership. The nutrition products should match the mission of the business, which ought to carry liability insurance for nutrition counseling.
How can you help members feel confident that the nutrition products you are selling are safe and effective? Before choosing a product to sell, ask a nutrition professional to study the item and collect research literature performed by an independent lab, particularly if it is a new compound on the market. Don't rely on the products' sales representatives to convince you that the merchandise is right for your members. After you choose a product or product line, offer informational handouts so that members can make an educated decision. Also, emphasize to prospective buyers that you believe in the product, but that only a nutrition professional can recommend it.
As with prescribing exercise, a counselor should obtain a member's full medical history, including supplement and prescription drug use. It is ethical to sell nutritional products to members who don't provide you with their medical background, but it is not ethical to recommend a product without such information.
If the items are available in your pro shop or at the front desk, don't ask those employees to explain the products. The situation is similar to exercise equipment. You have only trainers explaining how to use the equipment and deciding which pieces are best for which people. So, you should only have your nutrition professionals explaining the nutrition products. They should know what every ingredient on the label means and what physiological effect it has.
I have come across many club employees, particularly at franchised facilities, who possess no nutrition credentials, but recommend the corporation's supplements. Some of these people include franchise owners, many of whom don't possess formal exercise education either. I don't have a problem with them owning and running a health club, but I do believe that health and fitness advising should only come from those with the appropriate qualifications.
In my practice, I don't sell or recommend any pills, powders, or pre-designed dietary regimes. Most people don't need supplements and can obtain from food the nutrients they need for their health and fitness goals.
Better than selling nutritional supplements and diets is selling education. I help people design their own healthy eating plan by teaching nutritional science and how to read food labels, and by taking them on store field trips (with most of the time spent in the produce section). I also incorporate time management and meal planning to ensure that people make time to cook.
When new clients line up their supplements for me to critique I say, "I want you to eat real food."
About the Author
Jeanne "Bean" Murdock, is the owner Beanfit Health and Fitness Services. She is the host/producer of Celiac Radio and the author of "Ask Bean", an online column and "Successful Dating at Last! A Workbook for Understanding Each Other" and "The Every Excuse in the Book Book: How to Benefit from Exercising, by Overcoming Your Excuses." Contact Jeanne for more information at 805-226-9893 or through her website at www.beanfit.com.